AUDUSD has hit its lowest level since May 2009 ahead of the release of February's employment report. The pair was hit by some more widespread USD strength in Asia and some flow-on weakness from the kiwi after reports that NZ infant formula exporters have reduced orders after yesterday's threat. AUDUSD is below 0.7600 at the time of writing and eyeing 0.7500, which is a key psychological level for the pair. A break of 0.7500 may see a push towards prior support around 0.7450, although it may also just break the pair entirely in the short-term.
The key event for the Australian dollar in the coming days will be Australia's employment report for February. While employment data has to be taken with a grain of salt these days, there is highlighted concern at the moment that Australia's unemployment rate is going to skyrocket.
At present, a Bloomberg survey suggests that the unemployment rate will remain at 6.4% and around 15% jobs will have been added last month. This would be an ok employment report as long as there wasn't a further loss of full-time jobs last month.
Australia's unemployment rate unexpectedly jumped to 6.4% in January (expected 6.2%) from 6.1% in December. The most disappointing part of the report was a loss of 28.1K full-time jobs. Part-time employment did manage to increase 15.9K, bringing the total employment loss to 12.2K (expected -5.0K), but persistent part-time employment in replace of full-time jobs is a warning sign for the broader economy and the RBA.
Australia's unemployment rate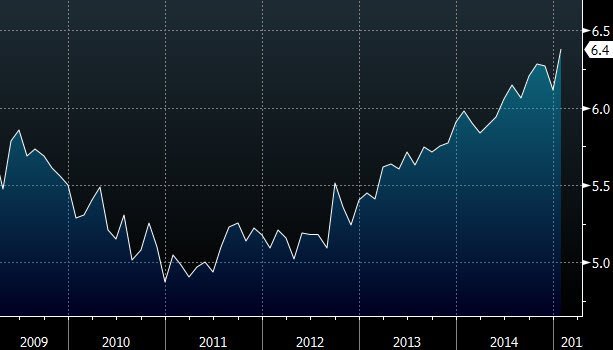 Source: Bloomberg
Another weak employment report may be all the evidence the RBA needs to lower rates even further, despite Governor Stevens' admission that looser monetary policy isn't as effective as it has been in the past. This would likely seal the aussie's fate, especially given the market's love for the US dollar at the moment.
It's also worth keeping an eye on some important data from China for February that's due out shortly (0530GMT)
• Retail sales (exp. 11.6% YTD y/y)
• Industrial production (exp. 7.7% YTD y/y)
• Fixed asset investment (exp. 15.0% YTD y/y)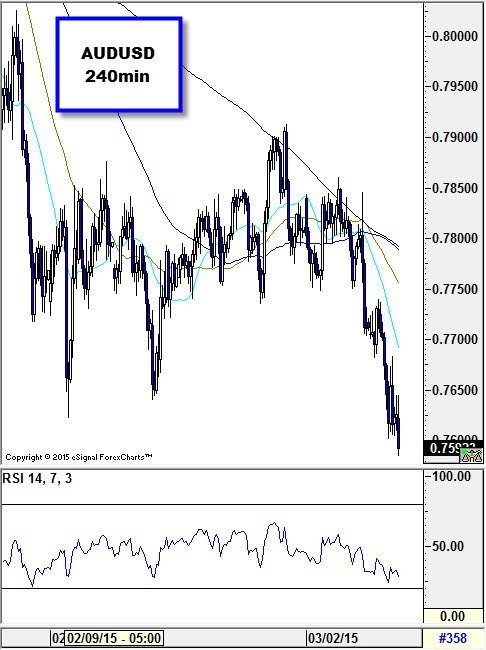 Source: FOREX.com