Today was very similar to yesterday at the start of North American trade, at least if you were only looking at the USD in comparison to virtually every other currency on the planet.  While equity markets aren't tanking like yesterday and are actually up on the day so far, the USD continues to be the king of the hill.  Not only has the EUR/USD extended even lower, but it is dragging the likes of the GBP/USD, AUD/USD, and NZD/USD right along with it.  In the case of the AUD and NZD, there are some alternative influences in the form of employment data and a central bank decision respectively, but the strength of the USD is surely having its share of impact.
The strength of the USD has been so profound of late, in fact, that it is bordering on dangerous.  Not only are we facing the danger of multinational corporations in the US taking losses due to its strength, but short term traders run the risk of all this strength running to the point of exhaustion.  Even if it makes complete sense to pile on to the USD train, it can't strengthen forever, and seeking opportunities to join in on pullbacks is often the better plan.  The problem is it hasn't pulled back quite yet, so entering long USD positions right now may be categorized as bad timing.  Therefore, we look toward other options that aren't so USD-centric.
Enter the GBP/AUD, two currencies that have been battered by the USD, but have acted against each other rather normally.  Since Australia will be releasing an employment report this evening, it is likely to be volatile, and could even play nicely along technical lines that make it ideal to trade.  For a majority of 2015, the GBP/AUD has been in an uptrend, but that trend has slowed down and is showing signs of turning as lower highs have been carved out.  In addition, a previous trend line of support was recently reached and acted as resistance just above 1.98 which also happened to coincide with the previous two week high.  In the short term, this could be categorized as a double top and signal the final blow to the longer lasting upward trend.  If Australian employment can also rebound from last month's woeful result, this pair could be set up for a significant fall.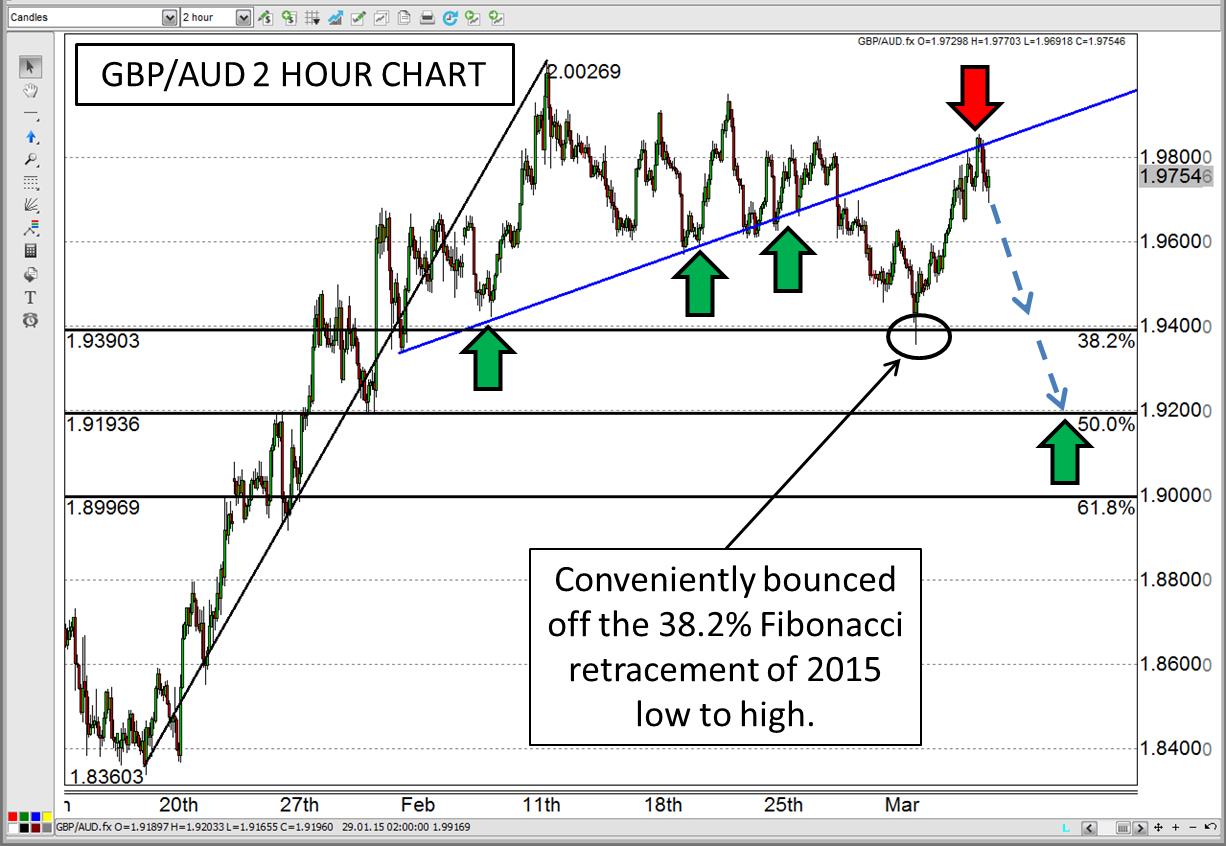 For more intraday analysis and trade ideas, follow me on twitter (@FXexaminer ).