The reaction of the Australia dollar to Australia's employment report for February tells you all you need to know. At first glance Australia's labour market figures appear to be fairly encouraging, but one key ingredient of healthy labour market is missing. This resulted in the Australian dollar only having a very limited positive reaction to today's employment figures, and even this small positive reaction was shorted lived. AUDUSD is actually below pre-data levels at the time of writing.
The initial positive reaction to the numbers can be attributed to an unexpected drop in the unemployment rate to 6.3% from 6.4% (expected 6.4%) and an encouraging increase in both full-time and part-time employment. Full-time jobs jumped 10.3K, contributing most of the total 15.6K jobs added over the month which also happens to be above the 12-month average of 12.6K of total job creation. This is welcome news, especially after the economy lost 30.9K full-time jobs during the prior month.
However, all of these encouraging pieces of labour market data are being overshadowed by the fact that fewer people are looking for work. The labour force participation rate dropped to 64.6% from 64.8%, resulting in the decline in the unemployment rate. In other words, the drop in the unemployment rate was due more to people leaving the working force than finding employment, which is a sign of a labour market in distress. In fact, today's data does little to change our view that the unemployment rate will continue heading higher in coming months.
Technical look: AUDUSD
While don't think today's employment data is a positive for the Australian dollar, the technicals are looking more favourable for the pair. There is persistent bullish divergence between price and RSI on an hourly chart, suggesting that bears may have over-extended the recent sell-off. However, we need to see AUDUSD breakout of its current short-term downward trend before becoming too bullish.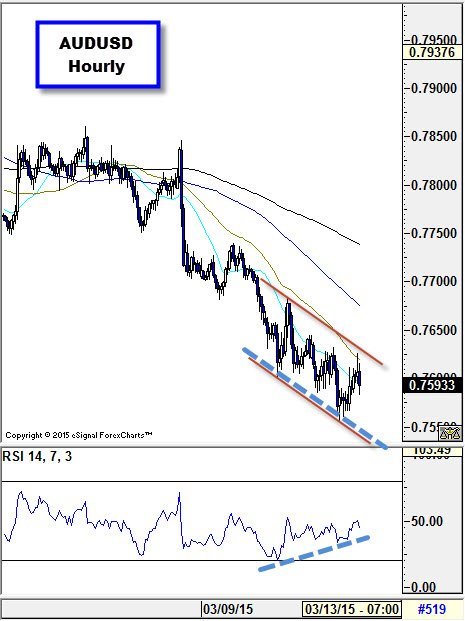 Source: FOREX.com