Early North American trade has been riveting thus far as equities are turning higher, the EUR has bounced somewhat after falling below 1.05, and the USD isn't faring as well as it has so far this week.  Overnight saw the Reserve Bank of New Zealand keep rates steady and Australian Employment reach consensus, and both events are having a positive impact on their currencies.  However, much of the move against the USD this morning could have a lot to do with US data that seemed to have missed the memo that the US economy is recovering.
Retail Sales fell 0.6% on expectations of a 0.3% increase with the Core data falling 0.1% on an expected 0.6% rise.  Seeing negative numbers in US data is bad enough, but Retail Sales has been a real downer over the last year or so.  Since March of last year, Retail Sales has only beat consensus estimates four out of twelve releases, and what's worse; there have also been four months where the figure was in negative territory.  Today's negative result is the third straight as 2015 has yet to see a green figure.
Despite the miss in Retail Sales though, we have to keep in mind that the Federal Reserve doesn't use that metric as a determinant of monetary policy.  The Fed's mandates are employment and inflation, and at least one of those is heading in the direction that they prefer.  The weekly Unemployment Claims this morning fell back below the 300k level with a 289k print that was much better than consensus of 306k.  Inflation wasn't on the docket this morning, but as a general rule, we know that isn't heading in the right direction of late.  This is why there is so much debate about what the Fed will do with their monetary policy moving forward.  Will the Fed judge the lack of inflation as transitory due to depressed oil prices and raise rates in June, or will they take a more cautionary approach and wait for inflation to rise before acting?  Next week's Fed meeting should give us a clearer picture, but until then, speculation and volatility could dominate, which means a return to USD strength could be imminent.
Due to the USD weakness this morning, the USD/CHF has approached a very intriguing psychological level that could support the currency pair moving forward.  With everyone paying attention to the EUR/USD and its catastrophic fall over the last couple weeks, not much attention has been paid to the USD/CHF as it burst through parity without much fanfare.  Reaching all the way up to 1.0130, it retraced back to parity this morning where it seemed to find some support.  The rise in this pair has been incredible since the Swiss National Bank dropped the floor in the EUR/CHF and it only has a little more to go before completely recovering all of the SNB losses.  If parity can continue to provide the support it has, a return back to the pre-SNB level of 1.02 is in sight and extremely reachable as bullish speculation of the USD could come on strong once again.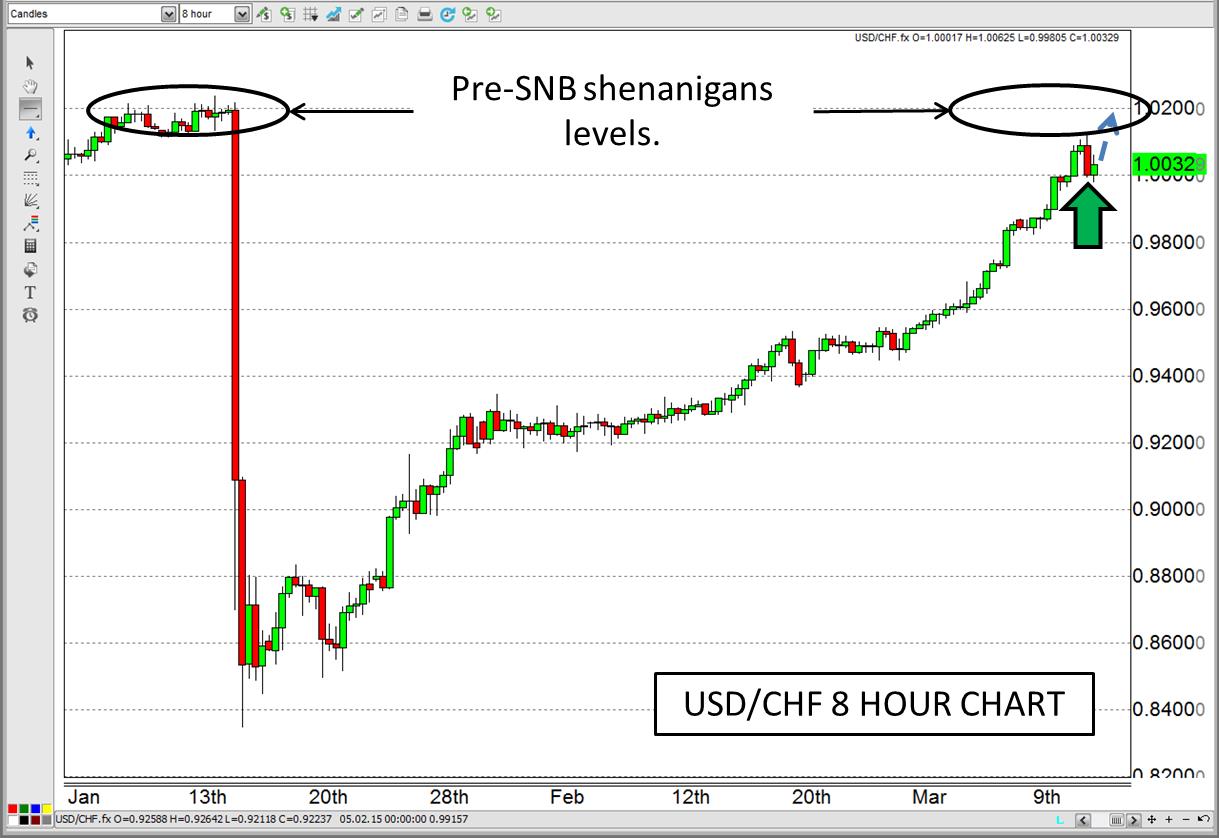 For more intraday analysis and trade ideas, follow me on twitter (@FXexaminer ).