After a whirlwind week in the FX market, it has been a relatively quiet Friday in Asia. There haven't been any major data releases or events and the major FX pairs are looking fairly content to remain in their ranges for the time being. This is a good opportunity to look at a currency pair that has been a big mover this year, EURNZD. Last week our bias for this pair remained to the downside, and since then the pair has continued to be mauled by bears as it pressures deeper into uncharted territory.
EURNZD was pushed even lower yesterday by a policy meeting at the RBNZ. The Reserve Bank of New Zealand (RBNZ) said that it is expecting to leave rates on hold for an extended period of time. The RBNZ's projections now show the OCR on hold for this year and next, even as it predicts that inflation will be 0% y/y this quarter and remain below its target of 2% for the next two years. The economy remains strong according to the bank and Wheeler is concerned at the pace of inflation in the residential housing market, particularly in Auckland where 1/3 of the population live. House prices only rose 6.4% across the board in the year to February, but they surged 13% in Auckland over the same period.
This wasn't what the market was expecting (it was our base case) so there was an immediate rally in the NZ dollar. It has remained on the front foot even since then and NZDUSD is holding around 0.7400. Some strong manufacturing data from NZ this morning is also supporting the kiwi - NZ Business Manufacturing Index jumped to 55.9 in February, from 50.7 in January.
Meanwhile, EURUSD was able to regather some lost ground overnight on the back of widespread USD weakness. We have postulated that the sell-off in EURUSD may have been overextended in the near-term, which puts an interesting take on our EURNZD bearish story.
EURNZD: too far, too fast?
Furthermore, the technicals also suggest that EURNZD may have sunk too far, too fast. There is bullish divergence between price and RSI on many timeframes and the pair has stopped falling around trend line support. This may be bulls gathering for a rally as downward momentum fades. Overall, we think the pair may at least flatten out in the near-term, although this could change quickly next week due to the sheer amount of data and events on tap. In the long-term, our bias remains lower.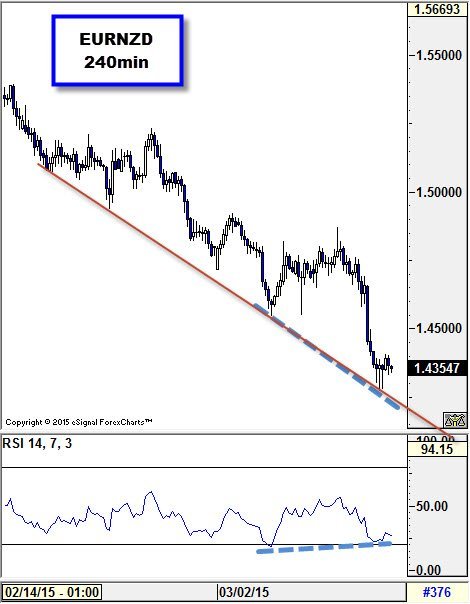 Source: FOREX.com