The EUR and the pound have been hammered by a strengthening dollar in the past few days. As we get to the end of the week the rapid decline in EUR/USD and GBP/USD has seen these pairs approach some interesting levels.
GBP/USD: is 1.4230 on the cards?
As my colleague Matt Weller pointed out HERE, GBPUSD fell like a stone on Thursday and crashed through the critical 1.4950 level.  It has continued its decline on Friday morning after some weak construction output data for January. At the time of writing it has hit the lowest level for nearly 5-years at 1.4808, slicing through the 1.4814 support level from 2013.
It looks like this pair could weaken into the FOMC meeting next week,  however after breaking such a key level of support, we would not be surprised if we say some consolidation between 1.4750 – 1.4850. The longer-term direction of the pound could be determined by next week's FOMC meeting. If the Fed drops the term "patience" in regards to the timing of the next rate hike and sounds fairly hawkish, then we could see another leg higher in the buck and GBPUSD could move towards 1.45 and potentially 1.4230 – the low from May 2010.
Figure 1: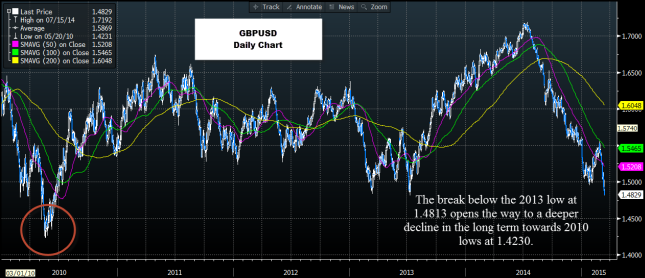 EUR/USD: Making a low?
Recent price action suggests that a short-term low could have been made in this pair at 1.0495. An inverted hammer pattern formed on Wednesday, which can be an attempt by the market to form a low – the candle has a small body and a short lower wick.  We would be wary of looking for a rebound from here, as the future short term direction of this pair remains uncertain, but the price action of the last few days does suggest that 1.05 could be a strong level of support as we lead up to the FOMC meeting next week.
The 1.04 – 1.05 level is a noted support zone on the way to parity for this pair. Thus, it is no surprise that it is proving a sticky level. But if this level is breached then we could see a sharper move that triggers a break below parity towards the 2001 highs of 0.98 – 0.96 (see chart below).
Figure 2: