Highlights
---
Technical Developments to Watch:
EUR/USD hitting a new nearly 12-year low – will bulls defend 1.0400 support?
GBP/USD in freefall as well, next support sits under 1.46
USD/JPY pressing top of 4-month consolidation range at 121.80 ahead of Fed
USD/CHF in play, bias bullish above 1.00

* Bias determined by the relationship between price and various EMAs. The following hierarchy determines bias (numbers represent how many EMAs the price closed the week above): 0 – Strongly Bearish, 1 – Slightly Bearish, 2 – Neutral, 3 – Slightly Bullish, 4 – Strongly Bullish.
** All data and comments in this report as of Friday's European session close ** 
 EUR/USD

EURUSD collapsed to a new 12-year low under 1.0500 last week
MACD trending lower under its signal line, though the Slow Stochastics remain oversold
Bears may target long-term support at 1.0400
If we classified last week as a "rough" one for the world's most heavily traded currency pair, this week was a disaster. EURUSD collapsed all the way down to 1.0500 in an utter absence of bids before finally stabilizing a bit on Thursday. Meanwhile, The MACD has rolled over and is now trending lower back below its signal line, though the oversold Slow Stochastics could raise the chances of a short-term bounce or consolidation this week. Moving forward, bears may press for longer-term support at 1.0400 in expectation of a more hawkish Federal Reserve meeting on Wednesday.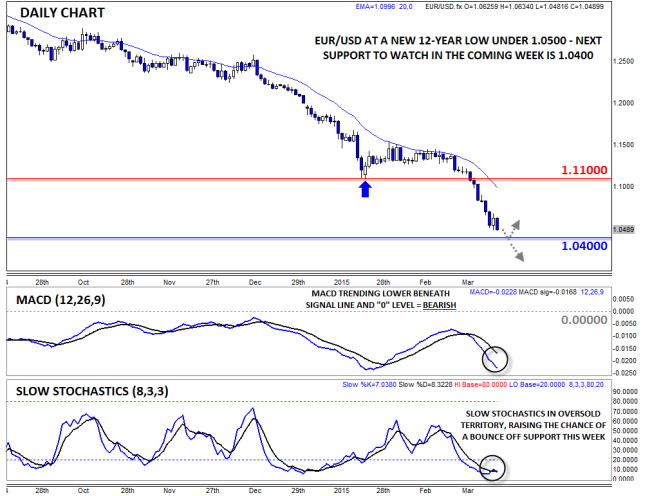 Source: FOREX.com
GBP/USD

GBPUSD fell through 1.4950 support to a new 20-month low under 1.4900
Slow Stochastics deeply oversold, but MACD still showing bearish momentum
Potential for more weakness toward Fibonacci extension support at 1.4580
Despite some seemingly supportive fundamental data, GBPUSD sold off to a new 20-month low under 1.4900 last week. The break to a new low after the failed breakout attempt above 23.6% Fibonacci retracement resistance at 1.5480 in mid-February cements the longer-term bearish bias, and the downward-trending MACD indicator only provides another feather in sellers' caps. That said, the Slow Stochastics are deeply oversold, so a near-term consolidation or bounce wouldn't be surprising, but more weakness toward 1.4580 (the 161.8% Fibonacci extension) in GBPUSD is still favored.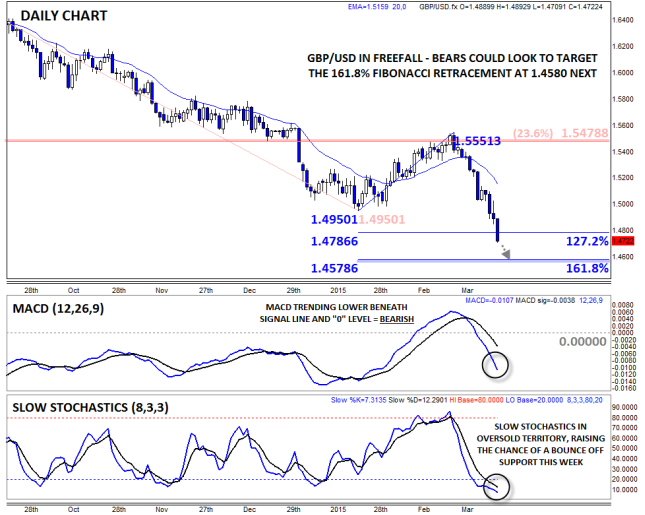 Source: FOREX.com
USD/JPY

USDJPY edged up to the top of its 4-month consolidation range at 121.80 last week
MACD edging higher above its signal line, showing bullish momentum
All eyes remain on key "line in the sand" at 121.80
The Japanese yen actually held up relatively well against the world's reserve currency last week, but USDJPY still did manage to edge to an 6-year intraday above 121.80 on Tuesday before pulling back. As of writing, rates are consolidating below that key barrier. Turning our attention to the secondary indicators, the MACD is showing bullish momentum, and the Slow Stochastics are not yet overbought, suggesting the door is open for further gains if bulls can break the key bull/bear "line in the sand" at 121.80.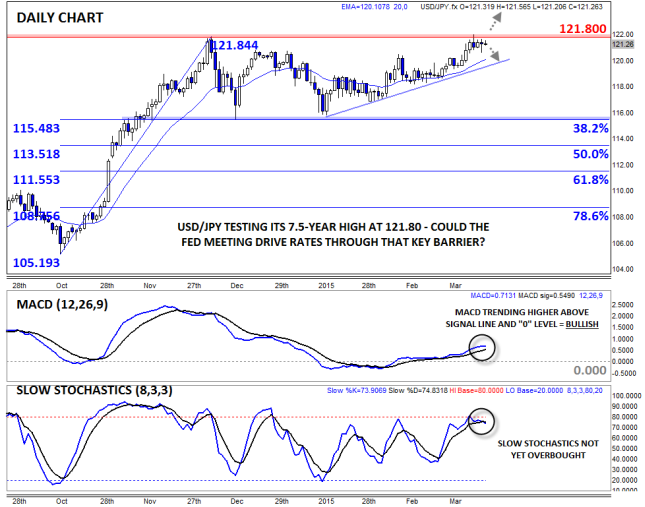 Source: FOREX.com
USD/CHF

USD/CHF rallied through parity last week and is now trading higher on the year
MACD signals bullish momentum, though Slow Stochastics are now overbought
Bias bullish above 1.00 for a possible retest of the 5-year high at 1.0250
USDCHF is our currency pair in play this week due to a number of high-impact economic reports out of the US and Switzerland (see "Data Highlights" below for more). Last week, USDCHF extended its uptrend through the 1.00 level, turning positive on the year. As you might expect, the MACD signals bullish momentum, though the Slow Stochastics are now overbought. Technically, the pair's short-term bias remains higher above the 1.00 level, but traders should also keep an eye on Thursday's SNB meeting as a potential volatility catalyst.

Source: FOREX.com
The FX market is dominating the headlines at the moment. EUR/USD has fallen more than 6% since the start of this month and is nearly 25% lower since peaking at 1.40 in May last year. The pace of the decline has been stunning: since the last Non-Farm Payrolls report on 6th March alone, EUR/USD has fallen nearly 400 pips.
What is driving the EUR lower?
Central Banks: The Federal Reserve and the ECB have been taken opposite monetary policy stances in recent months, with the ECB embarking on QE while the Federal Reserve is contemplating a rate rise later this year. This divergence has driven the yield spread between German and US 10-year bond yields to a 26-year low. Since yields can determine a currency's strength, record low European yields is a major factor driving the EUR lower.
The Dollar: It's not just the EUR that has been hammered by the buck; the USD has outperformed all but one (CHF) of its G10 peers this year and has also made large gains against some emerging market currencies, including the Brazilian real, Turkish lira and Czech Koruna. Some believe that we are at the start of a major dollar uptrend.
Economic and Sovereign Concerns: The currency bloc is still suffering from the effects of the sovereign debt crisis. Some Eurozone countries are still burdened with debt and growth is not yet strong enough to alleviate this situation. Greek default risk remains high and will come back into focus in June when its bailout is due to expire.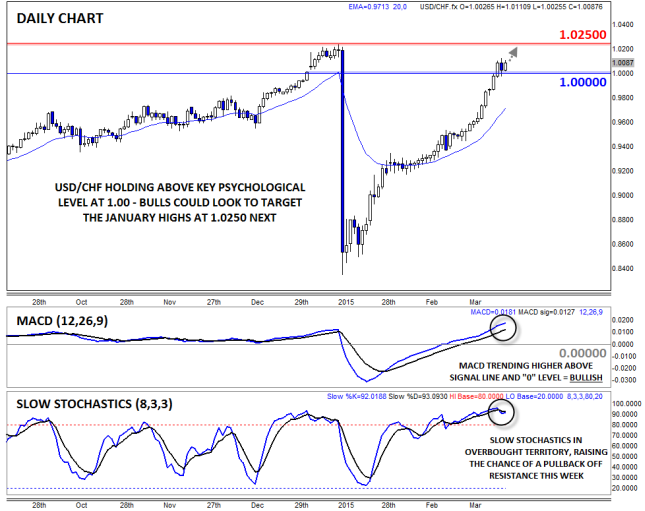 Source: FOREX.com
Overall, we think that the bigger risk in the short term is for more EUR weakness. A break to parity in EURUSD, the lowest level since September 2002, and potential further declines could equate to a move to around 110.00 in the dollar index. This could have major implications for broader financial markets in the coming months including the following:
A further sell off in emerging market FX, particularly currencies with large USD-based external debts like Turkey
A drop in US equity indices as corporations see their overseas profits hit by the strong buck
A boost for European equities, which tend to rally when the EUR sells off
A boost to growth in the currency bloc as the economy gets a double whammy from a weaker currency and a lower oil price
On a technical basis, there is no doubt that the bears have the upper hand in EUR/USD. The pair has consistently put in lower lows and lower highs since peaking at 1.40 back in May of last year and any momentary pauses in the pair have eventually resolved to the downside, most recently in November/December and in February. In fact, the Q4 pause may provide a useful template for where EUR/USD could head next.
Back in Q4 of last year, EUR/USD…
1)      …had fallen over 1,000 pips in three months to a new multi-year low…
2)      …before stabilizing in the 300-pip range between 1.23 and 1.26 for six weeks…
3)      …then dropped through support at the bottom of the range…
4)      …accompanied by a turn lower in the MACD indicator…
5)      …and continued to sell off for nearly 1,200 pips before finding a modicum of support near 1.1200.
Interestingly, EUR/USD's movement over the last two months has closely mirrored Q4's price action. As of the start of February, EUR/USD…
1)      …had fallen over 1,000 pips in three months to a new multi-year low…
2)      …before stabilizing in the 300-pip range between 1.12 and 1.15 for five weeks…
3)      …then dropped through support at the bottom of the range…
4)      …accompanied by a turn lower in the MACD indicator…
5)      …and proceeded to sell off about 700 pips to a low of 1.05 thus far.
If we do see EUR/USD's current selloff match the 1,200-pip drop through late-December and January, it would take this pair almost perfectly down to key psychological support at parity before finding its next level of support.
After such a sharp decline in EUR/USD in recent days, it is not beyond the realm of possibility that this pair could drop below parity for the first time since 2002. In order to prepare for that possibility, we have to zoom all the way out to a monthly chart. Beyond psychological support at 1.00, the 78.6% Fibonacci retracement of the entire 2000-2008 rally comes in at .9900, strengthening the likelihood of support emerging in the 0.9900-1.0000 corridor. On the other hand, if EUR/USD manages to break through .9900 later this year, there is no compelling case for technical support to emerge until minor previous-resistance-turned-support around .9500.
This Wednesday the Federal Reserve will hold its second meeting of the year. No change to rates is expected, however the market will be closely watching the statement that will be released at 1800 GMT, and the press conference by Fed chair Janet Yellen at 1830 GMT.
As we lead up to this meeting, the market's focus is on the word "patient" – will the Fed drop this crucial word from its statement? If so, it could be a signal that the Fed will hike interest rates in the coming months, possibly as early as June.
Ever since the Wall Street Journal article last week by respected Fed watcher Jon Hilsenrath, the market has been in full "Fed tightening" mode. The dollar appreciated nearly 3% last week, and the dollar index closed the European session above the critical 100.00 level while the 10-year Treasury yields remain above 2.1%.
But even if the word patient is stripped from the Fed statement, there is a chance that the Fed might choose to sit on the fence rather than put all of its eggs in a rate-hiking basket. We will be watching to see if the Fed slides something in about assessing dollar strength when it comes to making a decision about appropriate monetary policy.
If this happens then we could see Treasuries rally (yields fall), the dollar sell off, and US equities rally. It could push back the prospect of a US rate hike until the autumn, which could go some way to ameliorating the damage in emerging market FX space in particular.
While we continue to think that the EUR will eventually break parity with the dollar, we are concerned that the market is too focused on a hawkish Fed. As you can see in the chart below, the dollar has rallied even though US data remains weak. Last week alone, retail sales surprised on the downside for the third consecutive month, producer prices were weaker than expected, and University of Michigan consumer sentiment survey fell to a 4-month low. As you can see in the chart below, US economic data misses have reached their highest level since mid-2012.
While the market may be happy to turn a blind eye to US data misses, the Fed may be concerned that the dollar is no longer reflecting fundamentals, which could lead them to temper their rate-hiking rhetoric on Wednesday. If that happens, then a weaker dollar could help risky assets enjoy another leg higher as we move towards the end of the first quarter.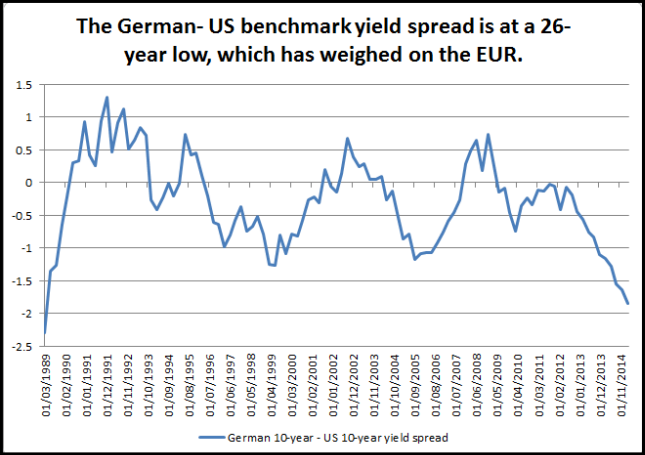 Source: FOREX.com
A clear pattern has emerged in the financial markets concerning stock indices and the EUR/USD currency pair in recent weeks. As can been seen from the comparison chart in figure 1, below, the most heavily traded European stock index, Germany's DAX, has rallied in the single currency's slipstream. This makes sense as a weaker euro means more profits for German exporters. Although shares on Wall Street had managed to hold their own pretty for a long time, the stronger dollar is finally weighing on US exporters. The chart in figure 2 shows how the S&P 500 has moved inversely to the dollar's rally in recent trade. The dollar's strength has also weighed on the commodity-heavy FTSE index, vis-à-vis the buck-denominated gold and oil prices.
But now that the dollar index has reached the psychologically important 100 level, there is a possibility it may at least pause here, which may cause US and UK stocks to outperform their European peers. However as much as we are tempted to think that this will happen, there is no reason for the dollar rally or the euro slump not to continue, for after all the Fed is still the only major central bank which is likely to hike rates first. Thus, the flow of funds from US stocks to European markets may resume. But even without the weaker euro, most of the European stock markets may still have a lot of catching up to do with their US peers as economic activity picks up momentum in the euro area and as the ECB's bond purchases program continues to push yields further lower, driving investors into European equities. So, regardless of the impact of the FX rates, we remain fundamentally bullish on European stocks.
Indeed, whereas the DAX and Nikkei are now up for the ninth consecutive week, the Dow looks set to close in the red for the third straight week. Clearly, investors are moving funds in regions where the central bank is still uber dovish. But all is not lost for Wall Street. As can be seen below, in figure 3, the Dow managed to post a large bullish engulfing candle on its daily chart on Thursday, suggesting the bulls may have regained control of the market. However the lack of follow-through in buying pressure on Friday contradicts this view. What's more, the RSI has recently created a bearish divergence and broken through its trend line. But it is still just about managing to hold above the key 40 level. If it breaks 40 then we may see the emergence of fresh sellers.
Thus, from a technical point of view, the near-term direction may depend on the index's next breakout. If the buyers manage to take out the key resistance and 38.2% Fibonacci retracement at 17875 then we may see some gains next week towards at least the 61.8% Fibonacci retracement level of the last downswing at 18030. On the other hand, a potential break below this week's low of 17625 would expose the 61.8% Fibonacci retracement level of the last upswing at 17510/5 for a test. Below this level, the next support could be around 17300; this is where the 200-day moving average meets the 78.6% Fibonacci retracement.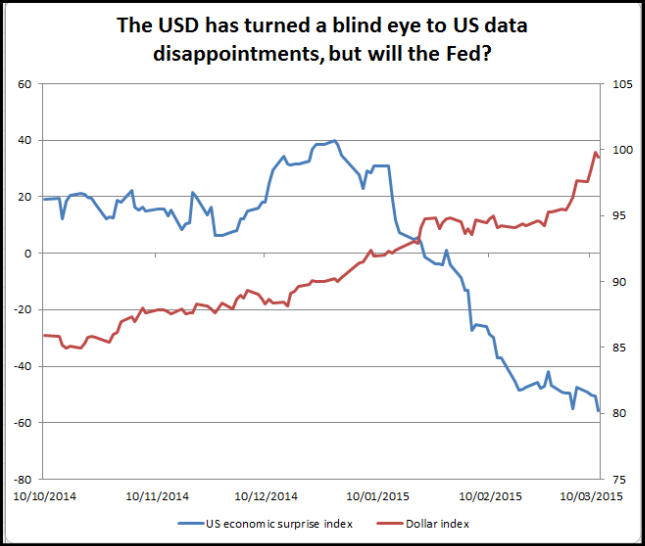 Source: FOREX.com. Please note this product is not available to US clients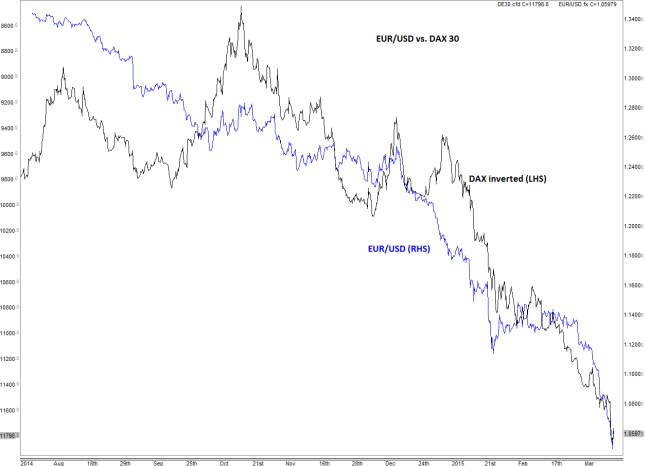 Source: FOREX.com. Please note this product is not available to US clients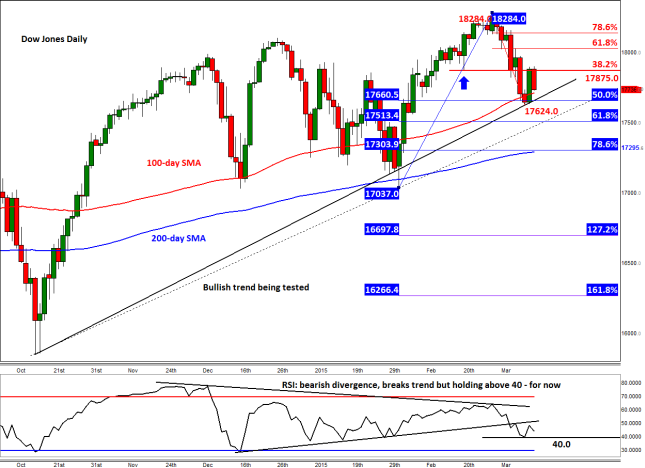 Source: FOREX.com. Please note this product is not available to US clients
After a brief hiccup on Wednesday when Brent took a technical bounce off the $56 support level, oil prices resumed their downward trends as the weekend approached. Both the major oil contracts were down on Friday and looked set to close lower on the week too. The relentless growth in US crude inventories is continuing to exert strong pressure and not even a weaker dollar on Thursday was able to support oil prices. As the latest weekly supply data from the US Energy Information Administration (EIA) shows, stocks increased sharply again in the week to March 6, this time by 4.5 million barrels. Admittedly, this was a more modest build compared to recent times, but it was nevertheless the ninth consecutive weekly increase. During these past nine weeks alone, crude stocks have surged by a whopping 66.5 million barrels to repeated all-time highs.
Thus, until such a time we see a sustained period of destocking, the oil price will most likely remain under pressure as there is evidently too much oil than is currently needed. Indeed, the Internal Energy Agency (IEA) on Friday warned that the oil price collapse "has yet to run its course" as the US supply growth "so far shows precious little sign of slowing down." The EIA says that the unwinding of the seasonal refinery maintenance may slow US crude inventory builds in the second quarter of this year but "will not stop them, and stocks may soon test storage capacity limits." If the EIA is correct, further price falls may have to occur soon for the supply and demand forces to find equilibrium. But on a brighter note, the EIA says that the demand growth for crude has risen steadily, with demand for oil products rising "unexpectedly" strong. Demand for crude products in Europe increased by 3.2% in December and 0.9% in January. If this strength in product demand can be sustained – and there is a good chance it will with the recent upsurge in euro zone macroeconomic data surprises – then it will undoubtedly offer some support to oil prices, in particular the Brent contract.
In the short term however, prices are likely to remain under pressure, for the technical outlook does not look great for either oil contracts. As can be seen, WTI has broken the short-term bullish trend line after it formed a triple top reversal pattern a couple of weeks ago. Several supports have been broken as a result, including the triple top neckline around $48 and another level at $46.80. WTI is now racing towards the $45 handle once more, where we also have the 161.8% Fibonacci extension level converging. If it does not find much support there then it may make a move down to the January low of $43.55, and who knows may be even lower still to the next psychological level of $40 a barrel. Up until now, Brent has managed to hold its own above the key 38.2% Fibonacci retracement level on a closing basis. If the buyers relinquish control of this key technical juncture, this may well lead to renewed technical selling towards the 50-day moving average at $55 or the 61.8% Fibonacci retracement at $52. As things stand, only a closing break above $58.50 resistance would invalidate this bearish setup.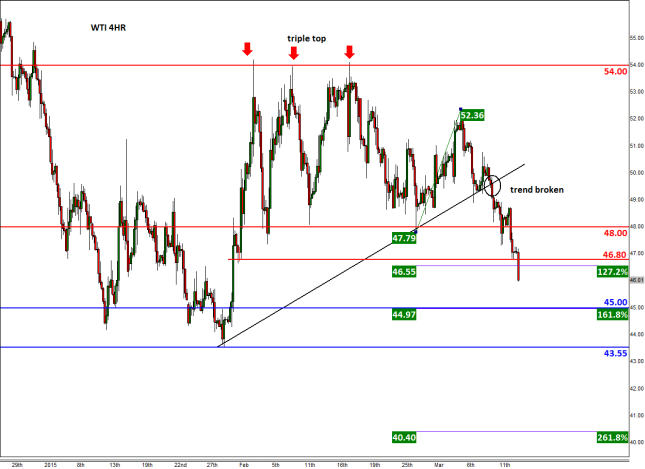 Source: FOREX.com. Please note this product is not available to US clients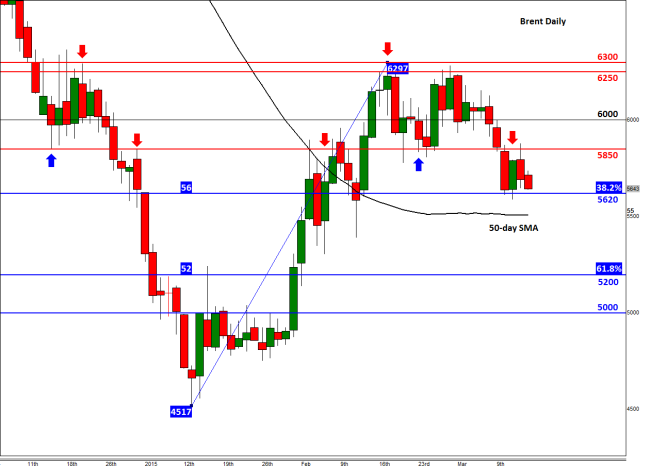 Source: FOREX.com. Please note this product is not available to US clients
Monday, March 16, 2015
Tentative             Chinese Foreign Direct Investment (February)
This release is historically unreliable in its release time and date, so listing it first seems reasonable, but don't assume it will be the first major release of the week. Last month's FDI was the strongest release in nearly four years which indicates that there either may be more interest in Chinese business, or the Chinese government is simply allowing more than they have since that time. If it is the latter, it could signal that internal investment isn't as strong as they would like hence opening the opportunity to those outside Chinese borders. Considering the decline seen in other Chinese economic figures and the activity of the People's Bank of China of late, the argument for trouble brewing internally is convincing. If FDI were to increase substantially again, it may be a further sign of strife.
18:45 GMT          European Central Bank President Mario Draghi's Speech
At this point it seems that every time Draghi speaks, he sends the EUR/USD down to another multi-year low. Since he will be speaking to financiers in Frankfurt, Germany, his speech may be catered more to that crowd, and questions may be more slanted toward asking when Quantitative Easing could end. If Draghi sounds optimistic about the future and highlights slightly improving figures, the EUR/USD may actually enjoy a relief rally that some would argue is well overdue.
Tuesday, March 17, 2015
Tentative             Bank of Japan Monetary Policy Statement and Press Conference
The odds of the BoJ actually making any changes to monetary policy at this meeting are extremely slim, but we have been surprised before. The most likely market moving surprise out of this meeting would be for Governor Haruhiko Kuroda to mention that more easing from his institution could come if the economy doesn't start to improve.
10:00 GMT          German ZEW Survey (March)
As the euro has continually gotten pummeled in currency markets, the German sentiment has risen. A cheaper euro is actually very stimulative for Germany due to its heavy reliance on exports, and it appears to be leaking over to sentiment. Consensus is expecting another rise, and if it can achieve that goal a boost to the EUR/USD may in the cards.
12:30 GMT          US Building Permits and Housing Starts (February)
Both of these figures have been comfortably north of the 1M line for a few months now, and more of the same is expected this time around. While Retail Sales in the US has continued to disappoint, it appears housing is heading in the right direction and simply meeting consensus in these figures could be enough to maintain the USD's stranglehold on markets.
Wednesday, March 18, 2015
9:30 GMT             Bank of England Meeting Minutes and Monetary Policy Committee Vote Counts
The BoE hasn't made any monetary policy changes in a VERY long time, but the vote count has been more dynamic. Since the GBP has been ravaged of late due to the correlated weakness of the EUR and some dovish comments from MPC members, any change of votes from "maintain" to "raise" for interest rates could be a hawkish sign for the central bank and could engender a rally for the moribund GBP.
9:30 GMT             UK Claimant Count Change and Unemployment Rate (February)
Along with the MPC votes, the employment figures will likely have a large impact on the value of the GBP. This has been a very strong figure for the UK thus far in 2015 as it has strung together three straight increases, three straight upward revisions, and beat consensus in each as well. Along with this strength though comes heightened expectations and the -31.0k consensus is a pretty high bar, only clearing that figure in five out of the last 14 months. If it is able to at least meet consensus, a relief rally may be in store even if the MPC doesn't have a change in votes.
18:00 GMT          FOMC's Monetary Policy Decision Statement, Econ Projections, and Press Conference
Virtually all currency and stock traders who are awake from around the world will be watching this meeting with keen interest as the Fed could signal their intentions for interest rate increases at this meeting. Since the labor market has been so strong, some have speculated that June will be go time for the Fed to drop the 0% from the current "0% - 0.25%" designation they have on rates, which ostensibly would be a bad thing for the stock market. The big clue would be for the Fed to drop the word "patient" from their statement, but beware other words of action to describe essentially the same thing. The Fed hasn't been too eager to be hawkish despite the consistently improving labor market due to depressed inflation, so the market may be gearing up for something bombastic, but may only get more of the same.
21:45 GMT          New Zealand's Gross Domestic Product (Q4)
Due to the increases in milk prices for the whole of 2015, many have judged the Kiwi economy to be recovering, but those same prices were pretty depressing toward the end of 2014. Since this GDP report will be measuring Q4 of 2014, it may be weaker than the consensus estimation of 0.8%. If this were to miss, much of the gain the NZD/USD enjoyed after the most recent RBNZ meeting could be reversed.
Thursday, March 19, 2015
8:30 GMT             Swiss National Bank Monetary Policy Decision
Over the last few years, we have grown accustomed to ignoring the SNB and their decisions due to the floor in the EUR/CHF, but as we're sure you are familiar, that policy tool is no longer in existence. There have been rumors that the SNB has been intervening to weaken their currency since they abandoned their floor, and as evidence, the USD/CHF has returned to pre-SNB shenanigan levels. The ultimate betrayal by the SNB though would be to reinstate a floor, or perhaps announce an increasingly rising band in the EUR/CHF in an effort to counteract the ECB's QE program. While nothing is expected to occur at this meeting, we can't simply rest on that assumption as the SNB has made painfully obvious thus far in 2015.
14:00 GMT          Philadelphia Fed Manufacturing Survey (March)
After reaching the highest level since December 1993 back in November, the Philly Fed has done nothing but decline and disappoint expectations. That decline is expected to end with this release as consensus is calling for a 7.3, which would beat the 5.2 seen previously. In the same vein as increased expectations make it more difficult to achieve results, the same can be said about decreased expectations, but in reverse. Going back to March of last year, every single month has been higher than the consensus figure EXCEPT the last two months at 6.3 and 5.2, so an upside surprise may be in store.
Friday, March 20, 2015
2:00 GMT             Reserve Bank of Australia's Governor Glenn Stevens' Speech
The RBA will be releasing their meeting minutes this week as well, but Stevens has a knack for moving his currency. His previous discussions about the value of the AUD have shifted the currency wildly, and according to the statements of his institution, he still believes his currency is historically overvalued. As the AUD has continuously fallen over the last year and half, the RBA hasn't backed off of that "overvalued" assertion, and they probably won't until it falls below at least 0.70 in the AUD/USD. Once again though, his audience, the American Chamber of Conference, could come in to play as he will likely get questions about the effect of a strong USD on US companies.
12:30 GMT          Canadian Consumer Price Index (February)
Much like the rest of the developed world, Canada has been experiencing a drop in inflation due to the unyielding decline of oil over the last eight months or so. Consensus is expecting a bit of a rebound on the monthly metrics though as oil leveled out in February around the $50 level. If it can achieve that expectation, it could hold the Bank of Canada at bay for the time being as they decide to not cut rates again at their next monetary policy decision. However, if inflation falls again, the BoC may have no other choice but to get more aggressive on the easing side of their policy.
Enjoy this newsletter? Use the share button to post it on your favorite site or subscribe to our RSS feed to receive session recaps daily.