Last Monday, we noted that EM FX traders were growing increasingly worried about the potential for the Federal Reserve to hike interest rates this summer (see "EM Rundown: From 'Taper Tantrum' to 'Rate Hike Hissy Fit"' for more). This trend only grew more pronounced as the week drew on, driving USDTRY to a record high of 2.65 , while USDZAR and USDBRL each rose to 12-year highs at 3.26 and 12.50 respectively. If the Fed chooses to remove its patient pledge in Wednesday's statement, EM currencies as a group could extend their losses further.
Pair in Play: USDTRY
In what's becoming a common weekly theme throughout 2015, traders will be particularly focused on USDTRY this week. In addition to the aforementioned FOMC meeting, Turkey also has a central bank meeting of its own. Based on the country's struggle with a weak currency and elevated inflation, it could make economic sense for the Central Bank of the Republic of Turkey (CBRT) to consider a rate hike, but political pressures mean such an action is unlikely.
In one of the most transparent political ploys of all time, Turkish President Tayyip Erdogan has increased his pressure on CBRT to cut rates, despite still-elevated inflation and record weakness in the currency. Like all politicians, Erdogan is more concerned with the immediate impact of high unemployment and lackluster economic growth, rather than the slow-burning risks of inflation and currency weakness, especially ahead of the early June general election. Due to this inevitable conflict of interest, a fundamental prerequisite for effective monetary policy is an independent central bank, and tomorrow's meeting will be a critical test of the market's confidence in the CBRT.
Last week, there were some signs that Erdogan may be backing off, but if the CBRT opts to cut its one-week repo rate from the current 7.50%, traders may still view the central bank as caving to Erdogan's political will. In that case, USDTRY could break above its current converging Fibonacci resistance level at 2.65 and surge toward 2.70 or 2.80 next. There are even some whispers that CBRT Governor Basci could choose to resign in the near future; while not our base case at this time, this development could cause USDTRY to rocket all the way toward 3.00. On the other hand, if the central bank stands firm and leaves interest rates unchanged, it could help ameliorate fears about the central bank's independence, and USDTRY could stabilize under 2.65 resistance.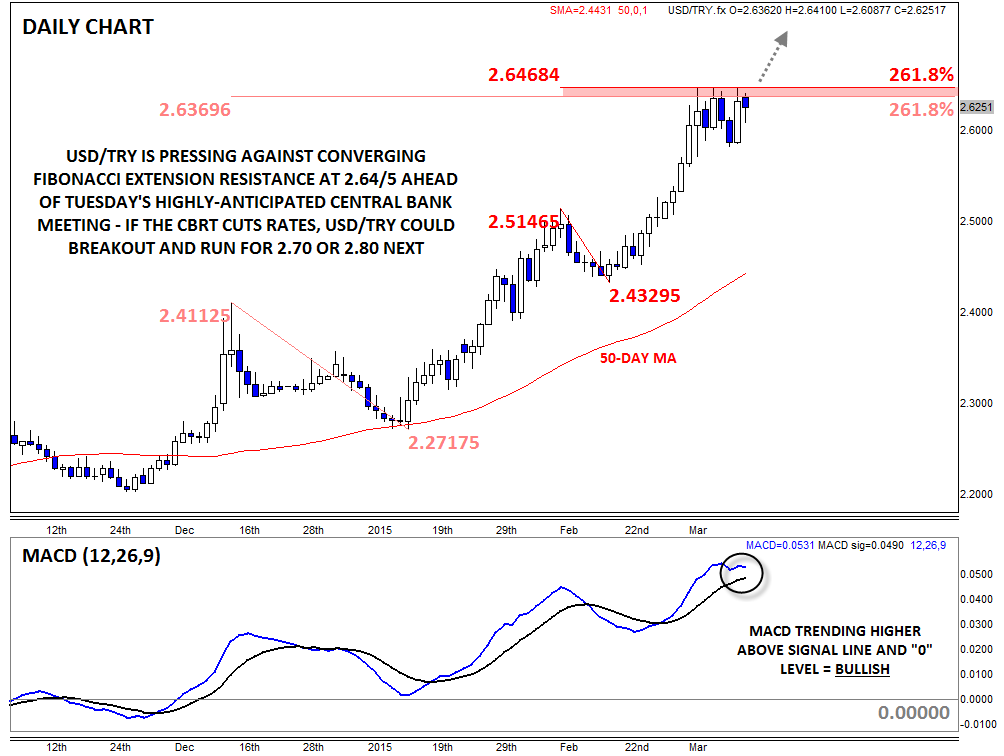 Source: FOREX.com
For more intraday analysis and market updates, follow us on twitter (@MWellerFX and @FOREXcom)