The second half of North American trade was pretty much a repeat of the first half of trade as markets continued to move along pre-established routes, at least if you were only paying attention to equity markets.  The Dow and S&P got off to raucous starts and kept the momentum going with each closing the day in the green over 1%.  Currency markets were a bit of a different story though as USD weakness was the early story which faded in prominence as the day wore on.  As we transition in to the Asian morning King Dollar appears to be taking a bite out of some of the losses endured over the last 24 hours or so.
Speaking of Asia, there a couple vital events scheduled for this evening that could have a large impact on the course of currencies moving forward.  Chief among them is the Bank of Japan and their monetary policy statement and press conference.  While the BoJ isn't expected to do much of anything at their meeting, there's always an element of chance with them.  The recent disappointing Final GDP release of 0.4% for Q4 2014 (0.6% was the Flash reading, and 0.5% was anticipated) was particularly defeating because Japanese policymakers have been intimating that more stimulus wouldn't be needed in the near term.  As Japan continues to struggle in both growth and inflation (-0.2% MoM for February) the pressure to do something more may lead them to acknowledge that they spoke too hastily about no need for more stimulus.
The method that the BoJ uses to acknowledge their hasty stance may not be blatantly obvious.  Central bankers have a tendency to change subtle words to make their points known, and that may ultimately be the case with the BoJ as well.  Mentioning something about being "data dependent" instead of steadfastly remaining in the "nothing more is needed" camp may be just enough in their eyes to let us know that the thought has crossed their mind.  In response, the market could interpret that as a hint that more stimulus may be on the way, whether it is or not; and could effectively keep the JPY bulls at bay.
If the JPY were to give way to other currencies in that fashion, it would be wise to seek those that have been struggling for various reasons.  The GBP seems to fit the description of a currency which has been taking a beating of late for reasons that are tangential at best.  While the EUR is rightfully being sold off in droves, the GBP appears to be caught up in the wash and is correlating right along with it.  Funny thing is, UK data hasn't been outright awful, and the Bank of England likely wouldn't be doing anything with monetary policy for a while anyway, so the GBP selloff seems misplaced.  So fundamentally, it may fit the bill.
On the technical front, the GBP/JPY has recently fallen all the way down to a longer term rising trend line which also lines up closely to a 61.8% Fibonacci retracement from the 2015 low to high.  It also seems fitting that the GBP/JPY is straddling 180 as I go to press, because if the GBP can start to get a little strength here it can pull a 180 degree turn of its own by finding strength where there once was weakness.  So not only could this idea work out fundamentally and technically, but we could also add metaphorically as well.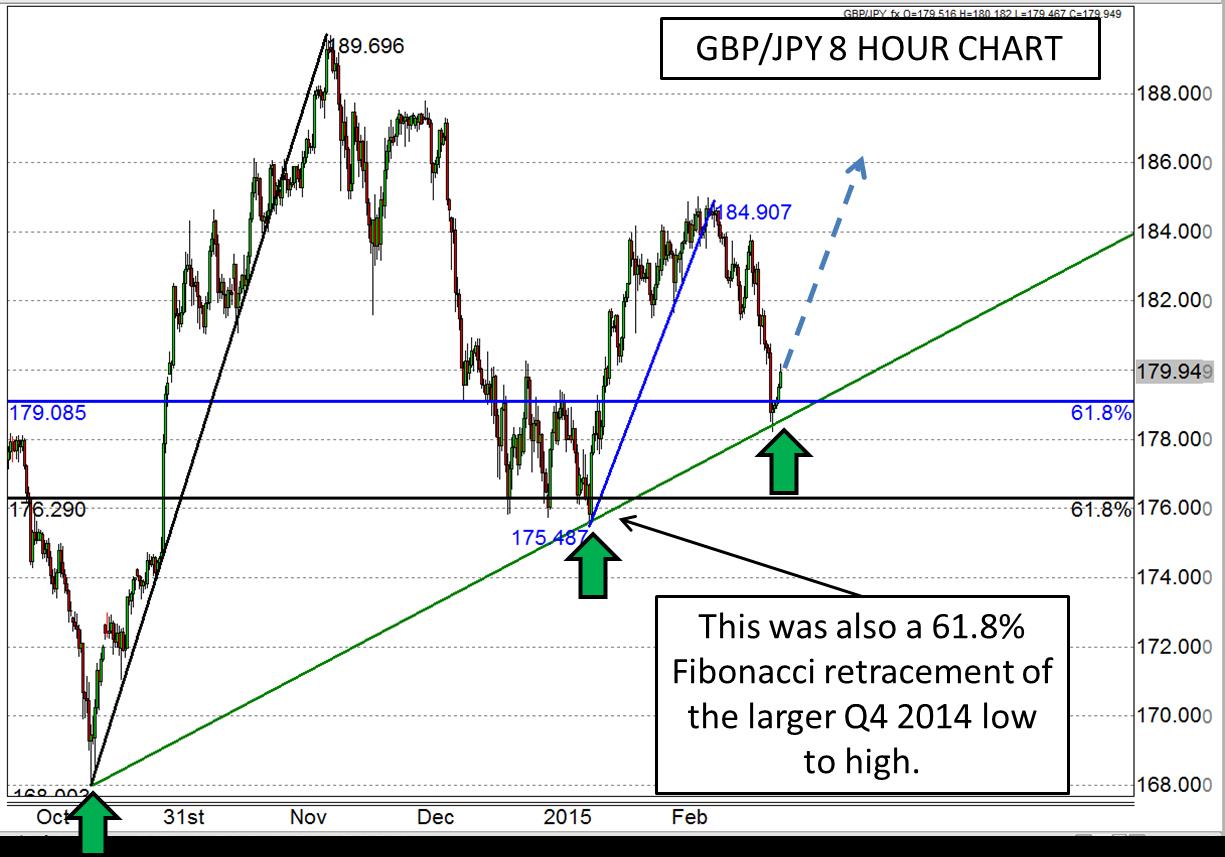 For more intraday analysis and trade ideas, follow me on twitter (@FXexaminer ).