Though the forex markets have been open for less than 48 hours this week, traders have already had to navigate comments from a number of the world's most important central banks. Yesterday, ECB President Mario Draghi struck an optimistic note on the Eurozone economy, stating that "[m]ost indicators suggest a sustained recovery is taking hold," and that "[c]onfidence among firms and consumers is rising. Growth forecasts have been revised upwards. And bank lending is improving on both the demand and supply sides." Of course, this is not a surprising proclamation from the head of an institution interested in supporting the stability of the financial system, but these comments have helped to stabilize EURUSD in the 1.05-1.06 zone ahead of tomorrow's marquee Federal Reserve meeting. On the other hand, both the RBA minutes and BOJ statement were a bit more downbeat, leaving the door open for further easing later this year.
Speaking of loose monetary policy, one central bank meeting that's flying under the radar this week is the Swiss National Bank. Switzerland's central bank will conclude its monetary policy meeting on Thursday, and while the majority of analysts do not expect a change to the current -0.75% interest rate, a case can be made for another 25bps cut to -1.00%.
The latest data out of Switzerland has hardly been encouraging for franc bulls. Monday's February PPI report coming out at an abysmal -1.4% m/m, nearly 2% below the expected gain of 0.4%; this represents the worst monthly reading on producer prices since the depths of the Great Financial Crisis in December 2008. Meanwhile, Swiss retail sales were similarly poor at -0.3% m/m vs. 2.6% anticipated. Admittedly, the franc has weakened from February's elevated levels, but barring this quarter's spike higher and a couple of weeks in August 2011, the franc is at its highest level against the euro in history.
Technical View: USDCHF
Last time we checked in with USDCHF, we noted that it had clawed back all of its post-SNB losses (see "Believe it or Not: USDCHF Just Hit Parity and is Trading Up on the Year" for more). Since then, rates have moved sideways, digesting their gains ahead of the dual central bank meetings in the middle of this week. From a technical perspective, the recent consolidation at the top of a strong rally creates a bullish pennant pattern, which suggests a strong continuation higher if we're able to break out above the top of the flag near 1.01. It's also worth noting that both the MACD and RSI remain in bullish territory (above 0 and 40 respectively) despite the recent pause, putting another feather in bulls' caps.
If we do see a bullish breakout (either on a hawkish Fed, dovish SNB, or both), USDCHF bulls will turn they eyes toward the 4.5-year high at 1.0240 next, if not even higher in time. On the other hand, a break down back below parity (1.00) would turn the near-term bias lower for a possible pullback toward the near-term 38.2% Fibonacci retracement under .9900 (not shown).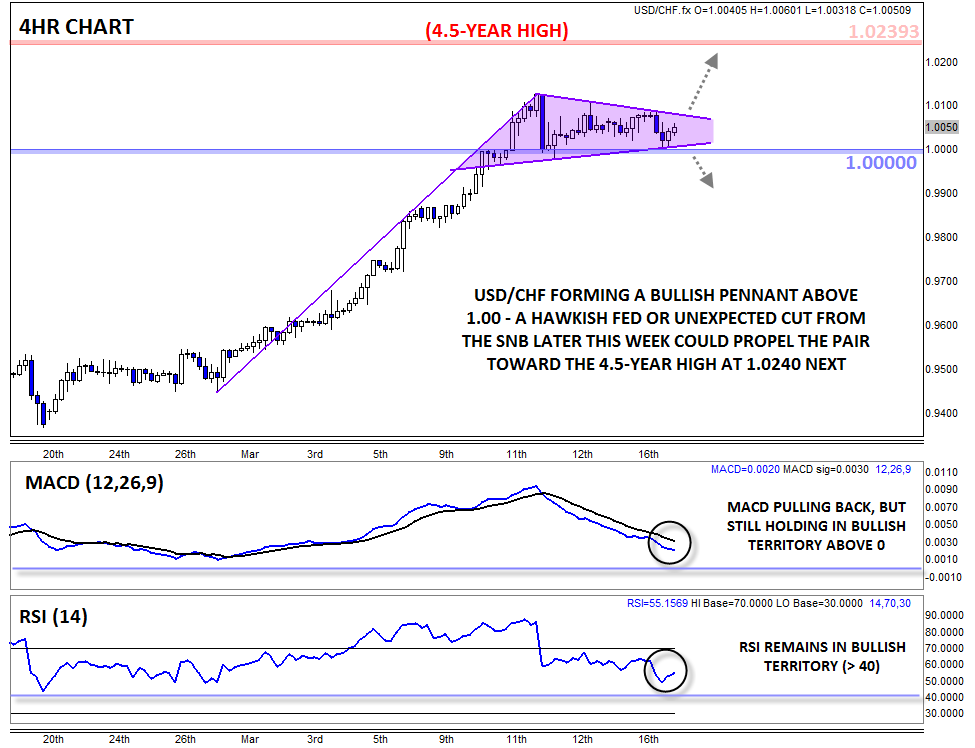 Source: FOREX.com
For more intraday analysis and market updates, follow us on twitter (@MWellerFX and @FOREXcom)