Markets are waiting patiently in North America this morning for the Federal Reserve to make their monetary policy decision in a few hours from now.  While equities are generally lower, it isn't extreme by any measure, and the USD is pretty much where it was at the end of trading yesterday.  Oil has been a more intriguing story as it continues its march toward the $40 level in WTI as inventories are higher, but trading is likely to remain stable but tense as we get closer to the Fed fireworks.  However, once that statement drops, wild fluctuations may be the rule instead of the exception.
Tempting as it may be to try and tell you what will happen at the Fed meeting and the market's reaction thereafter, I could only venture a guess since I left my crystal ball at home this morning.  For what it's worth, I believe the Fed will be hawkish and signal a rate hike in June.  While that is the minority opinion among those who make a living predicting these things, I just have a feeling that the Fed will believe that employment is back to where they want it and low inflation is largely transitory due to low oil prices.  If that ends up being the case, the USD could be an even bigger rock star than it currently is in the currency world, and articles about decades old levels being broken will flood your Twitter feed.
Getting away from the Fed related madness; the EUR has been enjoying a fleeting bit of strength so far this week.  The EUR/USD has risen back up to the 1.06 handle and remained there, and the EUR/GBP has turned nearly parabolic as the GBP continues to get pummeled on all fronts.  However, the EUR isn't faring so well in the EUR/CHF (shameless plug) which was rejected off declining trend line resistance, and there is potential that it could happen in the EUR/AUD as well.
The EUR/AUD has been following a declining trend channel for about the last month and very recently tested the upper bound of that channel.  If the channel continues to hold, there could be a rather significant move lower from current levels as the bottom of the channel may not be reached until 1.35, or even 1.34, if the timing works out accordingly.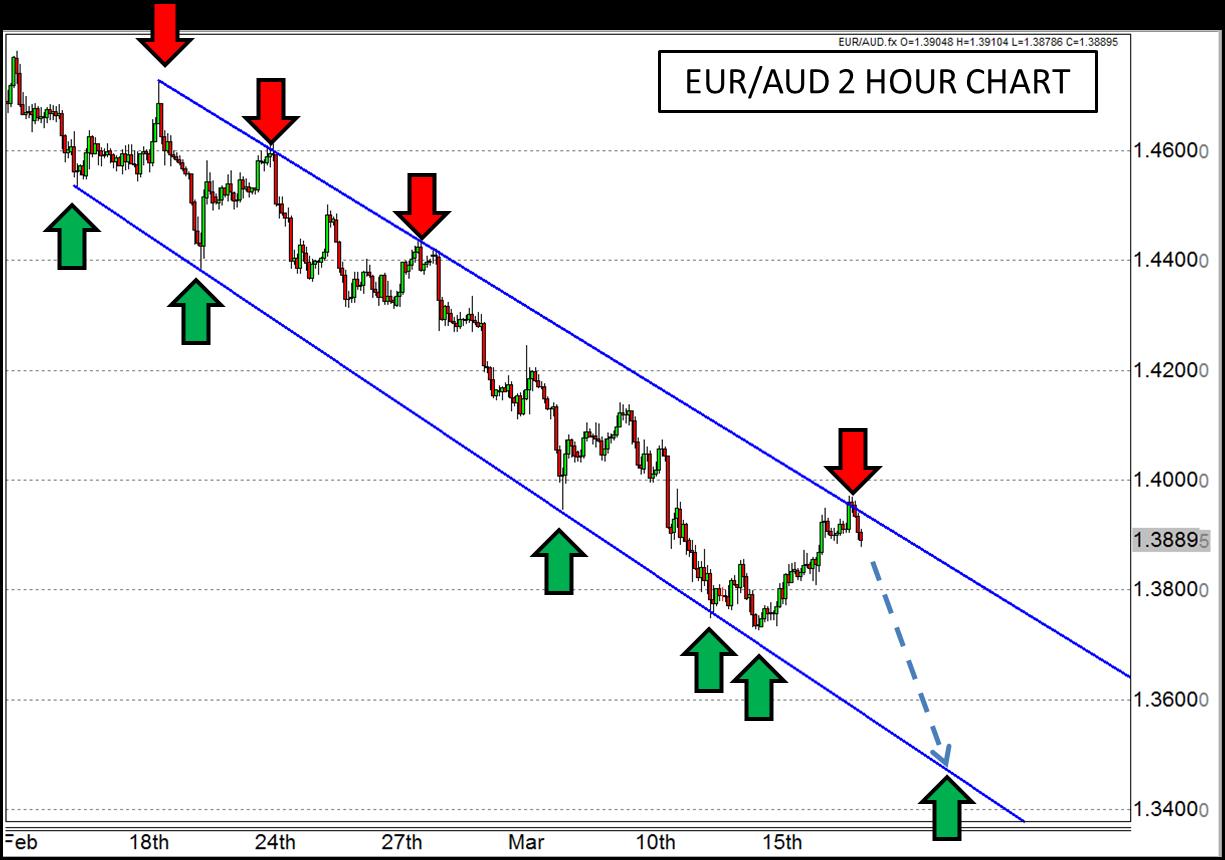 For more intraday analysis and trade ideas, follow me on twitter (@FXexaminer ).