It's been a rough day for the world's reserve currency. The trade-weighted US Dollar Index is off -0.7% today alone, and the currency is off over 2% over the last four trading days alone. The proximate cause is ostensibly today's abysmal Conference Board Consumer Confidence report, which fell over six points to a YTD low of 95.2 in the largest miss relative to expectations since June 2010. While this figure was a shock for dollar bulls, it merely extends the persistent trend of disappointing US data. To wit, Citigroup's US Economic Surprise Index dropped to -0.783, the second lowest level since inception in 2000. Perhaps then, today's consumer confidence report can be seen as the proverbial "straw that broke the bull's back."
From a technical perspective, the writing was on the wall for the dollar index late last week. On Thursday, the dollar index dropped below symmetrical triangle support at 98.00, following that up with a weekly close below the 50-day MA on Friday. This represented the first time since last July that the index had traded below its 50-day MA, providing a clear signal that, at a minimum, the longer-term trend was shifting into a lower gear. Meanwhile, both the MACD and RSI peaked back in mid-March and have been trending lower ever since; the MACD is now peeking below the "0" level, showing that momentum has shifted outright in favor of the bears.
Now before we get too far ahead of ourselves, it's important to remember that what the market giveth, it can also taketh away. With the first estimate of US Q1 GDP and the Fed's Monetary Policy Statement on tap tomorrow, followed by a series of second-tier US economic reports and ISM Manufacturing PMI, there is still a chance that buyers could step in to support the greenback later this week. But if none of these economic reports signal an imminent turnaround in the US economy, the dollar drop may be just getting started. To the downside, the 100-day MA around 95.00 may be the next support level to watch, while the previously-supportive 50-day MA at 97.40 may now cap near-term rallies in the dollar index.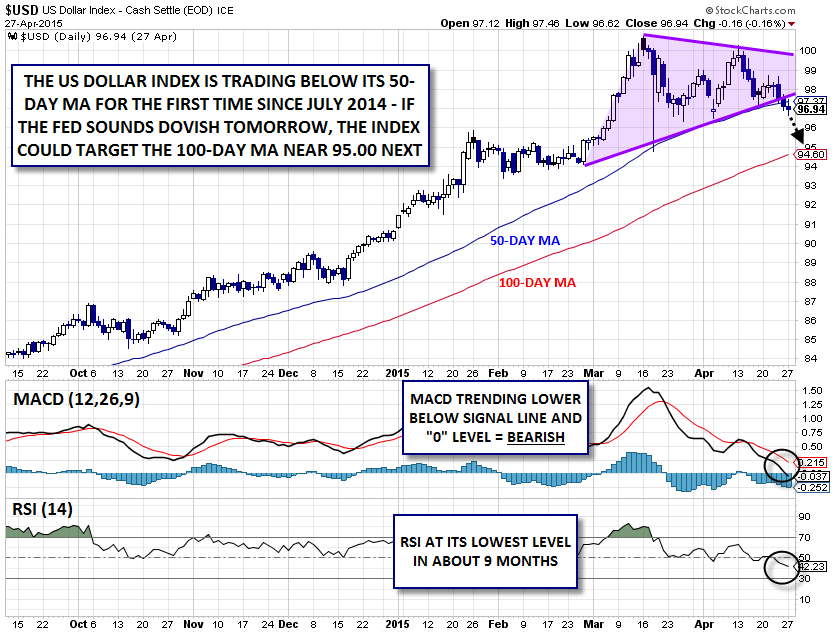 Source: FOREX.com
For more intraday analysis and market updates, follow us on twitter (@MWellerFX and @FOREXcom)