The afternoon session of North American trade was dominated by the will of the Federal Reserve who wasn't quite as pessimistic about the US economy as many had expected.  The combination of pretty awful employment figures last month and a slow growth quarter to start out 2015 were pretty fresh in the minds of everyone who watched the Fed's statement unfold, but the Fed passed those concerns off as largely transitory due to weather and low energy prices.  They expect inflation to return toward 2% in the medium term, and they didn't mention anything in regards to timing for an interest rate hike.  While you couldn't outright classify this statement as hawkish, it certainly wasn't doom and gloom inducing either, which is a victory for the beaten down USD bulls.
The question that remains to be answered after this statement is if those same beaten down USD bulls can take back control.  Not mentioning anything about hiking or not hiking rates specifically removes a dovish comment from the last statement where they said, "…an increase in the target range for the federal funds rate remains unlikely at the April FOMC meeting."  Notice they didn't say anything about a June hike being unlikely this time around; it's kind of an "addition by subtraction" type of hawkish statement, if you will.
That being said, the chances of a June rate hike are still a long shot, but not completely dead.  Considering the Fed mentioned that they expect inflation to rise in the medium term, and we have two more Non-Farm Payroll releases before the next Fed meeting, it's conceivable a hike could happen.  After all, they did say they would raise rates if they "are reasonably confident that inflation will move back to its 2 percent objective over the medium term" (which they already stated they are from earlier in the statement) and "has seen further improvement in the labor market" (which could come from two good NFP's).
Given the potential for sooner than anticipated action from the Fed, the USD could go back to being the king of the hill, and at least in the near term, the USD/CHF is setting up for a potential recovery up to some intriguing resistance levels.  The convincing break through 0.95 this morning kicked the USD while it was down and may have been a little overzealous in the process.  A USD rally could bring this pair back to that same level which corresponds to previous support as well as a 61.8% Fibonacci retracement from this week's high to low.  While the world's reserve currency may not be back to king dollar status quite yet, it may be able to at least start to get the ball rolling in the USD/CHF.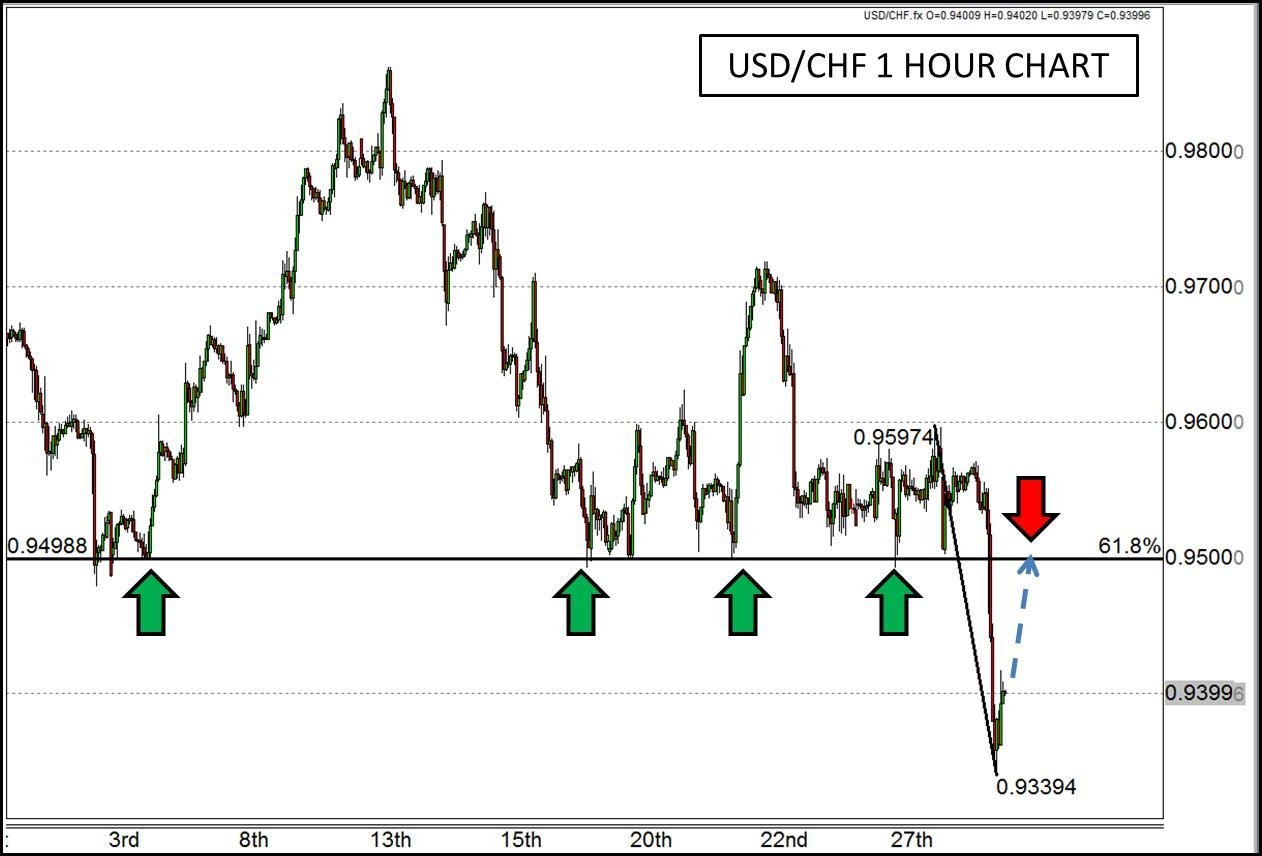 For more intraday analysis and trade ideas, follow me on twitter (@FXexaminer ).