The NZ dollar has been mauled by bears following the RBNZ's decision to introduce a more dovish tone and assault the kiwi at its policy meeting this morning. The bank reinforced comments made by McDermott last week about the possibility of looser monetary policy if economic activity begins to sour, which means the market and the bank are going to be closely watching NZ economic data.
Directly from Wheeler's statement:
On rates
• "The timing of future adjustments in the OCR will depend on how inflationary pressures evolve in both the non-traded and traded sectors. It would be appropriate to lower the OCR if demand weakens, and wage and price-setting outcomes settle at levels lower than is consistent with the inflation target." This is very different from Wheeler's statement in mid-March which noted that the bank expected a period of stability in the cash rate and future adjustments would depend on economic data.
The bank was even harsher on the kiwi
• "On a trade-weighted basis, the New Zealand dollar continues to be unjustifiably high and unsustainable in terms of New Zealand's long-term economic fundamentals. The appreciation in the exchange rate, while our key export prices have been falling, is unwelcome." The RBNZ is notorious for talking down the kiwi, but this month the RBNZ stepped it up a notch.
The prospect of looser monetary in NZ is a big weight for the kiwi to carry. The market has only recently gotten used to the idea that the RBNZ isn't likely to raise the OCR this year, and it now looks like the bank may do a complete 180. However, it's important to note the RBNZ needs to see further softness in the economy before it considers cutting the official cash rate. Today's comments may have simply been an attempt to weaken the exchange rate and not an indication that the RBNZ is considering a rate cut in the near-term.
AUDNZD's dreams of parity have been extinguished, at least for now
The possibility of the NZ dollar overtaking the Australian dollar has been dealt a serious below by the notion of looser monetary policy in NZ. We suggested this may happen last week after McDermott's dovish comments and a fundamental change in the behaviour of yield seekers (see: AUDNZD: this could be only the beginning of a much larger rally…). The pair has now reached our initial price target of 1.0500 and is testing a resistance zone around 1.0520/30. While we can see the possibility of some consolidation trading, it may take a surprise rate cut from the RBA next week to take any out of AUDNZD's sails (this is not our base case). Beyond here we are eyeing off 1.0750/1.0800.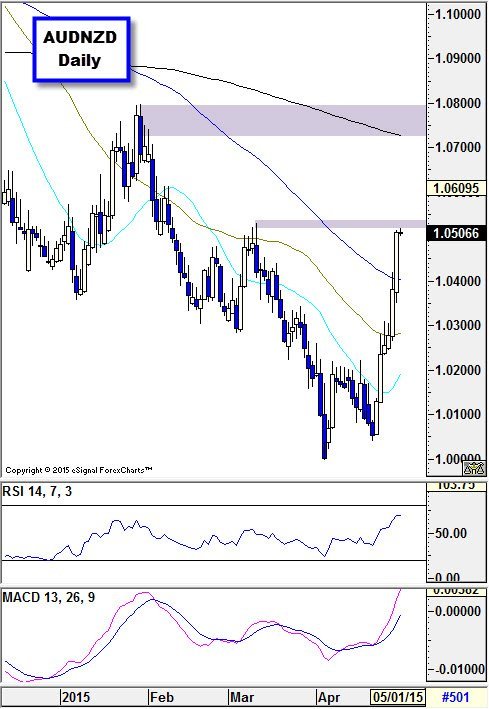 Source: FOREX.com