The last 24 hours have been a pretty volatile mix in world markets as GDP releases and central bank meetings have helped frame the agenda of currency values.  US GDP was disappointing, the Federal Reserve wasn't as dovish as many anticipated, the Reserve Bank of New Zealand was more dovish than expected, the Bank of Japan did nothing, and Canadian GDP was better than most thought it would be.  There has been so much going on that you could be forgiven for losing track of minor developments that may have a major impact, like the US data dump this morning, or that the Eurozone climbed out of deflation for the first time in four months.  These somewhat secondary figures (in relation to the others mentioned) could end up having more impact over the near term than some of the more popularly mentioned results.
The bigger issues will have their say in where the markets go as well, and the Canadian GDP report of 0.0% growth in February could say an awful lot.  It is helpful to remember that times were pretty bleak back at the beginning of the year for Canada.  The Bank of Canada had cut interest rates and was expected to do it again at the next meeting, employment wasn't particularly encouraging, and oil prices were down in the dumps.  In subsequent months, the tide has turned substantially as the BoC backed away from their dovish stance, employment picked up, oil prices started to rise, and inflation returned.  Evidently some of those animal spirits were beginning to be felt earlier than many anticipated as the GDP wasn't in negative territory.
Much of that return to optimism for Canada can be seen in the USD/CAD which broke out of its long bemoaned sideways channel and spelunked to lower levels.  In spite of the good news from Canada this morning though, the USD/CAD has advanced to an intriguing level where it may have some difficulty traversing across.  The CAD advance has formed a declining trend line in the USD/CAD that has been ongoing for a little more than a month, but a sub-trend line has formed as well that may keep this pair subdued.  In addition, this pair has advanced up to a 61.8% Fibonacci retracement of this week's high to low that also corresponds to a psychological round number resistance at 1.21.  If all these factors can combine to form a wall, this advance in the USD/CAD may end up being relatively short lived.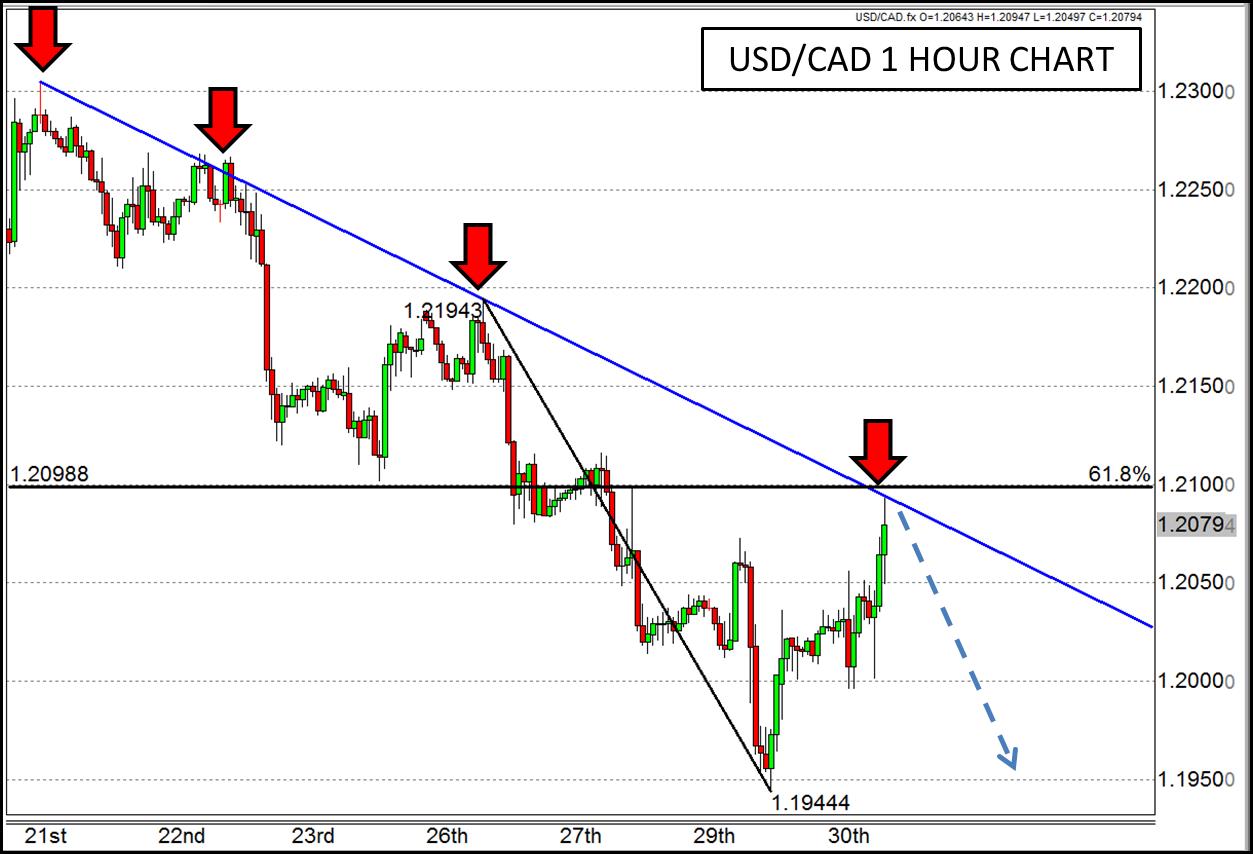 For more intraday analysis and trade ideas, follow me on twitter (@FXexaminer ).