If you had gone on vacation this week and someone told you AUDUSD was trading at .7820 on Friday afternoon, you'd hardly be surprised; after all, the pair was closed last week right at the same .7820 level! Of course, just looking at the weekly closing prices hides all of price action throughout the week, and in the case of the AUDUSD, the outlook from the .7820 level is much less optimistic than it was at this time last week.
From a technical perspective, the entire week's price action can be seen as a 5-candle Evening Star* formation, with control of the currency pair gradually shifting from the buyers (Monday and Tuesday's bullish candles) to neutral (Wednesday's Shooting Star Doji) to the sellers (Thursday and Friday's bearish candles). These types of patterns are often seen at near-term tops in the market and point toward more weakness moving forward. This bearish outlook is bolstered by the Slow Stochastics indicator, which rolled over from overbought territory this week.
The proverbial "Queen on the Chessboard" in the coming week will be the RBA, which, similar to its last two meetings, is anticipated to cut interest rates. The central bank has confounded traders' expectations by holding steady for two meetings now, so if it opts to hold fire once again, AUDUSD could bounce back. That said, if the RBA finally bows to doves and cuts rates, the Aussie could fall toward the Fibonacci retracements of the April rally at .7750 (61.8%) or even .7665 (78.6%) by midweek.
* An Evening Star candle formation is relatively rare candlestick formation created by a long bullish candle, followed a small-bodied candle near the top of the first candle, and completed by a long-bodied bearish candle. It represents a transition from bullish to bearish momentum and foreshadows more weakness to come.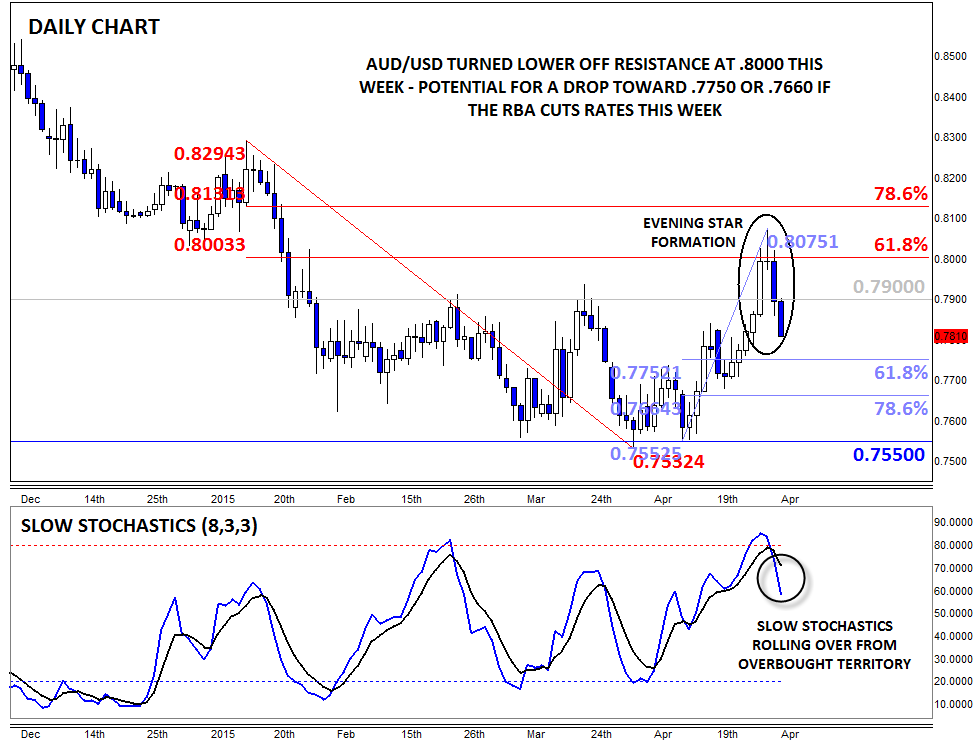 Source: FOREX.com
For more intraday analysis and market updates, follow us on twitter (@MWellerFX and @FOREXcom)