Last week, we identified USDJPY as a currency pair that could be ripe for a breakout, noting that, "most traders have lost interest in the lackluster trade of USDJPY, but ironically, that's generally the time when a pair is most apt to see a breakout…a bullish breakout could lead to new 7.5-year highs above 122.00" (see "USDJPY: GDP Flop Not Enough to Break Triangle, but Fed on Tap" for more). Though we haven't seen the dramatic return of the high volatility environment that characterized the second half of last year, the pair did manage to rally by nearly 200 pips over the final 48 hours of last week to trade at a 3-week high today. As we head into another busy trading week, USDJPY bulls may try to build on last week's gains and push the pair up toward 122.00 next.
The technical perspective is relatively clear. USDJPY broke out of its near-term triangle pattern on Friday and is maintaining that move thus far this week, but more broadly, rates are in a sideways range with support in the 118.30-50 zone up to resistance at the 7.5-year high around 122.00. With the RSI also breaking out of its own triangle pattern, more technical strength is favored this week, though the pair may struggle to break strong resistance near 122.00 without a major fundamental catalyst.
In that vein, there are a few major fundamental storylines to watch this week. Logistically, it's worth noting that Japanese Banks are closed today and tomorrow for the end of the Golden Week celebration, so liquidity (and volatility) could be limited in the early part of this week. Later in the week, traders will gain insight into the US economy's performance in April, highlighted by the release of the ISM Non-Manufacturing PMI report (Tuesday), the ADP Non-Farm Employment report (Wednesday), a panel discussion from Fed Chair Yellen (Wednesday), and the marquee US Non-Farm Payroll report (Friday). Traders will be looking to see if the world's largest economy is accelerating after yet another disappointing first quarter of the year and a strong NFP report would go a long way toward alleviating fears of continued economic malaise.
Across the Pacific, the biggest release will be the BOJ's Monetary Policy Meeting minutes in Friday's early Asian session; though this report actually relates to the early May BOJ meeting, it could still contain insight on how the central bank views the economy and whether an expansion of its QE program is still on the table.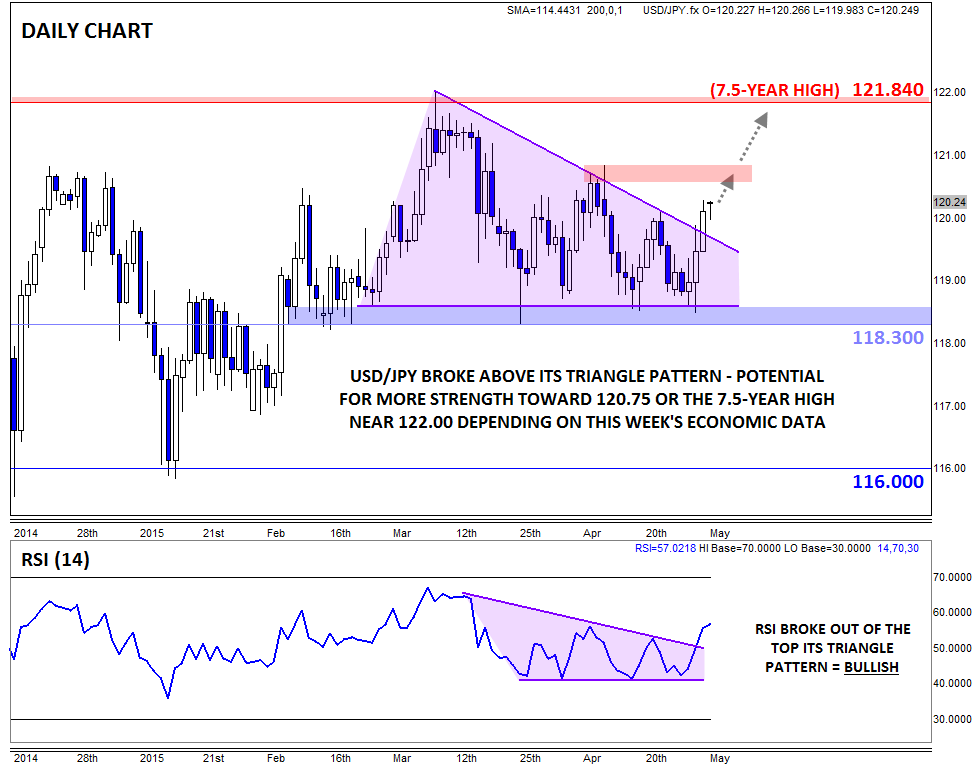 Source: FOREX.com
For more intraday analysis and market updates, follow us on twitter (@MWellerFX and @FOREXcom)