It's finally election week in the UK, and unlike many elections, the winning party is far from a foregone conclusion. The latest polls show a tight race between the Conservative Party led by incumbent Prime Minister David Cameron, and the Labour Party, led by Ed Miliband, with neither party likely to secure an outright majority. As of writing, most forecasters are predicting a Conservative win by the smallest of margins, though this is far from unanimous, suggesting that election night itself will be a rollercoaster for political junkies and traders alike (for more on the UK election and market expectations, see our full special report here). Regardless of which party wins the election, a messy, drawn-out negotiation to form a ruling coalition is probable.
Traders are notorious for being a forward-looking and fickle bunch, perhaps explaining some of GBPUSD's big selloff in the last 48 hours of last week trade. Cable fell a staggering 380 pips from Wednesday's high to Friday's low and actually managed to close lower on the week despite the big early-week rally. This price action created an ugly Bearish Pin Candle*, or inverted hammer, on the weekly chart. For the uninitiated, this candlestick pattern shows a big shift from buying to selling pressure and is often seen at near-term tops in the market. Last week's reversal, combined with the previous high and medium-term Fibonacci resistance level around 1.5500, suggests that the pair may not revisit the recent highs any time soon, especially with the election uncertainty likely to stretch past the official election date.
As of writing, GBPUSD is peaking below its 38.2% Fibonacci retracement at 1.5140, potentially opening the door for more weakness toward psychological support at 1.50 or the 61.8% Fibonacci retracement at 1.4920 next. As always, traders should keep an eye on the upcoming PMI reports out of the UK and US, as well as Friday's US Non-Farm Payroll report, to drive intraday swings in GBPUSD, but the driving story for the pair this week will be political, not economic.
*A Bearish Pin (Pinnochio) candle, or inverted hammer, is formed when prices rally within the candle before sellers step in and push prices back down to close near the open. It suggests the potential for a bearish continuation if the low of the candle is broken.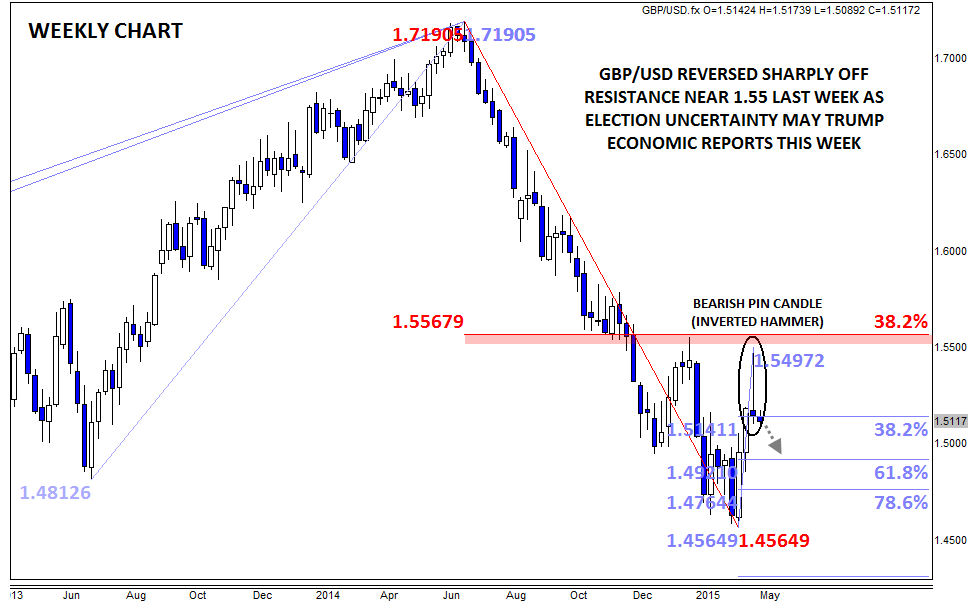 Source: FOREX.com
For more intraday analysis and market updates, follow us on twitter (@MWellerFX and @FOREXcom)