NZDUSD has been in a broad upward trend for most of the year, but it still hasn't retraced a massive sell-off in January. At that time a combination of NZ dollar weakness and US dollar strength driven by a divergence of monetary policy expectations between the respective economies crippled NZDUSD. The totality of the sell-off was a staggering 1,000 pips to its lowest point, all in under a month. The pair has spent the preceding months attempting to regain this lost ground but the rally has been gradually losing momentum.
The kiwi was mostly rebuilt on the premise of tighter monetary policy in NZ and some intermittent dollar weakness. While the latter situation may continue, the former foundation is looking very shaky. The RBNZ has adopted an outright dovish bias and continues to verbally assault the NZ dollar at every opportunity, both of which are heavy burdens for the kiwi to carry.
The possibility of looser monetary policy hinges on NZ economic data and the strength of the kiwi. At last week's meeting governor Wheeler stated that "the timing of future adjustments in the OCR will depend on how inflationary pressures evolve in both the non-traded and traded sectors. It would be appropriate to lower the OCR if demand weakens, and wage and price-setting outcomes settle at levels lower than is consistent with the inflation target." This places the RBNZ firmly in wait-and-see mode and leaves the rates outlook in NZ even more susceptible, both to the upside and the downside, to softer than expected NZ economic data than it already was.
NZ's all-important employment and dairy numbers
NZ's Q1 employment report is due out tomorrow at 2245GMT. Employment is expected to have increased an encouraging 0.8% last quarter, after jumping an even more impressive 1.2% in the prior quarter, which should help bring the employment rate down to 5.5% - it's worth noting that the participation rate for Q4 has been revised down to 69.4% from 69.7% and it's not expected to have changed in Q1. If all goes to plan this employment report may keep NZD bears at bay for a little longer. In saying that, a softer than expected employment report would provide kiwi bears with another reason to maul the currency, especially considering that NZ's labour market has been a saving grace for NZD bulls.
The commodity-backed kiwi will also be subjected to the results from GlobalDairyTrade's latest dairy auction. The last three auctions (two in April and one in March) have seen prices fall and another soft result wouldn't bode well for NZD. The kiwi's recovery in March was partly due to consistent strong GDT auction results, which leaves it very vulnerable to deteriorating prices.
On the US dollar side of the equation, there's a lot of important economic data out of the US this week which could impact the outlook for interest rates (all times are AEST):
• March trade numbers – exp. -$41.7bn (Tuesday 2345)
• ISM April Non-Manufacturing PMI – exp. 56.2 (Wednesday 0000)
• ADP April employment change – exp. 200K (Wednesday 2215)
• Initial jobless claims – exp. 278K (Thursday 2230)
• April NFP – exp. 230K (Friday 2230)
• Unemployment rate – exp. 5.4% (Friday 2230)
The rest of the gauntlet for NZDUSD will comprise of numerous speeches from central bankers from both sides of pacific. RBNZ Governor Wheeler is due to speak in Nelson on Thursday at 1000AEST, but as is the case with many RBNZ speeches this one isn't public, yet it's worth keeping an eye on the wires at this time just in case. In the US, Fed speakers come out in force on Wednesday night/Thursday morning, with Yellen, George and Lockhart all speaking during this time (Yellen's speech at 2315AEST on Wednesday in Washington is going to be closely watched by the market).
Technical look: NZDUSD
NZDUSD remains in its long-term upward trend, but it appears to be losing momentum – there's a bearish crossover in daily MACD. It'll be interesting to see if it can break through its current upward wedge formation, which would be a bearish development. If support holds we may see it make another run for 0.7750, but if it breaks price may make easy work of a support zone around 0.7500.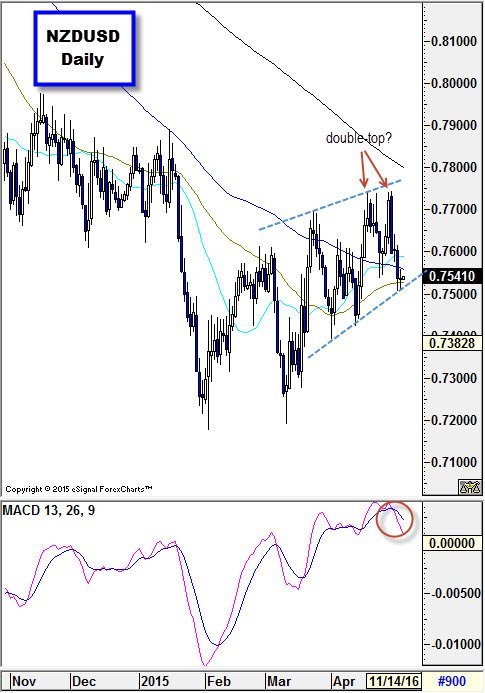 Source: FOREX.com