The Australian dollar was sent on a wild ride after the RBA's decision to cut the official cash rate by 25 basis points to 2.00%. The initial reaction of the aussie to the news was very poor, which is typically how a currency reacts when its respective central bank loosens monetary policy, but it soon rallied to a resistance zone above 0.7900. While the bank cut interest rates, it didn't add to its trademark assault on the exchange rate or provide any real indication that it's considering loosening monetary policy further. This, combined with some well placed orders, led to a rally in AUDUSD.
The RBA only included its usual lines about the need for a lower Australian dollar given declines in key commodity prices. It may have taken the opportunity to step-up its assault on the aussie by adding to this tired old statement. A more dovish tone from the central bank may have also succeeded in sinking the Australian dollar but the lack of one, as is the case in this month's statement, removes a big weight off the currency, thereby limiting the positive impact of looser monetary policy.
Governor Stevens noted that "the board judged the inflation outlook provided the opportunity for monetary policy to be eased further, so as to reinforce encouraging trends in household demand." This statement suggests that the RBA is encouraged by recent signs of life from retail consumers and is moving away from its easing bias. Stevens also highlighted recent strong labour market data (see: It's hard not to get excited about Australia's labour market data).
However, the RBA did note that the key drag on private demand is likely to be weakness in business CAPEX in both non-mining and mining sectors and the economy can't expect much help from the fiscal side of the equation. The bank concluded that the economy is likely to operate with a degree of spare capacity for some time and that the current inflation outlook provided the opportunity to cut the OCR. The bank has now returned to wait-and-see mode…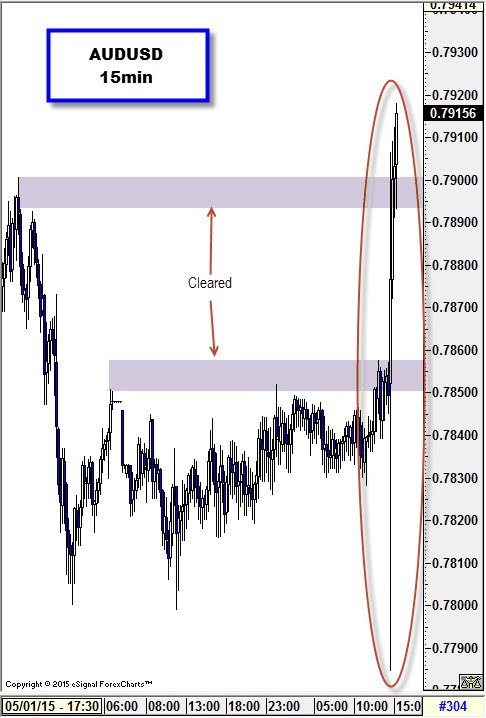 Source: FOREX.com