The morning half of the North American trading session has been a bit mixed this morning as US and Canadian data releases weren't making investors feel too sure of themselves.  The Trade Balance figures from both nations were dismal while Service PMI's from the US weren't too bad, and in fact, showed that employment grew for both the ISM and Markit versions of the report.  The positive results for employment may help to lighten the mood as we creep ever closer to the Non-Farm Payroll report at the end of the week.  For now though, the mood is mostly dreary as the USD is taking a beating, and US equities are comfortably in the red as we head for the lunch hour.
One very interesting development from overnight came courtesy of the Reserve Bank of Australia whom finally cut interest rates by 25 basis points after refusing to do so the two previous meetings.  The move was highly anticipated and actually had the opposite effect that would be expected upon such an action.  After seeing the AUD lose value in the initial stages, the currency came roaring back and is up substantially from where it was previous to the cutting decision.  This type of price action can be typical after a highly anticipated event of such magnitude due to investors exiting their previously held short positions once the outcome was certain, but sometimes the afterglow doesn't last long.
The rally in the AUD is not unlike a construction worker sawing off a piece from a 2X4, there is destined to be some dust that gets thrown in the air.  The RBA essentially just took a saw to their piece of rate board and the dust is still lingering.  Once the action is over though, the dust settles, and order is returned.  The same thing may happen to the AUD as the action of the rate cut is over, and that is surely where the RBA would prefer it to go as they said in their statement, "Further depreciation (in the AUD) seems both likely and necessary."  And when it comes to trading currencies, the old saying is that you shouldn't fight the central bank.
An opportunity where siding with the central bank may be setting up is in the AUD/JPY which is currently approaching the 78.6% Fibonacci retracement from last week's high to the pre-RBA decision low.  If that Fibonacci level can provide the necessary resistance, it may be the catalyst for the dust to settle in this pair, and a move lower, just as the RBA wants, may be the ultimate direction we see.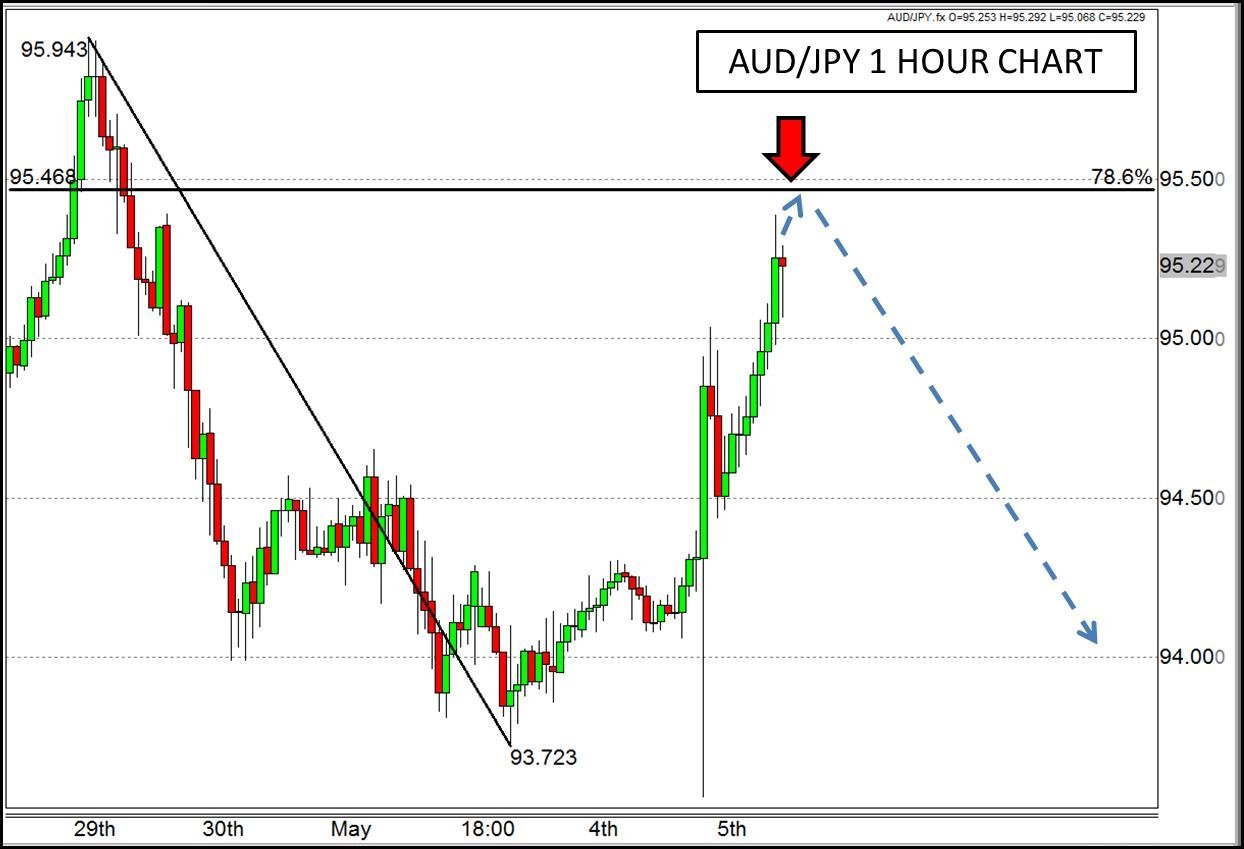 For more intraday analysis and trade ideas, follow me on twitter (@FXexaminer ).