NZDUSD have been all over the place in last 12 hours, as widespread USD strength fights kiwi weakness. This has pushed the pair towards trend line support and has compounded some technical weakness in price. From here we're eyeing off support around 0.7480 – trend line support and recent low.
The plummeting kiwi is being pushed lower by softer than expected Q1 employment numbers out of NZ. The unemployment rate unexpectedly remained at 5.8%, after being revised higher in Q4 from 5.7%, and employment only increased by 0.7% over the quarter (expected 0.8%). Furthermore, average hourly earnings only increased 0.2% q/q, completely missing an expected 0.9% q/q increase – wage price inflation has a major influence on overall inflation, as consumers can't spend if they don't have money. The only bright spot in the report was an increase in the participation rate to 69.6% from a revised 69.4%.
The employment report is likely to add to the case for looser monetary policy in NZ. Just last week the RBNZ introduced a dovish bias as it awaits more economic data. In fact, it explicitly stated that "it would be appropriate to lower the OCR if demand weakens, and wage and price-setting outcomes settle at levels lower than is consistent with the inflation target." This means that the RBNZ is closely monitoring the pace of wage growth and numbers below its official inflation forecast may prompt a rate cut. While this one piece of economic data isn't going to determine the future of monetary policy in NZ, it tips the scales further in favour of lower interest rates in NZ.
Prior to today's employment numbers, another soft auction result from GDT was hurting the commodity currency. GDT's Price Index dropped 3.5% since the last auction in mid-April, after dropping at the previous three auctions. The NZ economy is heavily export oriented, with a specific focus on dairy, thus persistent soft dairy auctions don't bode well for the commodity-backed kiwi.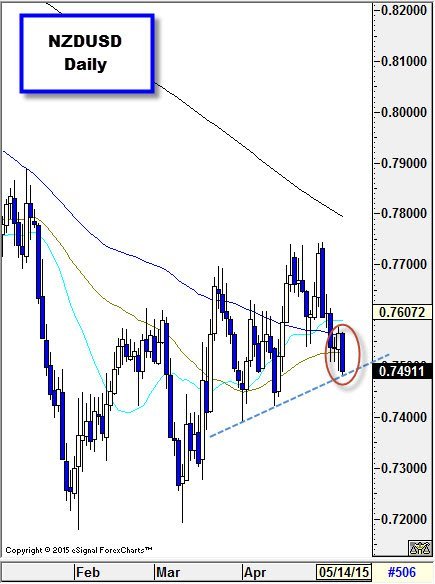 Source: FOREX.com