AUDNZD has been propelled higher once more, much to the delight of the RBNZ but to the chagrin of the RBA. Both central banks have been very vocal about the need for softer exchange rates in their respective countries to help promote economic growth. When a currency strengthens, or at least refuses to fall, alongside commodity prices in a commodity-backed economy it can be very detrimental to growth. Not only does it directly diminish economy activity in trade exposed sectors, it undermines business confidence throughout the economy.
This time around the pair is benefiting from stronger iron ore prices, softer than expected NZ labour market data and a general deterioration in the outlook for interest rates in NZ. The RBA's unexpected removal of its dovish bias following its rate cut earlier this week is also supporting the Australian dollar.
Earlier on Wednesday morning in Asia NZ labour market data came in below expectations, hitting the kiwi hard. The unemployment rate unexpectedly remained at 5.8%, after being revised higher in Q4 from 5.7%, and employment only increased by 0.7% over the quarter (expected 0.8%). Furthermore, average hourly earnings only increased 0.2% q/q, completely missing an expected 0.9% q/q increase – wage price inflation has a major influence on overall inflation and the RBNZ has stated it will cut rates if it drops too low. The only bright spot in the report was an increase in the participation rate to 69.6% from a revised 69.4%.
The Australian dollar was also subjected to the release of softer than expected economic data, but it wasn't overly concerning and the aussie was able to ignore it. Retail sales jumped 0.3% m/m, missing an expected 0.4% increase. The RBA stated on Tuesday that's decision to cut interest rates is designed to spur household spending, thus today's figures are a bit out of date. Also, the RBA should be happy as long as household consumption is increasing at a moderate pace.
There also appears to be growing confidence surrounding Australia's economic outlook, with Australian bond yields rising despite the RBA's decision to cut interest rates. The push away from government's debt – a safe haven asset – and a corresponding surge in yields may also be due to the removal of the RBA's easing bias.
AUDNZD
AUDNZD has managed to break a resistance zone around 1.0500 and is now testing an important resistance zone around 1.0650, which happens to correspond to its 50% retracement level from October's high. We have been closely monitoring this rally and have been continuously calling for further strength and we continue to think this will be the case in the medium-term, although we cannot rule out some consolidation trading. A break of 1.0650 may the pair make a run for its 200DMA and then another resistance zone around 1.0850.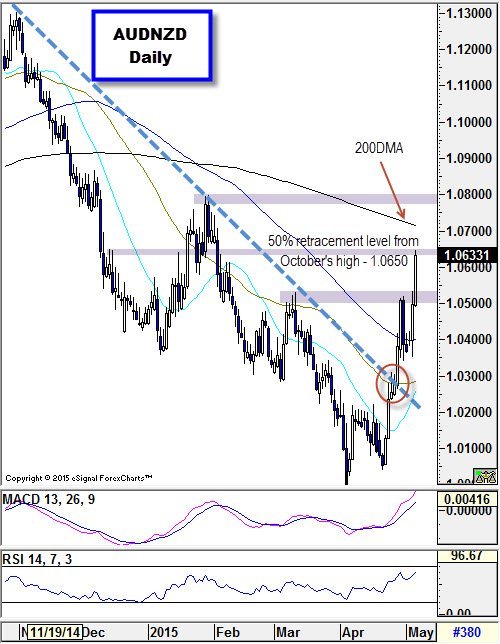 Source: FOREX.com