It has been a quiet morning thus far in Asia, with most of the majors drifting broadly sideways. One of the quietest is AUDUSD as it awaits Australia's labour market report for April. The labour market down under has been a bright spot recently in Australia's depressed economy. The release of March's jobs numbers last month completely changed the market's attitude towards the labour market. All of sudden jobs were being added in all the right places and people were returning to the workforce. However, this could easily be undone in one month, especially given how prone Australia's labour market numbers are to revision.
In April, the unemployment rate is expected to climb slightly to 6.2% from 6.1%, with the market only expecting 4.0K jobs to have been added over the month and no change in the participation rate (64.8%). It's also important to look deeper into the employment numbers, specifically where the job gains/losses are coming from. Job creation in the full-time market is more encouraging than part-time employment, although gains in both would still be considered good.
March's stellar employment report recap:
• Australia's unemployment rate dropped to 6.1% in March from a revised 6.2% in February, as the economy added 37.7K jobs last month, more than doubling market expectations, and employment growth in February was revised much higher (42K vs. 15.6K).
• Not only did the economy add a substantial amount of jobs over the last two months, they largely considered of full-time employment which is more indicative of a healthy economy than persistent growth in part-time employment. 73.4K full-time jobs were added in February and March alone, with 31.5K being added in March and February's figure was revised to 41.9K from 10.3K previously. Also, the labour force participation rate jumped to 64.8% in March from a revised 64.7% in February (the un-revised figure was 64.6%).
AUDJPY
AUDJPY is staring down the barrel of a potential bearish head-and-shoulders pattern, and a softer than expected jobs report today could be enough to confirm this pattern. There is already some indication that the pair topped out around 95.95 in the near-term – there's persistent divergence between price and RSI on an hourly chart. If it does break through the aforementioned H&S pattern's neck line we would turn our attention to 94.55 and then support around 94.00 (this is also the target for the H&S pattern).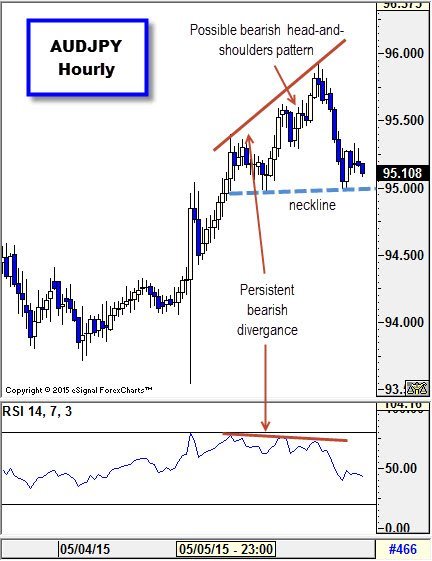 Source: FOREX.com