A slightly disappointing labour market report out of Australia for April isn't concerning the Australian dollar. AUDUSD is actually up after the release of the jobs numbers, with the pair testing 0.8000 yet again.
Australia's unemployment rate jumped to 6.2% from 6.1% as expected, underpinned by a loss of 2.9K jobs, missing an expected 4.0K gain. Also, the participation rate remained at 64.8% as expected. The most disappointing part of the report was the loss of 21.9K full-time jobs, although the blow was slightly softened by a 9.8K upwards revision to March's employment numbers (the net loss was 12.1K).
Why was the Australian dollar able to ignore this employment report?
The aussie was able to largely ignore the fall in employment last month due to a widespread well-timed US dollar sell-off, improved confidence about the future of the economy and, most importantly, a still strong labour market. Despite last month's soft full-time employment numbers this part of the jobs market has still added over 80K jobs over the last six months and around 100K since the beginning of 2014 (see figure 1). The six-month average for the full-time jobs market is now around 13.68K per month, while the total employment average is almost 27K per month over the same period. Also, the labour force participation rate has increased from 64.5% to 64.8% since the beginning of 2014, which means people are returning to the workforce and some are finding jobs. It's true that the unemployment rate has increased to 6% since mid-2014, but this can be mostly attributed to the rise in the participation rate. Overall, as long as full-time employment continues to broadly increase, it will help keep the RBA in neutral territory (the RBA removed its easing bias during its monetary policy meeting in May).
Figure 1: Australia's employment situation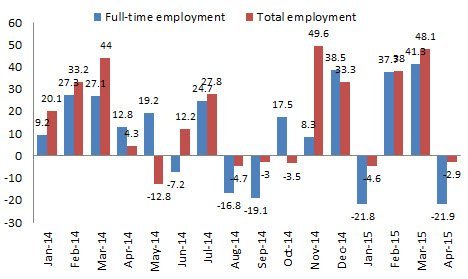 Source: FOREX.com, ABS