Overnight, Norway's Norges bank opted to leave its main interest rate unchanged at 1.25%. In its accompanying statement, the central bank struck a relatively optimistic tone, noting that though wage growth was somewhat below expectations, "oil prices have increased and household demand remains buoyant." The northern European country derives around two-thirds of exports from crude oil and petroleum products, representing 20% of GDP, so its economy is particularly sensitive to changes in the price of oil. That said, the central bank did leave the door open for a potential rate cut next month, noting that "there are still prospects that the key policy rate will be lowered in June."
Regardless of what the Norges Bank decides next month, it is unlikely to join the Zero-Interest Rate Policy (ZIRP) bandwagon any time soon: unlike many of its European rivals, Norway's economy is actually experiencing a decent rate of inflation, with the CPI-ATE (Consumer Price Index, Adjusted for taxes and energy) running just below the central bank's 2.5% target. In addition, the country is concerned about a potential housing bubble, so there are clear and present dangers to cutting interest rates too dramatically.
Technical View: USDNOK
Analysts and economists were split almost exactly down the middle heading into the meeting, with roughly half expecting a cut and the other half anticipating that the bank would hold off, so today's announcement did lead to a kneejerk reaction lower in USDNOK. Taking a look at the daily chart (below), the pair has now broken conclusively below the 38.2% Fibonacci retracement of its entire 10-month rally from below 6.00 all the way up to the March peak at 8.40. Over the last month, rates have been trending lower within a bearish channel, and with both the MACD and RSI still within their own bearish channels, more downside is favored in the near term.  
From here, bears may look to target key support around the 7.15 zone, which represents the convergence of the 200-day MA and the 50% retracement of the last year's rally. This bearish bias will remain intact as long as the pair holds below previous-support-turned-resistance around 7.50.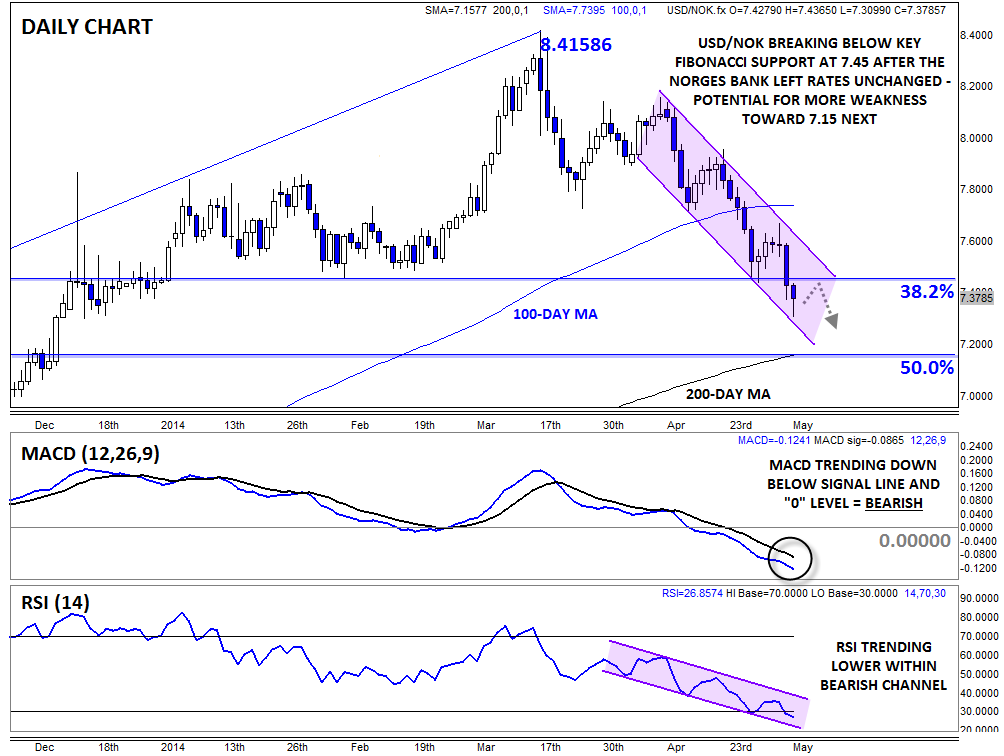 Source: FOREX.com
For more intraday analysis and market updates, follow us on twitter (@MWellerFX and @FOREXcom)