Highlights
---
By: Matt Weller, CMT, Senior Technical Analyst
The April Non-Farm Payroll report will be released tomorrow at 8:30 ET (12:30 GMT, 1:30 BST), with expectations centered on a headline print of 227k after last month's disappointing 126k reading. My model suggests that the report could come in below these expectations once again, with leading indicators suggesting a April headline NFP reading of just 177K.
The model has been historically reliable, showing a correlation coefficient of 0.90 with the unrevised NFP headline figure dating back to 2001 (1.0 would show a perfect 100% correlation). As always, readers should note that past results are not necessarily indicative of future results.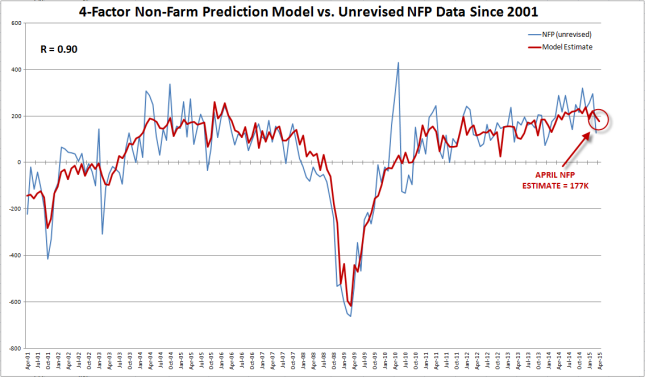 Source: Bureau of Labor Statistics, FOREX.com
Once again, this may seem like a particularly downbeat forecast, but the major labor market indicators have quietly deteriorated sharply since last year's Q4 peak. The ADP Non-Farm Employment measure fell to 169k, its lowest reading since last February, while initial jobless claims in the survey week actually ticked up to 296k, though the volatile measure later dipped back down to a 15-year low of just 263k. Concerningly, hiring in the manufacturing sector seems have ground to a halt, with the ISM Manufacturing PMI employment component signaling an outright contraction in employment at 48.3. The ISM Services PMI employment was the lone bright spot, staying essentially unchanged at 56.7 last month.
 Trading Implications
Especially in the wake of the April FOMC meeting, the jobs report will be interpreted through the lens of Federal Reserve policy. While the total number of jobs created is always important, the change in average hourly earnings will also be critical with Fed members watching for signs of inflation like a hawk (no pun intended!). Just like last month, traders may experience "sticker shock" if we see NFP print below the key 200k level for the second consecutive month. Three possible scenarios for this month's NFP report, along with the likely market reaction, are shown below:
| | | |
| --- | --- | --- |
| NFP Jobs Created | Likely USD Reaction | Likely Equity Reaction |
| < 175k | Bearish | Slightly Bullish |
| 175k-250k | Slightly Bullish | Neutral |
| > 250k | Bullish | Slightly Bearish |
Instead of focusing exclusively on the overall quantity of jobs, traders should also monitor changes in the quality of those jobs. In particular, the market will be hyper-focused on the aforementioned average hourly earnings measure of wages, which rose at a healthy 0.3% m/m in March. Historically, USD/JPY has one of the most reliable reactions to payrolls data, so traders with a strong bias on the outcome of the report may want to consider trading that pair.
Though this type of model can provide an objective, data-driven forecast for the NFP report, readers should note that the U.S. labor market is notoriously difficult to foretell and that all forecasts should be taken with a grain of salt. As always, tomorrow's report may come in far above or below my model's projection, so it's absolutely essential to use stop losses and proper risk management in case we see an unexpected move. Finally, readers should note that stop loss orders may not necessarily limit losses in fast-moving markets.
By: Neal Gilbert, Senior Market Analyst
This month my Non-Farm Payroll model is forecasting an increase of 205k jobs in April 2015, which would be an improvement from last month's dismal report, but still not enough to beat consensus. If this were to be the outcome, it would potentially put to rest some worries that the US economy is crashing and burning all around us. In addition, there is the possibility that last month's disappointment could turn more positive with a favorable revision, and could potentially keep the 14 straight months of 200k results alive.
This month's leading indicators are really a mixed bag of results as there were six indications of strength, three signs of weakness, and one result that ended up being a wash. The mix as to where they rank on the scale was interesting as well as two of the weak results were near the top of my table, weighing heavily on the final result. Still, the sheer number of strong results turned the tide to make this month's forecast better than the average of the last three months.
Using my forecast model had previously required me to take last month's result and either add to or subtract from it based on ten employment reports released before NFP; however, all of the weather-related craziness in the first quarter of 2014 created a challenge to that doctrine in that previous results were anticipated to be revised substantially higher. While that anticipation turned out to be inherently incorrect, my forecast was actually fairly accurate utilizing the average calculation. Therefore, I will continue to repeat the method of using a three month average which takes into consideration the possibility of a revision. So instead of using 126k as my base (last month's result), it will now be 197k (an average of 201k January, 264k February, and 126k March).
Here is the breakdown of the leading employment reports:
| | | | |
| --- | --- | --- | --- |
| Leading Event | Current Release | Previous Release | Good or Bad for NFP? |
| ADP Employment Change | 169k | 175k | Bad |
| ISM Non-Manufacturing PMI Employment Subcomponent | 56.7 | 56.6 | Neutral |
| Markit Services PMI Employment Subcomponent | Strongest since June 2014. | Expanded. | Good |
| ISM Manufacturing PMI Employment Subcomponent | 48.3 | 50.0 | Bad |
| Markit Manufacturing PMI Employment Subcomponent | Rose further. | Steepest upturn in 4 months. | Good |
| Initial Jobless Claims 4-Week Moving Average | 279.5k | 285.5k | Good |
| Challenger Job Cuts | 61,582 | 36,594 | Bad |
| Continuing Jobless Claims | 2.228M | 2.325M | Good |
| ISM New York Employment Subcomponent | 60.0 | 53.7 | Good |
| Chicago PMI Employment Subcomponent | Increased to highest since January. | Rose from the previous month. | Good |
| Overall |   |   | Good |
 You may have noticed that the ISM Non-Manufacturing PMI was better this month than it was last month, but only by 0.1, which isn't enough to provide a clear indication. If we were to utilize that as a positive result though, my forecast would have been closer to consensus expectations of 227k with a 223k guesstimate. Regardless, either forecast would likely be a catalyst for a sigh of relief as the US employment situation got back to business as usual. Using the data as it is, I came up with my NFP estimation of 205k new jobs created in April 2015. This is much better than the previous result, but worse than the consensus estimate of 227k. If this were to be the result, the reaction may be more muted than anything else as investors realize that last month may have just been an anomaly and the Federal Reserve could move forward with their plan to increase interest rates before the calendar turns to 2016.
One thing to be wary of, though, is the potential for revisions to last month's result. If revisions improve the numbers up to the 200k level, the reaction in the USD could be very positive. The USD/JPY is the most likely benefactor of this type of outcome and may help bolster the pair to overtake and stay above the 120 level in the near term.
| | | | | | | |
| --- | --- | --- | --- | --- | --- | --- |
| Month | Consensus | Matt's Forecast | Neal's Forecast | Actual Result | Matt's Discrepancy | Neal's Discrepancy |
| Jun-13 | 167 | 101 | 167 | 175 | 74 | 8 |
| Jul-13 | 163 | 126 | 221 | 195 | 69 | 26 |
| Aug-13 | 184 | 170 | 253 | 162 | 8 | 91 |
| Sep-13 | 178 | 172 | 162 | 169 | 3 | 7 |
| Oct-13 | 182 | 180 | 191 | 148 | 32 | 43 |
| Nov-13 | 121 | 116 | 135 | 204 | 88 | 69 |
| Dec-13 | 182 | 185 | 222 | 203 | 18 | 19 |
| Jan-14 | 196 | 184 | 277 | 74 | 110 | 203 |
| Feb-14 | 185 | 160 | 126 | 113 | 47 | 13 |
| Mar-14 | 150 | 131 | 151 | 175 | 44 | 24 |
| Apr-14 | 199 | 164 | 150 | 192 | 28 | 42 |
| May-14 | 216 | 205 | 217 | 288 | 83 | 71 |
| Jun-14 | 214 | 184 | 248 | 217 | 33 | 31 |
| Jul-14 | 214 | 217 | 268 | 288 | 71 | 20 |
| Aug-14 | 231 | 206 | 262 | 209 | 3 | 53 |
| Sep-14 | 226 | 220 | 277 | 142 | 78 | 135 |
| Oct-14 | 215 | 221 | 247 | 248 | 27 | 1 |
| Nov-14 | 235 | 232 | 278 | 214 | 18 | 64 |
| Dec-14 | 231 | 213 | 186 | 321 | 108 | 135 |
| Jan-15 | 241 | 237 | 322 | 252 | 15 | 70 |
| Feb-15 | 236 | 186 | 251 | 257 | 71 | 6 |
| Mar-15 | 241 | 220 | 310 | 295 | 75 | 15 |
| Apr-15 | 247 | 198 | 296 | 126 | 72 | 170 |
| Averages |   |   |   |   | 51 | 57 |
*all numbers in thousands of net new jobs
 For more intraday analysis and market updates, follow us on twitter (@MWellerFX, @FXExaminer, and @FOREXcom)