The Reserve Bank of Australia (RBA) released it latest quarterly monetary policy statement which covers its views on the domestic economy as well as global economic conditions. It provides significantly more insight into the path monetary policy in Australia than the short statements released by Governor Stevens following each policy meeting. In saying that, Stevens' statements are timelier and more succinct which makes them more valuable to the market.
In this MPS the RBA downgraded its inflation and growth forecasts for 2015/2016, after already downgrading them in February. It cut its June 2016 core inflation estimate to 1.75%-2.75% vs. 2%-3% in February. It also dropped its 2015-2016 growth estimate to 2%-3% from 2.5%-3.5% in its last report. At the same time it said that the economy would grow at a below average pace for longer than earlier anticipated and that the unemployment rate will peak slightly later than previously expected (6.5% in mid-2016).
However, the bank didn't reintroduce an explicit easing bias, after dropping it at its policy meeting earlier this month. The Board noted that it will continue to assess the outlook and adjust policy as needed to foster sustainable growth in demand and inflation outcomes consistent with the inflation target overtime.
The deciding factor may be the aussie
The RBA expects the Australian dollar to fall further, but admits that developments offshore, especially with regards to interest rates, will have a bearing on the exchange rate. We see this as the bank somewhat admitting that it's unsure where the exchange rate will head from here, although it believes it's unjustifiably high. If the Australian begins to appreciate it would likely force the RBA into a more dovish stance, as its return to an outright wait-and-see mode, combined with a recent resurgence in iron ore prices and some widespread US dollar weakness, has given the aussie a new lease on life.
AUDUSD
There are some indications that price may be running out of steam, but AUDUSD remains in an overall upward trend. As long as price remains in this trend our bias is still to the upside. Tonight's NFP numbers are going to be the biggest test for AUDUSD in the near-term. Another soft jobs report from the US could derail USD strength that dominated the majors overnight and into the Asia session, which could easily send AUDUSD through 0.8000/30.
Some data out of China this morning has combined with the RBA's bleaker outlook on the economy to sink AUD in the near-term. China's April trade data missed expectations, with exports falling 6.4% y/y (exp. 1.6% gain) and imports slipping 16.2% y/y (exp. -12.2%) (Watch for our report due out later which will look into the Chinese numbers in more detail).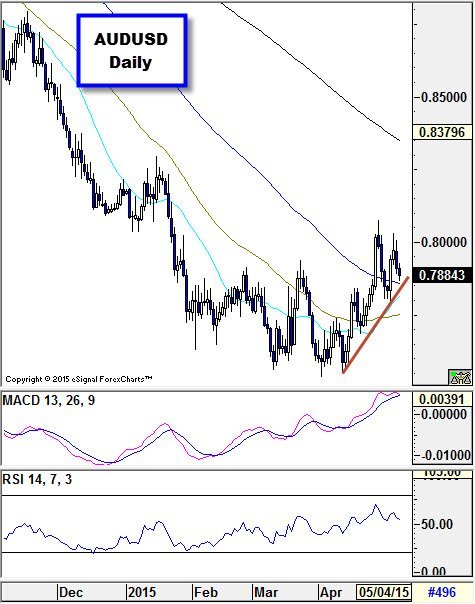 Source: FOREX.com