The People's Bank of China (PBoC) announced more stimulus measures over the weekend in response to soft trade and inflation numbers for April. At the end of last week we noted that the disappointing trade numbers may push the PBoC to loosen policy as they represent an immediate threat to growth, and sure enough the bank decided to cut interest rates for the third time in six months. While this move briefly pushed the kiwi higher at the open, news that banks were turning more dovish on the rates outlook in NZ weighed heavily on the NZ dollar.
China's central bank reduced one-year lending and deposit rates by 0.25% each to 5.1% and 2.25% respectively. It also announced plans to increase the amount banks can offer to savers. These moves are designed to free-up cash and encouraging lending.
Exports fell 6.4% y/y last month, completely missing an expected 1.6% gain, and imports fell 16.2%, also missing expectations. Moreover, consumer prices only rose 1.5% y/y in April, missing an expected 1.6% y/y gain, and factory gate prices fell 4.6% y/y. This is despite the PBoC's recent attempts to boost growth, including cutting interest rates and the RRR and liquidity injections to banks.
While Asia's main commodity currencies initially had a positive reaction to the news out of Beijing, the idea that the PBoC may be more concerned about China's economic outlook than previously thought and the limited impact we predict this round of policy loosening will have may weigh on AUD and NZD (AUD investors should keep an eye on rising copper prices which is generally a positive for the commodity currency). Past rate cuts haven't succeed in spurring lending or economic growth, and we don't expect another 25 basis points of loosening will do much to encourage banks to lend more.
The problem remains a lack of confidence and that cannot be solved through mild monetary policy loosening, especially considering the weekend's moves don't directly target the problem of softening exports – a lower exchange is needed for this but the PBoC cannot risk encouraging more capital outflow. We need to see more action on the fiscal side of the equation, as well as further monetary policy loosening. (Eyes on China's industrial production numbers, which are due out on Wednesday at 1530AEST).
Technical look: NZDUSD
Our prior bearish technical bias has been proven correct, but now we're waiting for a break of channel support (see chart). At present, the base of NZDUSD's long-term channel is near some horizontal support around 0.7400, which could strengthen the bears position. In the event that price cannot break through this level our bias would be higher in the near-term, possibly towards the top of its channel.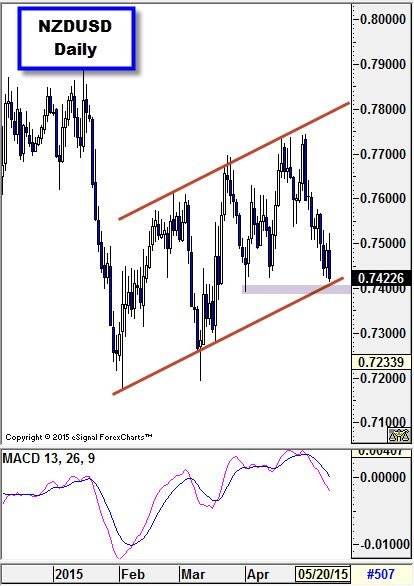 Source: FOREX.com