It has been a very eventful session for the kiwi, with NZDUSD falling around 1.4%. Widespread risk-off sentiment and an increasingly dovish outlook surrounding NZ interest rates is dragging down the NZ dollar. Earlier this morning, news that some banks were anticipating looser monetary policy in NZ rattled the kiwi, before a general deterioration in investor sentiment in Asia pushed the commodity currency even lower. This thrust towards safe-haven currencies also hit the sterling, but it's still on cloud nine after its gain's on the back of the election, thus GBPNZD has been surging higher since the open.
GBPNZD has now reached an important resistance zone around 2.1000. Price hasn't been able to breach this level since April 2011, but this isn't from a lack of trying. In fact, price action has been rejected around this level at least four times since then. Lately, the pair has been dominated by the race for the most hawkish central bank in the developed world, or at least for the title of second most hawkish central bank after the Fed. Both the RBNZ and BOE were on a more hawkish path than they are on now, with the former even raising rates in the first half of 2014, but both central banks are representing somewhat strong economies, at least when compared with most of the developed world.
The most recent addition of NZ-rate doves is the latest chapter in this story. Softer than expected economic conditions in NZ, a high exchange rate and lacklustre inflation are driving the debate around looser monetary policy in NZ. The RBNZ want's a lower exchange rate to help spur growth and inflation, but the kiwi hasn't been playing along, largely thanks to general weakness in the US dollar on a less aggressive rates outlook at the Fed and generally loose monetary policy conditions throughout the global economy. And, these factors don't appear to going away for the time being, thus the RBNZ may be forced to lower the OCR (OIS pricing indicates the market is looking for a cut by the end of Q3) – let's see what RBNZ Governor Wheeler has to say during his speech on Wednesday morning after the release of the bank's Financial Stability Report.
On the other side of the equation, the pound's success after the election leaves it vulnerable to profit takers and those looking for a period of consolidation. The market is also going to be eyeing tonight's policy meeting at the BoE for any clues as to when the bank may be looking to tighten monetary policy, while also keeping a close eye on the bank's latest inflation report (due to be released on Wednesday).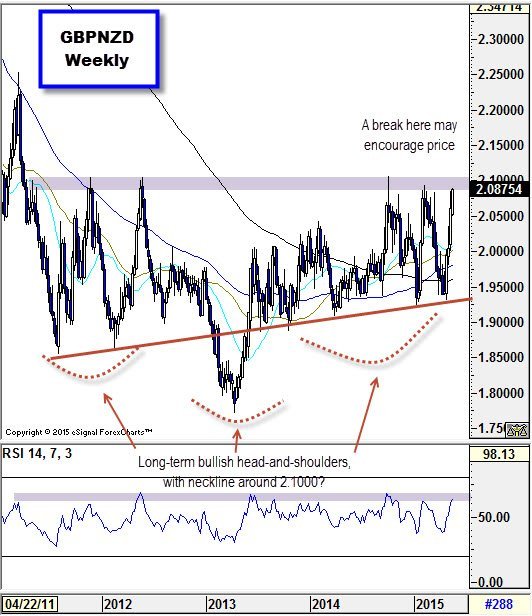 Source: FOREX.com