Markets are off to a relatively slow start this week, with most major currencies treading water as traders continue to digest Friday's solid-but-not-spectacular NFP report, though there has been a bit of volatility in Asian currencies around China's decision to cut interest rates for the third time in six months. Volatility should pick up as the week moves along though, with Wednesday's US Retail Sales report as the primary highlight for dollar traders.
Speaking of the dollar, USDCHF has seen a major reversal over the last three days. After falling to a low of .9065 on Thursday, the pair saw a fierce rally to close the week, rallying by over 250 pips over the last 36 hours. This price action created a clear Morning Star* candlestick pattern on the daily chart; this relatively rare 3-candle reversal pattern shows a shift from selling to buying pressure and is often seen at major bottoms in the market. With rates testing the bottom of the recent bearish channel and the RSI indicator dipping into oversold territory for the first time since the SNB-induced collapse in mid-January, there is an elevated chance that USDCHF could rally this week.
To the topside, bulls may look to target the upper end of the recent bearish channel, with resistance looming up at .9550. Traders may look to fade near-term dips this week as long as we don't see a break below the bottom of the Morning Star pattern and the 61.8% Fibonacci retracement near .9030.
* A Morning Star candle formation is relatively rare candlestick formation created by a long bearish candle, followed a small-bodied candle near the low of the first candle, and completed by a long-bodied bullish candle. It represents a transition from selling to buying pressure and foreshadows more strength to come.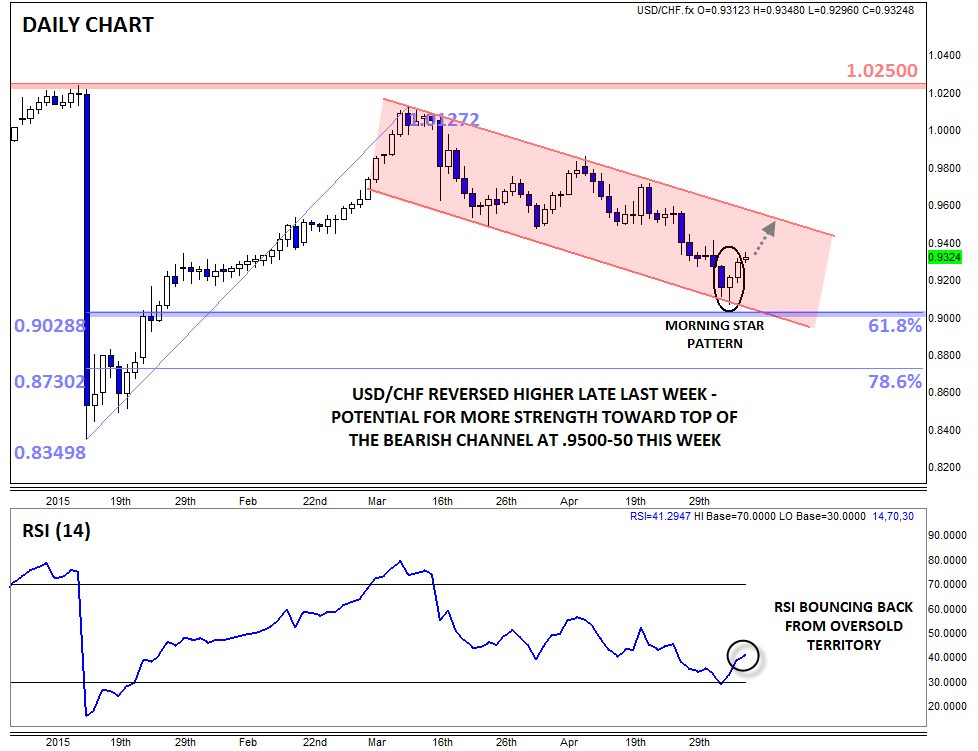 Source: FOREX.com
For more intraday analysis and market updates, follow us on twitter (@MWellerFX and @FOREXcom)