The start of the week has been a little tepid in North America with US equities plodding along a little lower and the USD making headway against some currencies (EUR, JPY, CHF, NZD) and either losing ground or maintaining against others (GBP, CAD, AUD).  It really is a mixed bag of results as the USD isn't really driving price action as much as being influenced by each individual currency's situation.  The biggest winner of the day is the GBP which is still rallying on relief of a conclusive election while the biggest loser of the day is the NZD which is losing ground on rate cut expectations.  As we progress this week though, the EUR may become the most volatile currency thanks to our old friend Greece.
The latest headlines out of the most troubled state in the Eurozone are that Greek officials are pretty much just throwing up their hands and admitting defeat.  They are reluctant to raid pension funds for payments on their bailout loan because it is essentially delaying the inevitable, an eventual default.  While this has been a worry for many EUR traders over the past few years, the tenor of frustration from both sides of the negotiations appears to be more pessimistic than optimistic.  In the recent past, negotiations were always wrought with disagreements, but weren't so defeatist, and that change in attitude could be the sign that this drawn out dance with default may be coming to a head.
If more negative press continues to hit the wires, the EUR/USD may be the most active pair to react due to a couple of factors.  First, the US employment situation doesn't appear as dire as it was last month when the EUR/USD started making a legitimate run away from parity.  Over the last month, the pair has rallied from around 1.05 to nearly 1.14 without any significant retracement, but that rally's trend has been broken which may signify that the rally has lost steam.  Second, those who took advantage of the unlikely EUR/USD rally may now be looking to book profits which could put more selling pressure on the world's most traded pair.
Though the trend line has been broken, there still does remain one more potential level of support in the short term.  Previous price action has shown that 1.1075 has provided significant support and could signify a level where orders may be stacked.  That could mean two things: one, bears may try to take out that price which would trigger a cascade of sell orders for a spike through that support; or two, bulls will try to defend that level and the pair will remain range bound for the time being.  Considering the pressure that Greece could put on the market, the first option could be the more likely of the two scenarios.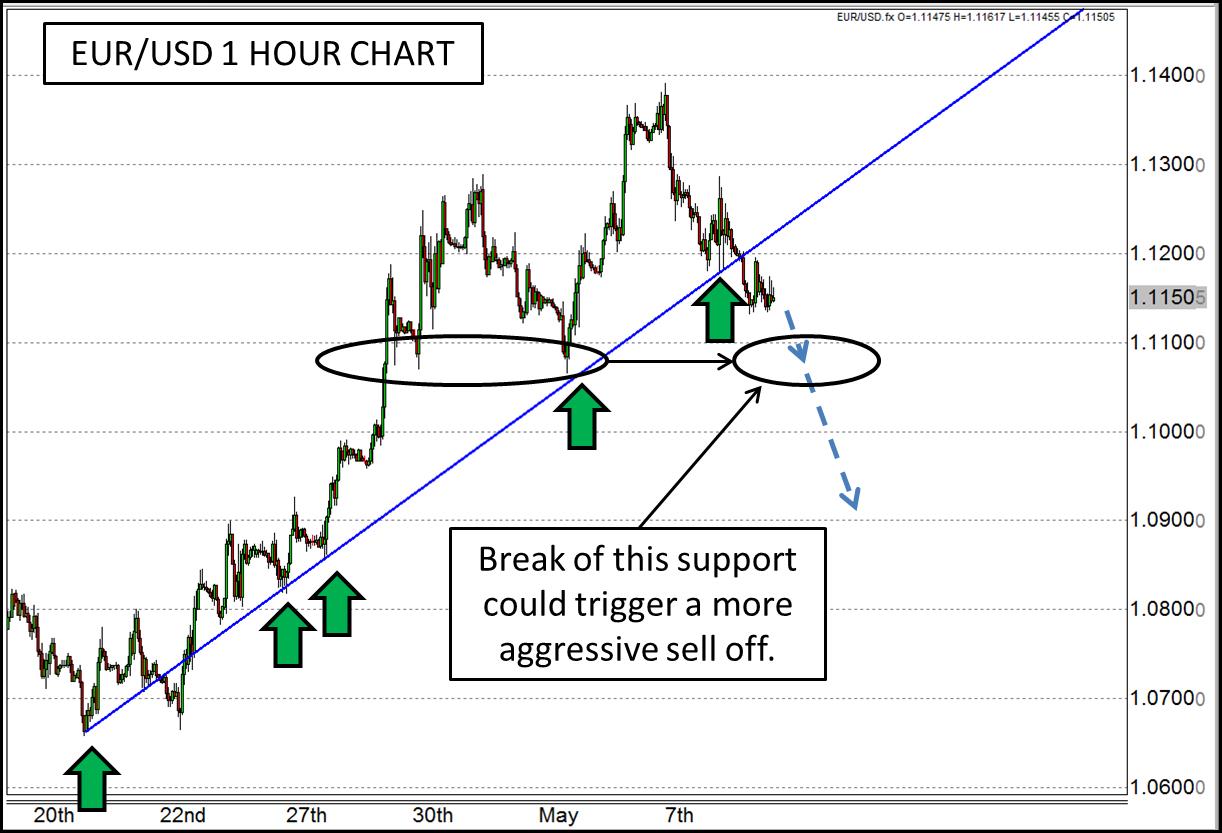 For more intraday analysis and trade ideas, follow me on twitter (@FXexaminer ).