This week the focus of the market shifts from monetary policy to fiscal policy in Australia, with the release of the Federal Budget tonight. This time around the Budget release should be fairly uneventful for the market as most of the important measures have been leaked already, under an overriding theme of a retreating austerity narrative. The government has been selling this 'boring Budget' as a boost for the economy.
Hockey has noted that it makes no sense for fiscal and monetary policy to be working in opposite directions, despite this being the plan last year. This will alleviate some pressure on the RBA which has been working to offset fiscal tightening while also attempting to stimulate rate sensitive parts of the economy. The removal of the former will likely be welcomed by Stevens and his cohorts at the RBA who are acutely aware that the positive impacts of even looser momentary policy are somewhat diminished at this end of the policy spectrum.
This push away from fiscal tightening does cast some doubt over how safe Australia's all-important AAA rating is. The rating agencies have expressed that they want to see a clear path towards a budget surplus and this deviation may raise some eyebrows. But we suspect that's all it will do, with the rating agencies likely satisfied with the un-alarming delay. After all, Australia's metrics still look pretty good from a global standpoint, despite a deterioration in recent years.
What does this mean for the aussie?
The Australia dollar can react very heavily to changes in fiscal policy or even boring budgets that may impact monetary policy and the nation's creditably. However, as we have already explained the meat of the Budget has already been released and we don't expect it to have a huge impact on Australia's credit worthiness. This will likely dull the impacts of tonight's Budget release on the aussie, but anything is possible amid these volatile market conditions. If the Budget is more pro-economic growth than already predicted, then there may be a relief rally in the aussie. On the other side of the equation, a tighter budget may strangle aussie bulls.
Technical look: AUDUSD
AUDUSD remains in a medium-term upward trend, but a failure around 0.8000 highlights some technical weakness in price. A break out of its upward trend may encourage bears to maul the pair, which could correspond with a bearish crossover in daily MACD. Below here we're watching support around 0.7790 and then 0.7685.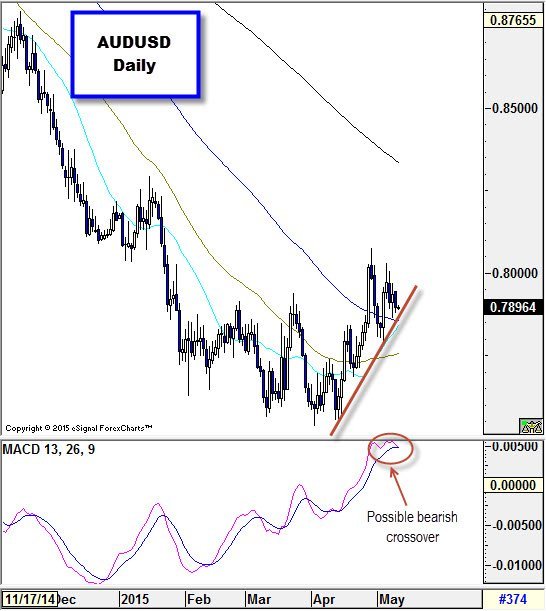 Source: FOREX.com