For the second straight day, the North American economic calendar has been bone dry with very little data being made available about the US or Canadian economies.  The lone sliver of potential market moving data was the JOLTS Job Openings that missed consensus, but that metric is rarely looked upon as something substantial enough to sway opinions.  In addition, the lack of inflammatory news out of the Eurozone in relation to Greece could be helping to lift other currencies against the USD as panic hasn't been a reasonable reaction to anything going on quite yet.  US equities are also moving lower in the first half of the day, but appear to be making an effort to get in to the green before the lunch hour.
Due to the lack of anything to gravitate toward fundamentally in the current environment, the technical side of markets may be more fruitful.  An interesting pattern that is currently developing in the AUD/JPY has caught my eye, and may demand to be noticed.  Despite the Reserve Bank of Australia's efforts to weaken the AUD by cutting rates as well as continuously mentioning that the AUD is overvalued, their currency has continued to demonstrate resilience.  However, the AUD/JPY appears to be having trouble ascending above the 96.00 level, and has carved out a Triple Top in the process.
If this pattern can deliver on its potential, support may not be found until around 94.50 and perhaps beyond, particularly if the Wage Price Index being released in Australia this evening fails to achieve consensus expectations of 0.6%.  Considering the lack of inflation witnessed globally, a disappointing figure isn't that difficult to fathom, and the AUD could start moving in the direction the RBA prefers.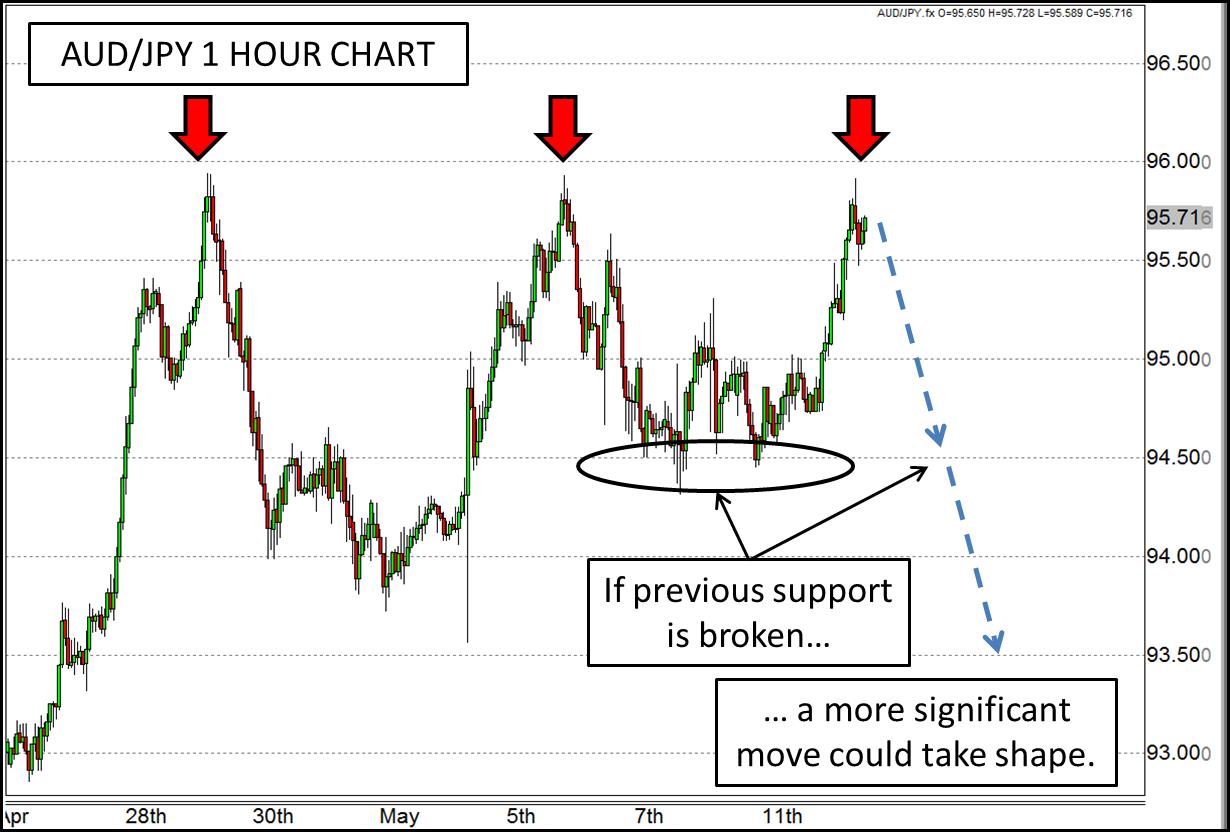 For more intraday analysis and trade ideas, follow me on twitter (@FXexaminer ).