The British pound has been a hot topic in recent days due to the surprise outcome of the UK elections last week and ahead of the Bank of England's Inflation Report on Wednesday. In our daily reports, we have already covered the GBP/USD extensively (for example HERE and HERE) and a couple of GBP crosses too, including the GBP/JPY and GBP/NZD. In this our latest coverage of the pound, we are observing another GBP cross which is looking particularly interesting from a technical point of view: the GBP/CAD.
Below we have two charts of the GBP/CAD:  (1) the 4-hour and (2) the weekly. The 4-hour chart clearly shows that the GBP/CAD has been making a series of higher highs and higher lows in recent trade, which is a typical characteristic of a bull market. However the bulls' latest attempt to push price above the key resistance level of 1.8915 today has been unsuccessful which may be a sign for things to come. This 1.8915 level was the meeting point of the prior high with the 161.8% Fibonacci extension level of the last notable downswing. In other words, it was also an ideal profit target level for the bullish speculators. Thus, at this stage, it is not clear whether the pullback from 1.8915 has been driven by long-side profit-taking or actual selling. As such, we will have to assume that the near-term outlook is still bullish until proven wrong i.e. for as long at the buyers hold their ground above the 1.8785 support level, which is being tested as we go to press, the trend would remain bullish. Previously, this 1.8785 level was resistance and so it could turn into support now. Meanwhile the more closely watched USD/CAD is currently testing the 1.20 support level. If the Loonie holds above 1.20 then this could provide further support for the GBP/CAD cross. 
But regardless of what the GBP/CAD will do here in the short term, the long-term technical picture looks decidedly bullish for now. As can be seen from the weekly chart, the GBP/CAD managed to hold its own above the bullish trend line following the recent correction around the middle of last month. It found strong support around the 1.8200-8300 area, where we also had the 200-day moving average converging (as we had highlighted in our previous report on April 22 – see "GBP/CAD: stage set for a potential rally" for more).  In addition to the bullish trend, the GBP/CAD has already broken a very long-term bearish trend that goes back all the way to 2004.
So, in a nutshell then, the technical outlook on the GBP/CAD – like many other GBP crosses – looks bullish. But the key risk event is the Bank of England's Inflation Report tomorrow, so proceed with extra caution.
Figure 1: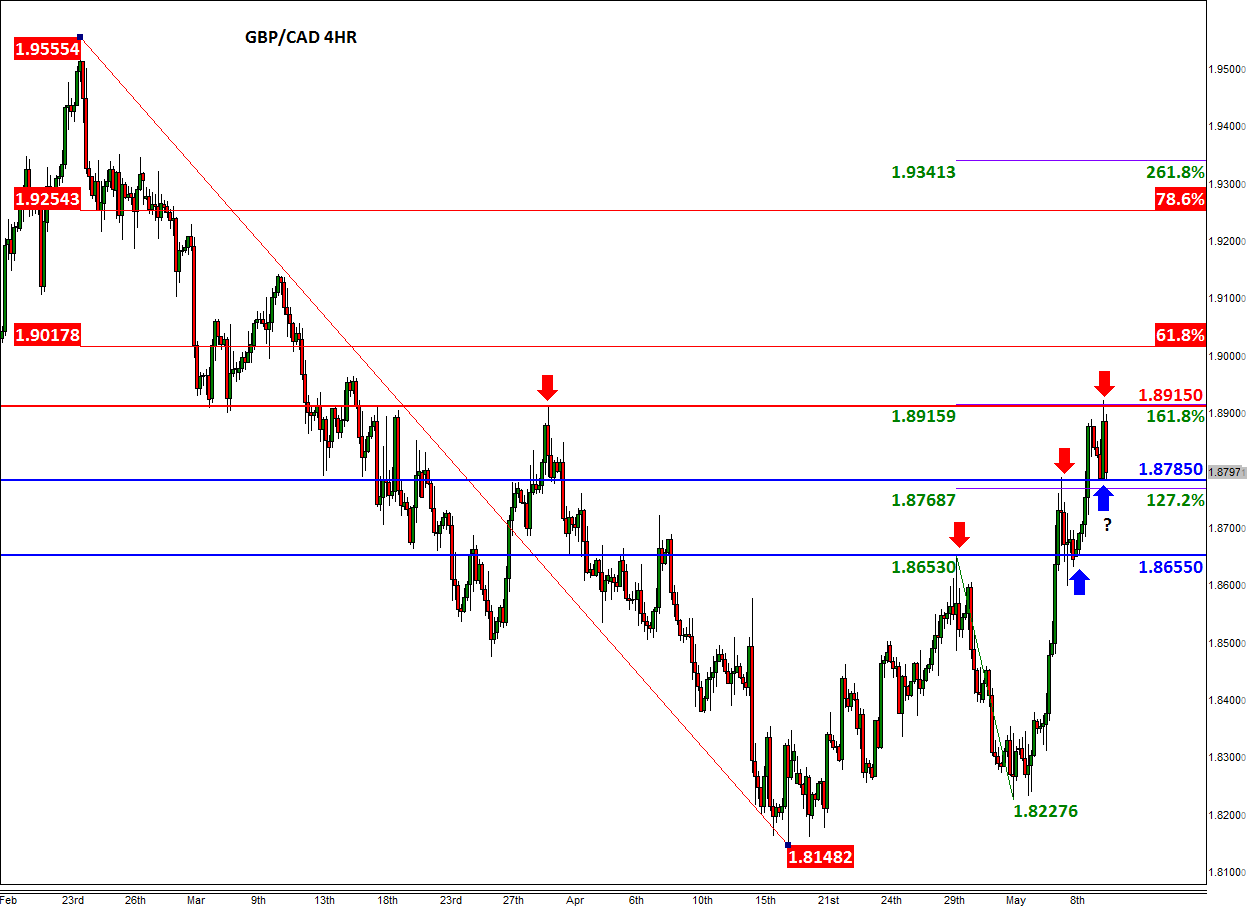 Figure 2: