EURAUD is in the midst of a long-term downward trend, but there may be some light on the horizon for this pair, at least in the short-term. The long-term outlook of the euro is clouded by the ongoing threat of a Grexit, but we can see an opportunity for some short-term strength. The Greek issue hasn't come to a head yet, although some figures out in Asia complicate some short-term technical strength.
In China, another bout of softer than expected economic data has cast even more doubt over the health of Australia's largest trading partner. Last month's industrial output jumped 5.9% y/y, missing and expected 6.0% increase, and retail sales rose 10.0%, also missing market expectations and its slowest year-on-year pace since November 2008. Moreover, fixed asset investment reached a new 14-year low of 12% over the same period. This adds to recent weakness in trade and inflation numbers, which incidentally pushed the PBoC to loosen monetary policy over the weekend.
Meanwhile, French preliminary GDP numbers for Q1 beat expectations at 0.6% q/q (expected 0.4%). While these figures aren't game-changing and they are likely to be overshadowed by prior downward revisions to growth, they may support a potential EUR rally in the near-term.
However, German Q1 GDP numbers came in below expectations at 0.3% q/q (expected 0.5%). These figures are likely to take more of the limelight than the better than expected French numbers. Germany's economy is the largest in Europe and the cash cow of the region. In fact, these figures may be enough to cause down revisions to Q1 Eurozone GDP estimates.
EURAUD
From a technical perspective, a consistent bullish divergence between price and RSI on an hourly chart – it also shows up in a smaller way on a daily chart – suggests that momentum may be building towards a rally in the near-term. Also, the recent failure of the pair to break through an important support zone around 1.4000 is an encouraging sign, thus our bias is higher above this level. In saying that, EURAUD remains in a broad downward trend and we may want to wait for the pair to break out of this trend before becoming too bullish.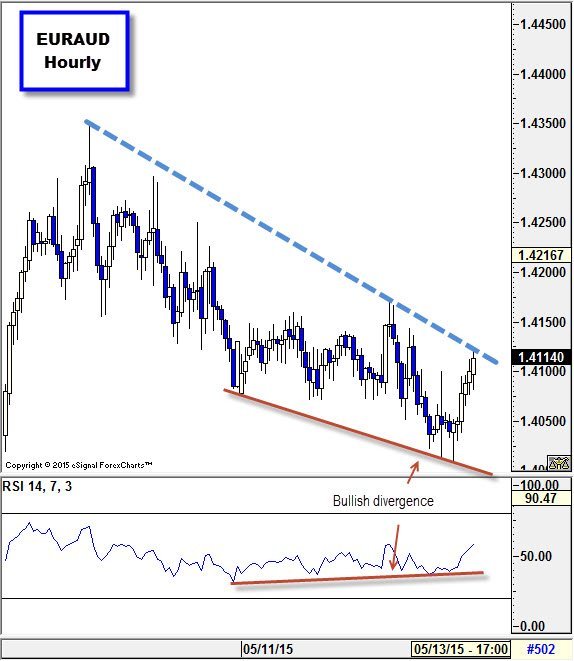 Source: FOREX.com