The North American trading day has kicked off with a bang this morning thanks to some disappointing figures for the US economy.  US Retail Sales once again failed to achieve consensus with a 0.0% read on expectations of a 0.3% increase.  Not all was dismal with the report though as the previous figure was revised up to 1.1% from 0.9%, making it retroactively match last month's consensus.  The Retail Sales miss shouldn't really be that big of a surprise though considering it has consistently been one of the most frustrating US data releases.  The consumer metric has now failed to live up to expectations on 10 out of the last 13 months, yet despite that perpetual failure, the USD continued to appreciate and the Federal Reserve moved forward with talk of interest rate hikes.
The point here is that we've seen this program before.  We get a US data miss, the USD gets crushed for a few hours, then the market realizes that the Fed will still raise rates before the end of the year, and the USD gains back at least some of what it lost.  The trick is to find where that market wide realization will take place; the point where the Chicken Little's of the world stop yelling.  In the USD/CHF that point may be at a visually pleasing technical level that is fast approaching.
The recent trend in the USD/CHF has been unquestionably lower as traders have had no love lost for the world's reserve currency, but even in downtrends there are rallies.  If the current drop in the USD/CHF continues, support may be found near 0.9135 which lines up with both a Fibonacci based Bullish Gartley pattern, and previous support from last week.  In addition, if it were to fall that far, that would equate to about a 150 pip drop from levels experienced just before Retail Sales was released; a significant move in this pair.  Considering the support potential and potential exhaustion of the one sided move, the USD/CHF just may find the strength to fight back.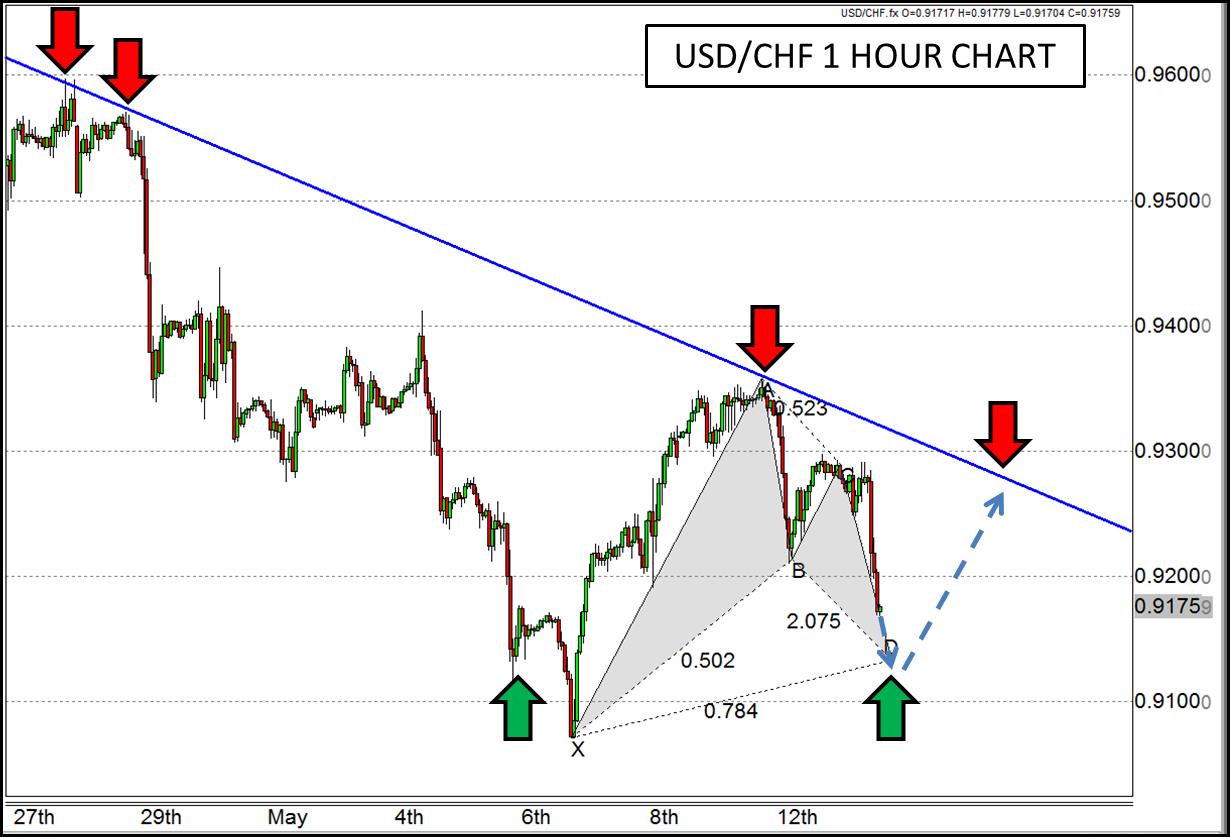 For more intraday analysis and trade ideas, follow me on twitter (@FXexaminer ).