The Nikkei 225 breached 20,000 last month for the first time in 15 years on the back of the Bank of Japan's massive stimulus program. The stock market has been in a broad upward trend since the end of December 2012 as the market became more and more convinced that Japan's period of deflation and sub-par growth was coming to an end.
However, 2 years later the economy remains depressed and there're only very tentative signs that things are going to get better for Japan, yet the Nikkei continues to rally. The market largely has the BoJ's massive QQE program to thank for that. The bank's easing program has pumped cash into the market, fuelling the biggest divergence between Japanese stocks and bond yields in decades.
Can the rally continue?
The Nikkei's fate is heavily tied into the fate of the BoJ's asset purchase program at the moment, as evidenced by a sell-off in the Index following the bank's policy meeting at the end of April which failed to deliver any further stimulus. This leaves the Nikkei vulnerable to diminishing QQE, but doesn't necessarily mean that the Index will suffer heavily when the BoJ's QQE program is eventually tapered.
The aim of the QQE program is to spur economic activity in Japan and if this is the reason behind a tapering of the BoJ's asset program, then it may not result in a sell-off in the Nikkei. The tricky thing is that the program has pumped massive amount of liquidity into the market which has found its way into equities, thus the risk is that the withdrawal of this liquidity would provide the market with more options, as it would refocus the bond market on fundamentals, and adversely affect the stock market.
Another threat to the Nikkei is that the price of the Index doesn't fall in line with its fundamentals. The market needs earnings to move more in line with price, bringing the P/E ratio down to a more reasonable level. In fact, most valuation metrics are expected to improve and if they don't, profit taking may lead to an outright sell-off.
Nonetheless, our bias remains higher in the near-term due to a lack of options for investors and expected further easing from the BoJ. This may help to spur another rally towards 20,000 and beyond, although some technical indicators are pointing to a period of consolidation around current levels.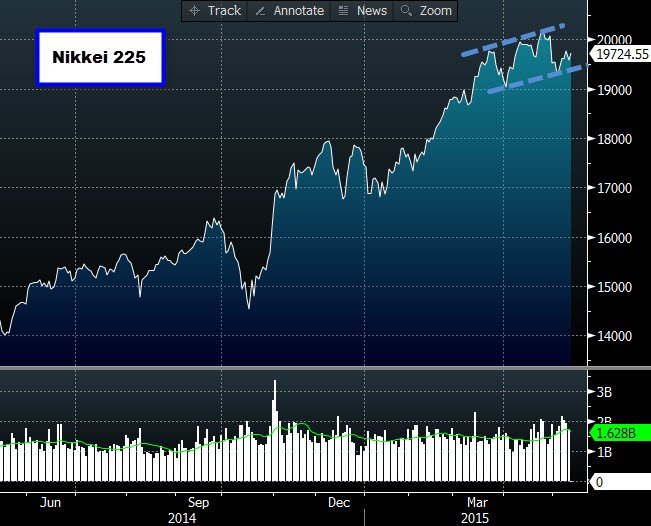 Source: FOREX.com