Are you following the FOREX.com Research Team on Twitter?  If not, you are missing up to the minute updates about market moves, insight in to what, when, why, and where of market moves, as well as links to easily accessible published material as soon as it is finished.  Just in case you missed some of our most popular tweets of the week, here's a Top 5 countdown to catch you up to speed.
5.  14 RETWEETS AND 4 FAVORITES = 18 ACTIONS
https://twitter.com/FOREXcom/status/597715328928522240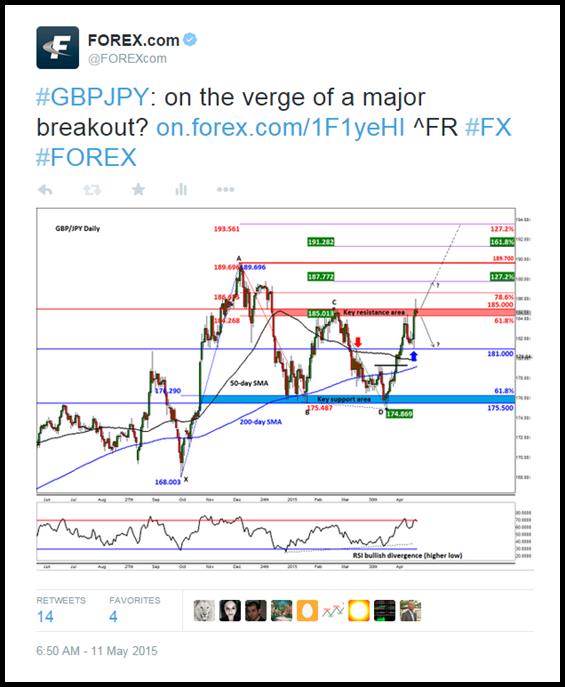 Fawad Razaqzada begins the countdown with his question about the GBP/JPY and it's proclivity to breaking out higher.  Something that is particularly awesome about Fawad's chart is that both of his arrows ended up being correct.  The currency pair fell down to 181 from the red key resistance area and then rallied all the way up to 188!  Fawad's crystal ball must have been pretty clear in the beginning of the week.
4.  16 RETWEETS AND 5 FAVORITES = 21 ACTIONS
https://twitter.com/FOREXcom/status/598850923557945344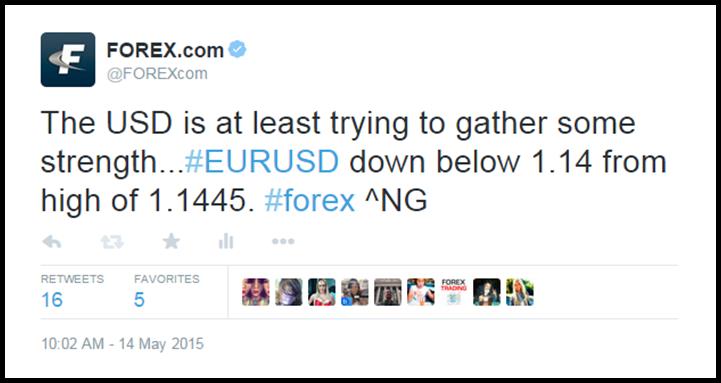 Neal Gilbert is up next on our countdown with his comment on the status of the EUR/USD on Thursday of this week.  In fact, the last two days of the week involved the EUR/USD ping ponging across the 1.14 level as USD bulls and bears played a fun game of tug of war.  Be the end of the week though the bears had won out thanks to UM Consumer Sentiment that fell over 9 points from its previous read.
3.  21 RETWEETS AND 6 FAVORITES = 27 ACTIONS
https://twitter.com/FOREXcom/status/598507044648411137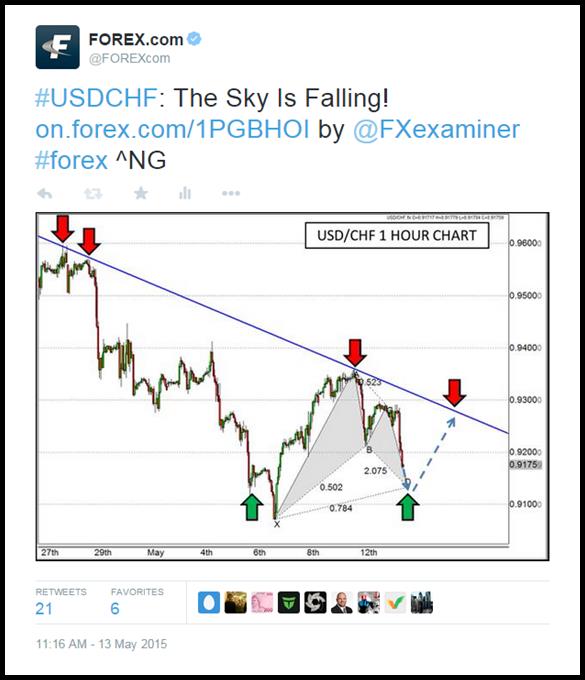 Taking the number three spot is Neal once again who warned that USD weakness wasn't the only possible outcome for currencies this week.  The aversion to Chicken Little was popular among Twitter users, but the USD/CHF ended up falling even further than Neal imagined.  Traders would have had to sweat it out a little bit as this pair spiked through 0.91 before making a rally back up toward the trend line in early Friday trade.
2.  21 RETWEETS AND 7 FAVORITES = 28 ACTIONS
https://twitter.com/FOREXcom/status/598451306873933824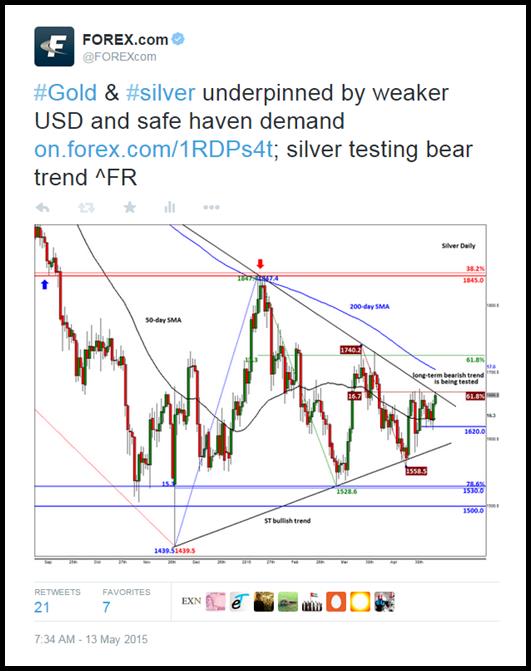 Fawad returns to the countdown with his link to an article he wrote regarding precious metals.  The bearish trend line he outlined was bowled over in the second half of the week as both Gold and Silver enjoyed some strength on USD weakness.
1.  22 RETWEETS AND 11 FAVORITES = 33 ACTIONS
https://twitter.com/FOREXcom/status/597789940223610880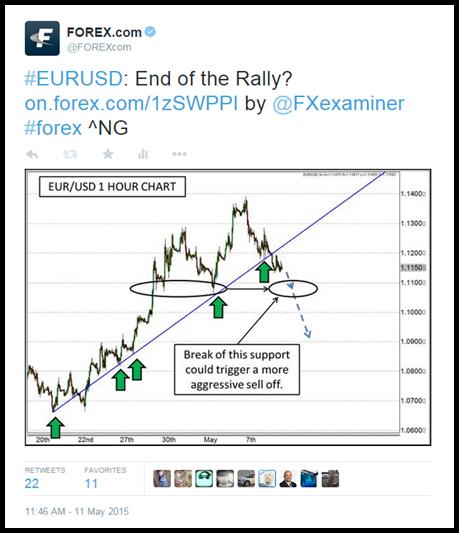 Finally, Neal's tweet linking to an article he wrote about the end of the EUR/USD rally was easily the most popular tweet of the week.  As it turned out, the 1.11 level wasn't even challenged and the EUR/USD continued to rally in to the end of the week signaling that either the short squeeze in this pair is reaching monumental status, or that USD weakness may be here to stay in the near term.
Did one of your favorite Tweets or Tweeters not make the cut this week?  You can have an influence by making it a FAVORITE or RETWEETING it and sharing it with the world.  Every little bit counts, and maybe you will be the difference maker in next week's results!
For more intraday analysis and trade ideas, follow us on twitter (@FOREXcom).