The second half of North American trade was even more celebratory than the first for US equity markets as well as the USD, both of which maintained and even accelerated early gains.  The EUR/USD broke through 1.13, the USD/JPY pushed up against 120, the Dow and S&P finished comfortably in the green, and the commodity currencies looked disheveled throughout.  All of this early USD love to start the week is a stark contrast to what we have been witnessing over the last month as it seemed the world's reserve currency couldn't do anything right.  After just one day of strength, is it too early to see USD bulls emerging from the storm shelter?  Considering the headlines, that may not be the case.
While the EUR/USD is receiving most of the press in regards to the Greek conundrum, the GBP/USD could be a victim of the collateral damage.  In the months prior to the UK elections, both currency pairs were falling precipitously.  While it was understandable why the EUR was dropping as much as it did, the GBP was really just an innocent bystander.  Sure the UK is a part of the European Union, but they use their own currency system and likely won't be as affected by a Greek default as mainland Europe would be.  In fact, some have argued that the UK could benefit from investors fleeing EUR nations and waiting out the mess in the UK.  Regardless, the GBP fell just as much, if not more, than the EUR from late February to mid-March when the Greek drama was at its highest.
If that relationship continues between the two connected currencies, then there may be more of a fall to come for the GBP.  Potentially adding on to the fact that the GBP/USD could fall precipitously is the euphoric rise after the elections turned out to be more decisive than expected.  As the election's results become further in the rear view mirror though, that euphoria will likely fade right along with the GBP.
The GBP/USD is currently resting near support posted by previous prices, but also the 23.6% Fibonacci retracement of this month's rally.  Assuming it breaks through that support, the next level of significant support may not come until the 38.2% Fibonacci retracement near 1.5535.  An all-out selloff on the back of bad Greek news opens the door to 1.5450 and 1.5365, but it doesn't necessarily have to be Greek news that sets off the tumble.  UK CPI data is on tap for tomorrow as well, which if it follows recent global trends, could be pretty ugly.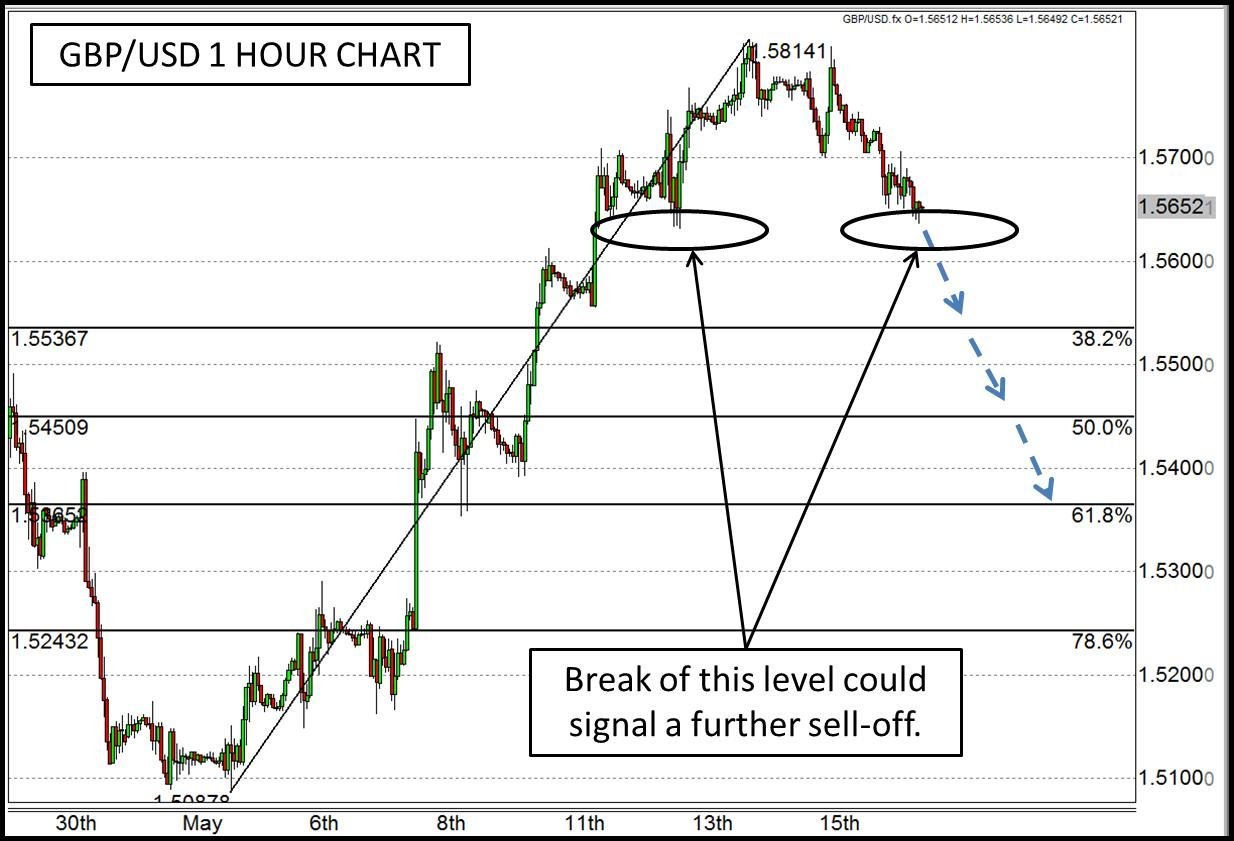 For more intraday analysis and trade ideas, follow me on twitter (@FXexaminer ).