The Reserve Bank of Australia releases its minutes from its policy meeting earlier this month at 0130GMT (1130AEST) today. At this meeting the board decided to cut the official cash rate to a record low 2.00% from 2.25%, noting that "the inflation outlook provided the opportunity for monetary policy to be eased further, so as to reinforce encouraging trends in household demand."
However, the bank didn't augment its trademark assault on the exchange rate or provide any real indication that it's considering loosening monetary policy further. This, combined with some well placed orders, led to a rally in the Australian dollar on the back of the policy meeting. The RBA undid some of this strength when it released its quarterly Monetary Policy statement, in which it cut its growth and inflation forecasts, but the damage was already done; the Australian dollar had been freed by the notion of stable interest rates in Australia.
The RBA may attempt to put the cat back in the bag in its meeting minutes by reintroducing an explicit easing bias. However, we think it's more likely that the bank will introduce an implicit easing bias, which could still be enough to sink the Australia dollar especially if it ramps-up its verbal assault on the currency. If it does nothing it would likely encourage AUD bulls that are already feeding off the RBA's return to an outright wait-and-see mode, a recent resurgence in iron ore prices and some widespread US dollar weakness. In this environment we can see the need for the RBA to reintroduce an implicit easing bias, with particular focus on the Australian dollar. Even the aussie's recent weakness – AUDUSD is back below 0.800 - isn't going to be enough to satisfy the RBA.
Japanese GDP data and the BoJ
Later in the week, Japan's Q1 GDP numbers are due and then there's a policy meeting at the BoJ. While the bank is broadly expected to maintain its current easing plans, there is a chance, however slim, that it may introduce more stimulus at this meeting (see our BOJ preview later in the week). If the bank pumps even more liquidity into the economy it may result in another widespread yen sell-off. However, this isn't our base case unless tomorrow's GDP numbers disappoint. At present, the economy is expected to have expanded 0.4% q/q and 1.6% annualised last quarter. This would be a slight improvement on the prior month's 1.5% annualised expansion.
Technical warnings for AUDJPY
There are some indications that AUDJPY's recent push lower may be more than a simple correction within its long-term upward trend. For instance, there's a bearish divergence between price and RSI on 4hr chart, indicating that momentum may be stalling. While it may be too early to get bearish on the pair, if it breaks out of its upward trend, possibly due to the reintroduction of an easing bias at the RBA, then we would turn bearish on AUDJPY, although this assumes tomorrow's Japanese GDP numbers don't disappoint and the BoJ behaves as expected on Friday.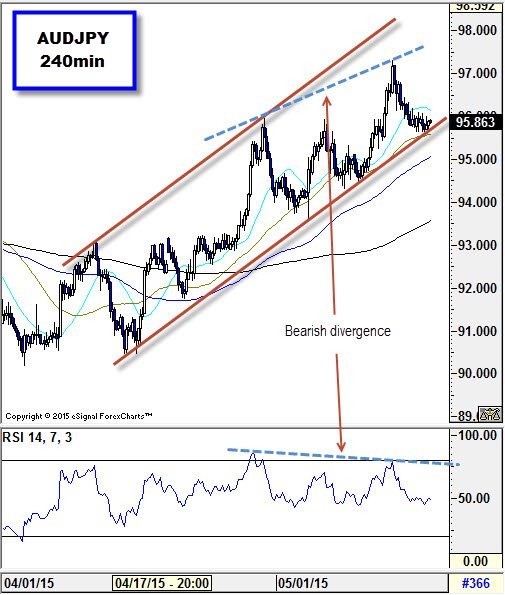 Source: FOREX.com