It has been a busy day in Asia, with the release of the RBA minutes from its policy meeting earlier this month and the RBNZ's Q2 inflation expectations. The former hurt the aussie, while the latter breathed life into the struggling kiwi, sending AUDNZD to an important support zone around the base of its medium-term upward channel.
The RBA used its meeting minutes to reintroduce an implicit easing bias, after removing it entirely from Governor Stevens' statement following the bank's policy meeting earlier this month. At the meeting the RBA cut the official cash rate to a record low 2.00% from 2.25%, citing an accommodative inflation outlook. The minutes reveal that the board weighed the possibility of waiting until June to cut interest rates, before ultimately deciding that sooner was better. However, we don't see an explicit easing bias in the minutes and we consider the bank firmly in wait-and-see mode. In saying that, we still think the RBA will be forced to lower the official cash rate even further later this year.
In NZ, the RBNZ released a fresh set of inflation forecasts, with the bank revising up its two-year forecast to 1.85% from 1.80% and its one-year forecast to 1.32% from 1.11% last quarter. This helped to ease some pressure that has been building on the kiwi in the face of increased expectations for looser monetary policy, especially after both the RBNZ and the government announced separate measures to ease house price inflation, thereby freeing up the central bank to loosen monetary policy. These latest predictions for consumer prices decrease the likelihood of further easing in the near-term and are a little more optimistic than the market was expecting, thus they may support the kiwi.
What does this all mean for AUDNZD?
The recent rally in AUDNZD has been the result of investors tapering their expectations for further easing in Australia while entertaining the idea of lower interest rates across the Tasman. Today's developments cast some doubt over these assumptions, hence the unwinding of AUDNZD longs. Yet, we can still see a need for looser monetary policy in NZ, especially if the government succeeds in suppressing housing demand in Auckland. In saying that, we also see a need for lower monetary policy in Australia, although the effect of lower interest rates at this end of the policy spectrum is greatly reduced. Overall, it may be time for a period of consolidation in AUDNZD.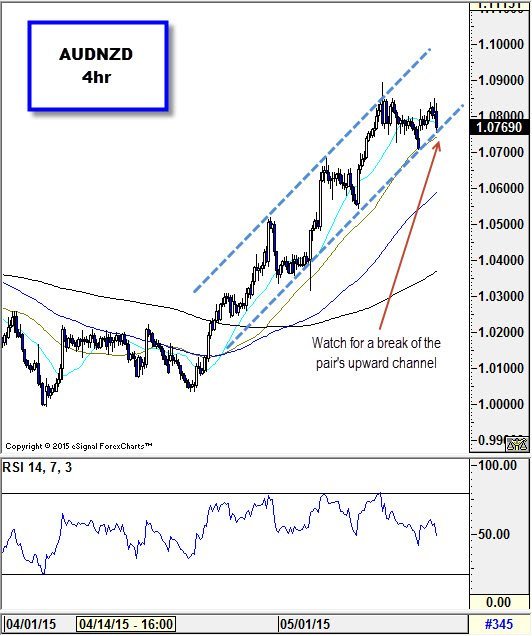 Source: FOREX.com