King Dollar has had a strong start to the week, with the dollar index rising about 1.5% over the last two days. While much of the dollar's move has been driven by weakness in the euro (see here and here for more), the commodity dollars have also been on the offer. For its part, the Australian dollar has edged lower in the wake of relatively neutral RBA minutes (see my colleague Chris Tedder's report from earlier today for more), but the most interesting move has been in the Canadian dollar, which is continuing its quiet retreat on the back of falling oil prices.
As we've noted before, Canada is the world's sixth largest oil producer and the largest single exporter of oil to the United States, so the price of "black gold" has a direct influence on the Canadian dollar. So far this week, WTI has pulled back from the top of its recent range at 61.75 to trade at 59.30 as of writing (see chart insert below), with obvious negative connotations for the loonie.
On a technical basis, the big rally in USDCAD has taken rates above the descending triangle pattern we identified last week (see "USDCAD: Ominous Clouds on the Horizon?"). Though we highlighted the bearish case for USDCAD in that note, it's always important to remain flexible, and yesterday's break through bearish trend line resistance near 1.2075 was a strong signal that the price action had shifted in favor of the buyers. The clear uptrends in the 4-hour MACD and RSI indicators also provided evidence of growing bullish momentum.
Now, the pair is ticking above previous resistance at 1.2205, hinting at the potential bullish continuation in the short-term. If rates are able to conclusively clear the 1.2200 barrier, a continuation toward previous resistance at 1.2300 or the 100-day MA (not shown) at 1.2340 could be in the cards next. As last week's article showed though, it's important to keep an open mind with any market view; in this case, a move back below the breakout level in the upper-1.20s would be cause to reevaluate the near-term bullish bias.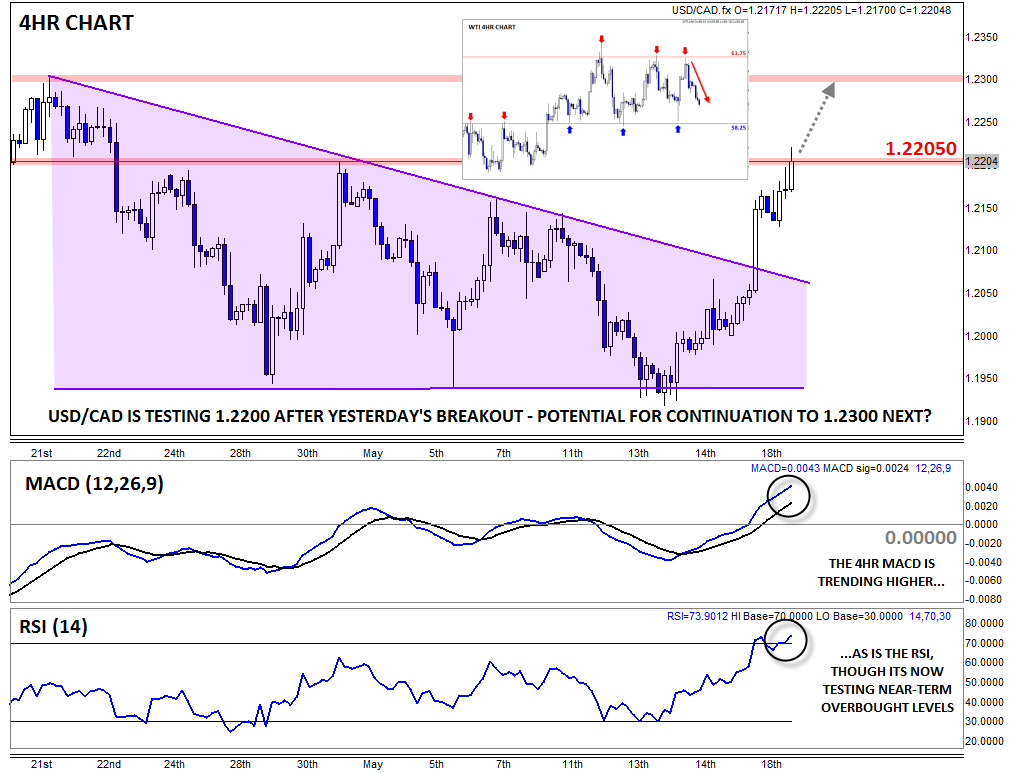 Source: FOREX.com
For more intraday analysis and market updates, follow us on twitter (@MWellerFX and @FOREXcom)