It has been a pretty good week in the eyes of USD bulls so far as King Dollar has returned with a vengeance after getting largely pummeled over the last month.  Helping the USD's cause is better than anticipated Housing data releases this morning, deflationary pressure in the UK, oil taking a trip lower, and European Central Bank member Benoît Coeuré talking about more Quantitative Easing during the summer when most of Europe goes on holiday.  The EUR/USD and the GBP/USD are two of the biggest movers on the day, both falling over 100 pips on their subsequent drops.  Meanwhile equities are largely flat and precious metals are falling right along with crude.
With the news of more potential QE, the EUR is really the center of attention as it continues to decline from seemingly unsustainable heights.  The short squeeze that ensued over the last month looks like it might be over as traders once again pile in to the short side of the currency.  Add in a dash of Greek uncertainty, and the EUR could be in danger of falling even further and faster than it has over the last 48 hours.  The test of that theory could be coming to bear in the EUR/JPY which resides currently near the 78.6% Fibonacci retracement of the recent significant low to high as well as a rising trend line.
The usual stance of technical analysis should make us wary of this price as there is a convergence of levels that could provide support, however, in the current fundamental environment, that thought process is potentially suspect.  In addition, the rise in this pair over the last month has been swift and the breadth of it opens the door to large falls.  As it stands, the 134.00 level may be the line in the sand as to whether there is a bounce or a break.  If the feel of the market is any indication, this potential support could be tossed to the wayside as the euro's comeuppance is upon us.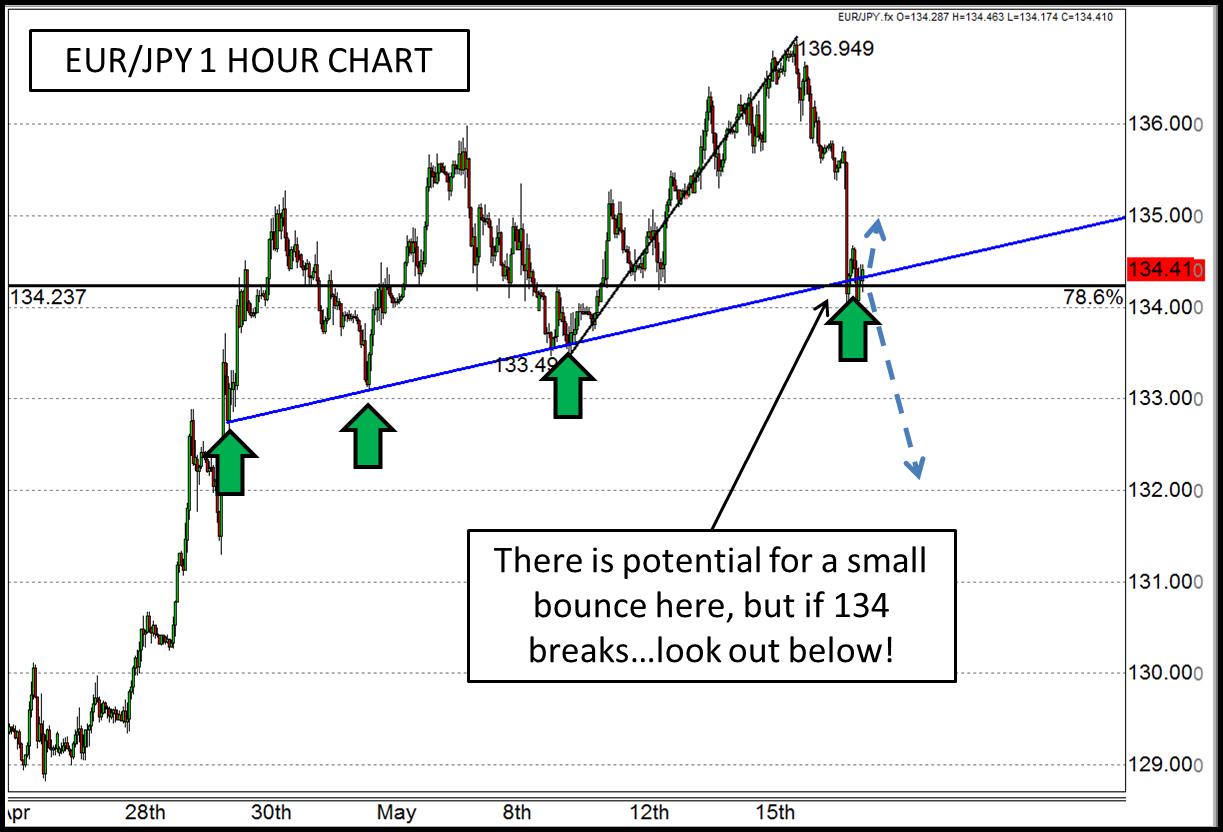 For more intraday analysis and trade ideas, follow me on twitter (@FXexaminer ).