Both Brent and WTI oil contracts have dropped sharply today and are potentially on the verge of a major breakdown. Crude has clearly failed to respond to "good" news from the supply side of the equation with US oil inventories falling sharply for two consecutive weeks. Although stockpiles have now dropped by a good 6.1 million barrels, WTI has shed almost $4 from the high of $62.55 it hit on May 6 i.e. the same day when news of the first crude stocks decline since the start of the year was reported. Evidently, some sort of destocking was already priced in. It will be interesting to see how oil will react when the latest stockpiles data is released this week. The American Petroleum Institute (API) will report its figures tonight ahead of the official supply data from the Energy Information Administration (EIA) tomorrow afternoon. If oil fails to bounce back once again then this recent sell-off may be more than just a correction. But it is not all about US oil inventories. Although crude output here is expected to drop back slightly this year, the OPEC continues to produce more oil than is needed as it seeks to defend its market share. So, the supply glut is here to stay and is merely shifting from one region to another. This will likely keep oil prices under pressure for the foreseeable future. Indeed, according to data from JODI, Saudi Arabia exported almost 8 million barrels of crude oil per day in March. This was the highest volume in more than nine years. Likewise, oil exports from Iraq – the second largest OPEC producer – reached the highest volume since JODI began reporting its data in 2007.
Crude oil has also been undermined by a rebounding US dollar which has exacerbated the sell-off for buck-denominated assets across the board today. The greenback has been lifted by some surprisingly good US housing market data and surprisingly bad European numbers. As a result, this has weighed heavily on the likes of the EUR/USD and GBP/USD currency pairs. Housing starts surged more than 20% to almost 1.14 million annualised rate – the most since November 2007. Building permits jumped sharply too, up 9.7%. At a good 1.14 million rate, more permits were issued in April than at any month since June 2008. The sharp rise in building permits point to strong future construction, which in turn may lead to higher demand for crude oil.
But this is just one month's worth of data, so let's not get too carried away.  Indeed, both oil contracts are hovering dangerously above their respective key support levels and are on the verge of a breakdown. WTI's slump makes technical sense as it has already reached an exhaustion area and broken its bullish trend line, too.  If the key support at $58.35/50 area is taken out then it may pave the way for a potential drop to $56 or even $54 next. The $54 handle was previously resistance and it loosely ties in with the 50-day moving average. For Brent, the key support to watch is at $64.25; if broken, this could lead to a sharp drop as there are no further support levels in close proximity.
Figure 1: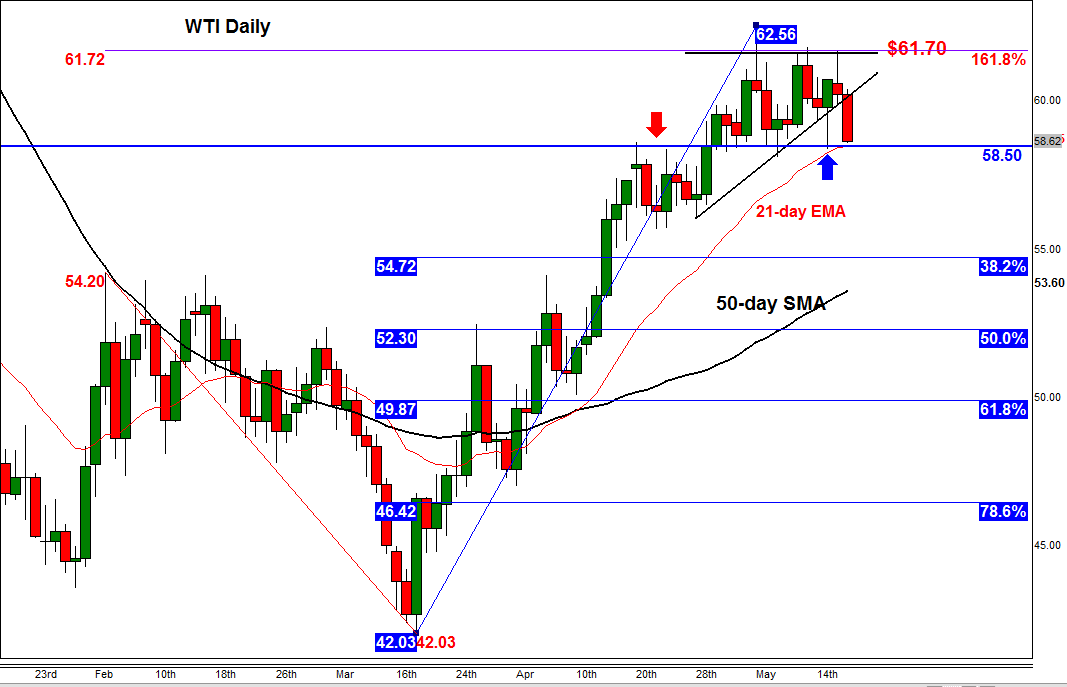 Figure 2: