The second half of the North American trading session wasn't as exuberant as the first half as early stock market gains turned lower in late trade and the USD couldn't keep up the pace of its early week strength.  Some of the reason could be that investors are looking at tomorrow's event calendar and are realizing that the Federal Reserve will be releasing their monetary policy meeting minutes at 2pm ET.  If we harken back to the day the Fed released their statement, you may remember that they were mildly hawkish, accounting most of the economic misses in Q1 2015 to "transitory" effects of weather and low oil prices.  That hawkish stance may be exemplified in the minutes as it seems the Fed is hell-bent on raising interest rates in 2015 despite the market beginning to believe it may end up being 2016 before they are able to take the plunge.
If the Fed minutes reveal that the discussion behind the scenes was a little more reluctant though, the current USD rallies may be due for a little trim.  One of the Fed's own GDP calculators, the Atlanta Fed's GDPNow, did a fantastic job in predicting the weak growth figure experienced in Q1, and perhaps some of the Fed members felt that wasn't as transitory as the statement suggested.  Assuming the room was split but slightly weighted in favor of the transitory explanation, we could be back to discussing the end of King Dollar's reign, as we were merely last week.
The technical argument for a weaker USD could be made in the USD/CHF, but only if the USD can rally a little further.  There is a Fibonacci based Bearish Butterfly pattern that completes near where some previous resistance had established itself just above 0.94.  If the Fed sounds a little more cautious than the market originally assumed, the dollar bears may have something to roar about after all.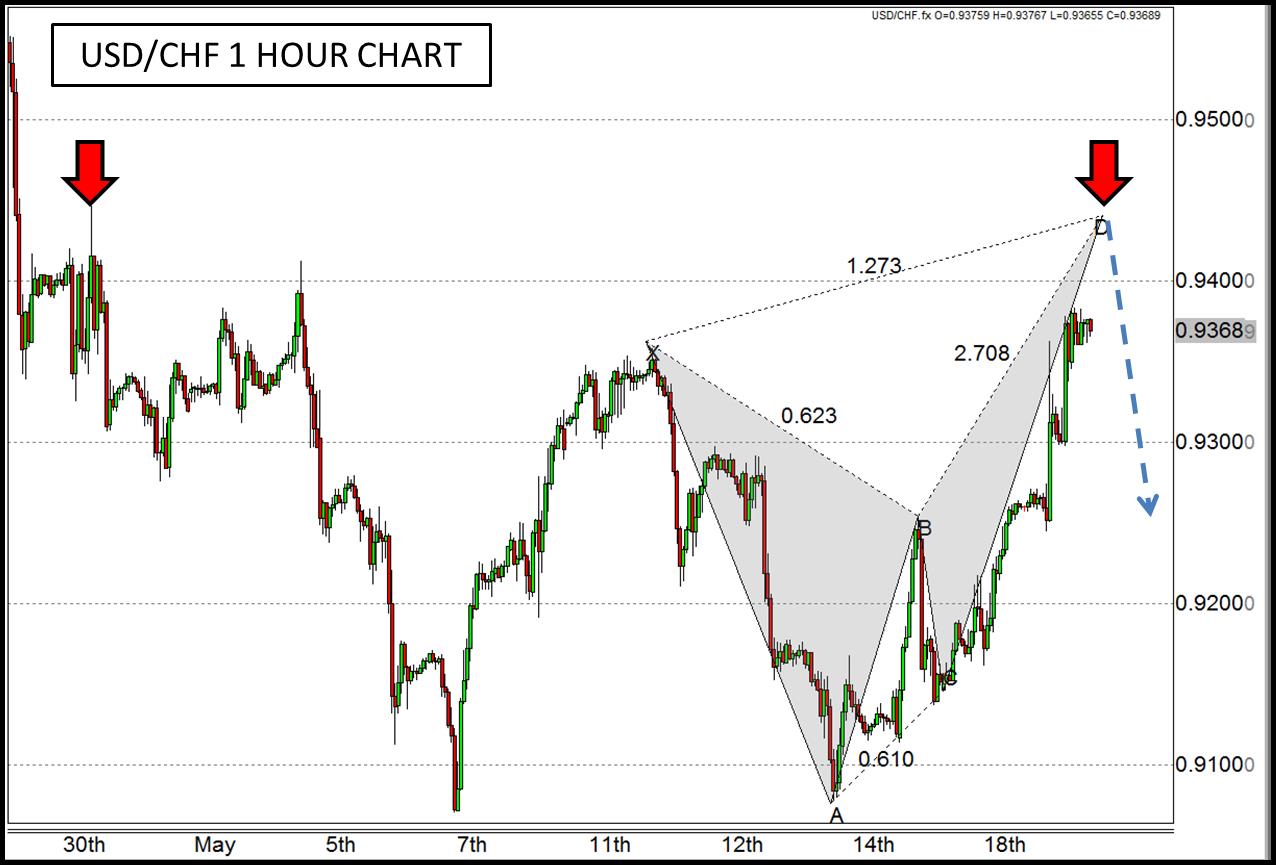 For more intraday analysis and trade ideas, follow me on twitter (@FXexaminer ).