On Monday, we highlighted a short-term bearish Butterfly pattern on EURUSD, noting that the pattern "suggest[ed] a move down toward the 61.8% Fibonacci retracement of the entire ABCD pattern at 1.1220, though the 38.2% retracement at 1.1310 could serve as a more achievable near-term target" (see "EURUSD: Greece's Doomsday Clock is Nearing Midnight" for more). As it turns out, even the aggressive price target was too aggressive, as EURUSD as already fallen down to a low of 1.1060 so far today, helped along by yesterday's news that the ECB was accelerating its QE purchases in May and June and a weak German ZEW report)
With the impact of that bearish pattern played out, EURUSD traders will now turn their eyes to today's FOMC meeting minutes. As a reminder, the Federal Reserve made no changes to monetary policy at its April meeting, chalking the Q1 slowdown in economic activity to "transitory" factors. Traders will be looking for more details on what exactly the FOMC members meant by "transitory" – after all, employment has bounced back since the Q1 slowdown, but most other economic indicators have not seen a spring thaw yet. The initial reaction to April's as-anticipated statement was subdued, and if there are no surprises in today's minutes, another limited reaction is likely.
Circling back to EURUSD, the key support level to watch for the rest of the week will be 1.1050. This level represented major resistance on three occasions back in March and April and based on the polarity principle of technical analysis, should now provide support moving forward. While a short-term bounce from this floor would not be surprising, there are at least three longer-term bearish signs for the pair:
1)      Bearish Trend Line Resistance off the July 2014 High – EURUSD got within striking distance of the bearish trend line that has pushed rates lower for almost a full year now. This barrier (currently around the 1.1500 level) may cap any near-term rallies back toward Monday's highs.
2)      Bearish MACD crossover – The daily MACD indicator has rolled over and is now below its signal line, showing declining bullish momentum.
3)      Triple Bearish Divergence in the Slow Stochastics – The Slow Stochastics indicator provided a leading indicator that bullish momentum was fading by forming a triple bearish divergence at the recent highs. This relatively rare signal often marks important tops in the market.
Considering the three bearish technical developments above, as well as the still-unresolved issues with Greece's looming debt deadline, EURUSD could certainly break the key 1.1050 level later this week. In that case, sellers may look to drive the pair down to the 61.8% or 78.6% Fibonacci retracements of the April-May rally at 1.0880 and 1.0720 respectively.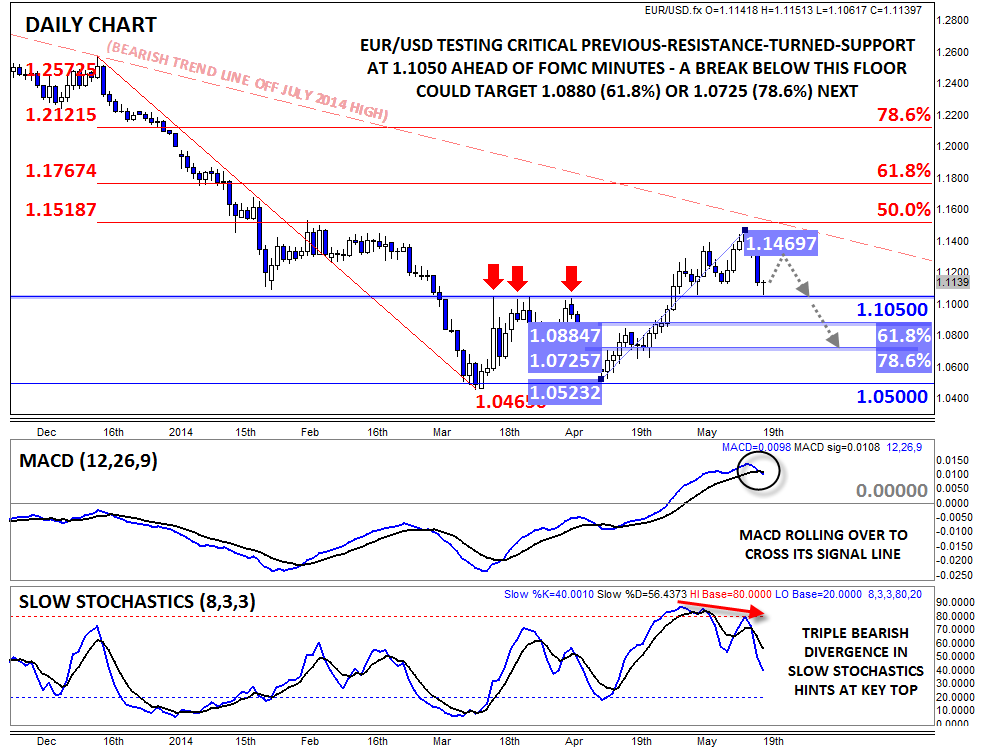 Source: FOREX.com
For more intraday analysis and market updates, follow us on twitter (@MWellerFX and @FOREXcom)