The Bank of Japan is widely expected to leave monetary policy unchanged at its two-day policy meeting. Nobody really expects the bank to ease policy further this time around, but the meeting will be closely watched for clues as to what the market can expect from future policy meetings. The market is currently very dividend on the path of monetary policy in Japan, even those that expect further easing as arguing about what form it will come in; increased purchases of government debt, regional bond buying, lower interest rates and loading up on EFTs are the most common.
However, some market analysts don't expect the BoJ to ease any further, largely because they don't see a need for further stimulus. This belief is supported by encouraging economic data and increasing business confidence, both of which are leading analysts to become more bullish on Japan's economic outlook. Japan's encouraging Q1 GDP report added some weight to this argument, despite the fact that the official figures are over-inflated by inventories. The Japanese economy grew an annualised 2.4% q/q in Q1 (0.6% q/q), beating an expected annualised growth rate of 1.6% q/q (0.4% q/q). This is a significant step-up from a 1.1% growth rate in Q4.
These figures have even encouraged some commentators to suggest that the BoJ will upgrade its economic assessment as soon as this week. The bank hasn't done this in over two years and it would likely be interpreted by the market that the board is more hawkish than previously expected. Kuroda's tone has been characteristically upbeat lately, but he's generally more cautious during the bank's policy meetings. If the governor does upgrade the bank's economic assessment it may result in a drive towards the yen as investors price-out the chance of further easing from the BoJ.
Given the only tentative signs of life in the economy, it may be too early for the BoJ to declare victory just yet, even a small one, especially with inflation nowhere near the bank's target of 2%; core-CPI is around 0.2%. With inflation this low, some people may be asking why the BoJ isn't doing more? Temporary effects are holding down inflation, like a lake of confidence on the back of a higher sales tax and a drop in oil prices, although there's no guarantee that oil prices will regain their former glory.
Market impact
If the bank maintains the status quo, we may not see much of an impact on the yen as the market largely expects the BoJ to leave policy unchanged. We think the biggest risk is too the upside for the yen going into this meeting, due to the possibility that the bank will be more hawkish on the back of stronger economic data (GDP, inflation and jobs data and Japan's wage outlook). In this case, USDJPY may erase some of it recent gains, possibly pushing the pair back towards 120.00, but our base case is for another non-event.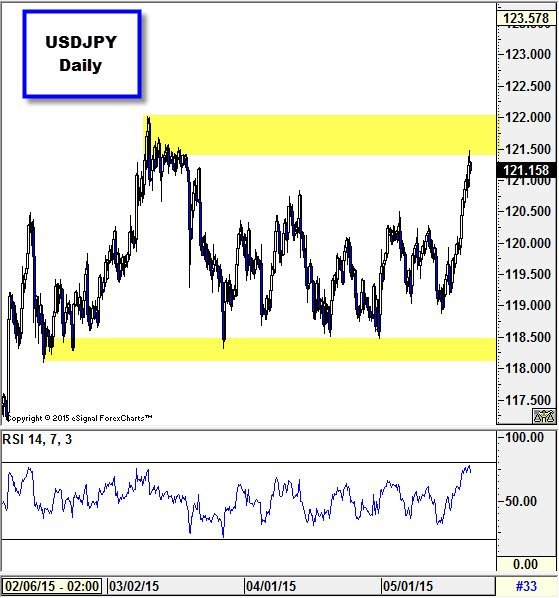 Source: FOREX.com