As we noted earlier on twitter, it's been a relatively quiet day in the global FX markets, with the US dollar forming inside days (where the daily peak is lower than yesterday's high and daily trough is higher than yesterday's low) against most of its major rivals. The same dynamic is at play in Silver, which is actually forming its second straight inside day after Tuesday's big drop. From a technical perspective, there are a couple of factors that favor the bulls and a couple of bearish dynamics in play as well.
Opening Statement: The Bullish Case
After briefly dropping below 15.00 late last year, silver has edged higher so far this year, but bulls have remained skeptical of the strength as long as the commodity remained below its declining 200-day MA. That all changed last week, when silver finally broke above that barrier, and prices have managed to hold above that barrier for more than a week now. As a second bullish sign, the metal's RSI indicator has formed a bullish channel over the last month, showing steadily increasing bullish momentum over that period.
The bullish case rests.
Rebuttal: The Bearish Case
For their part, silver bears pin their hopes on two main factors. One is the (thus far) failed breakout in gold; the market for gold is much larger and more widely-followed market, so any prolonged rally in silver prices would likely require a sustained breakout and rally in the grey metal's correlated big brother. Beyond that, silver has also carved out a clear Bearish Gartley pattern over the last few months, culminating in last week's rally to converging resistance from the 78.6% Fibonacci retracement of XA, 127.2% extension of BC, and ABCD pattern completion in the 17.80-90 zone. These types of patterns (we saw a similar bearish pattern on EURUSD at the beginning of the week) project a target at the 61.8% Fibonacci retracement of the entire pattern, which in this case comes in all the way down at 16.20.
The Verdict: More Evidence Needed
Weighing the bullish and bearish cases, it's difficult to come to a strong conclusion either way. Unlike in the court of law, there is no mandate to make an immediate ruling, and in this case, short-term traders may want to wait for more evidence to help tip the scales. Dropping the court analogy, a break above converging resistance in the 17.80-90 zone would be a strong bullish signs and would likely open the door for a move up to 18.50 next, while a breakdown back below the 200-day MA at 17.00 could target the 61.8% Fibonacci retracement of the ABCD pattern at 16.20 or lower.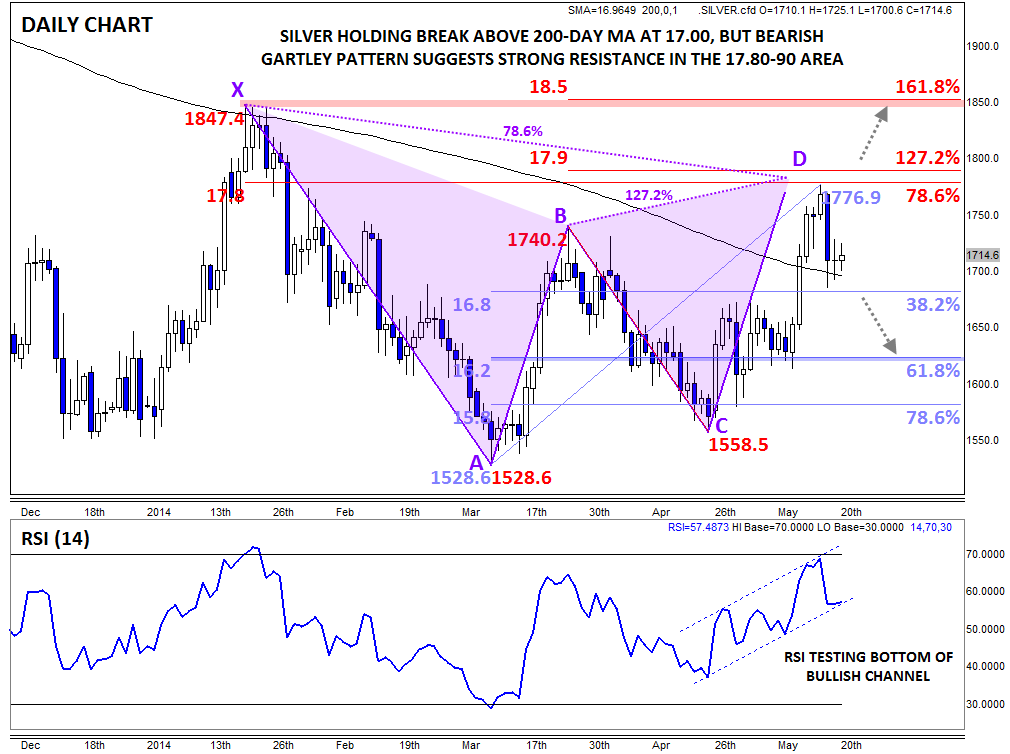 Source: FOREX.com
For more intraday analysis and market updates, follow us on twitter (@MWellerFX and @FOREXcom)