Traders throughout the US and Europe are anxiously looking ahead to kicking off the summer season with a long holiday weekend, but today's economic data may keep most traders pinned to their desks today. Today's marquee report was the just-released US Consumer Price Index for April, which showed that consumer prices rose at 0.1% m/m as expected. As always though, the Federal Reserve is far more interested in the change in core prices, which filter out volatile energy and food prices; according to this measure, prices in the US actually rose at a higher-than-expected 0.3% m/m rate, the fastest increase in over two years. At the margin, today's CPI report suggests that price pressures may finally be picking up in line with the recent strength employment data.
Before ducking out of the office though, fundamental traders should stick around to see if there's any volatility around the 9:30 ET (13:30 GMT) timeframe, when three of the most powerful central bankers in the world (Yellen, Kuroda, and Carney) will all take the stage across two events to discuss monetary policy and interest rates.
Technical View: USDJPY
Dollar bulls, who have long been starved of optimistic data on the inflation front (or upbeat economic data of any type really), took the uptick in core CPI to heart. The dollar is bouncing across the board, with arguably the most dramatic move taking place in USDJPY. After the big breakout above 120.50 earlier in the week, USDJPY had been pulling back toward that level, but the Core CPI pushed the pair all the way up to a new 2-month high at 121.50 as of writing.
While there's still plenty of trade left in the day, the pair is now showing a Bullish Engulfing Candle on the daily chart and a Bullish Marubozu Candle on the weekly chart (not shown), signaling strong bullish momentum that is likely to carry over into next week. With the RSI in an uptrend but not yet overbought, USDJPY looks like it may have a date with its 7.5-year high up at 122.00 early next week. A breakout above this key barrier, if seen, could open the door for a move up to 124.00 or higher heading into June.
*A Bullish Engulfing candle is formed when the candle breaks below the low of the previous time period before buyers step in and push rates up to close above the high of the previous time period. It indicates that the buyers have wrested control of the market from the sellers.
* A Marubozu candle is formed when prices open very near to one extreme of the candle and close very near the other extreme. Marubozu candles represent strong momentum in a given direction.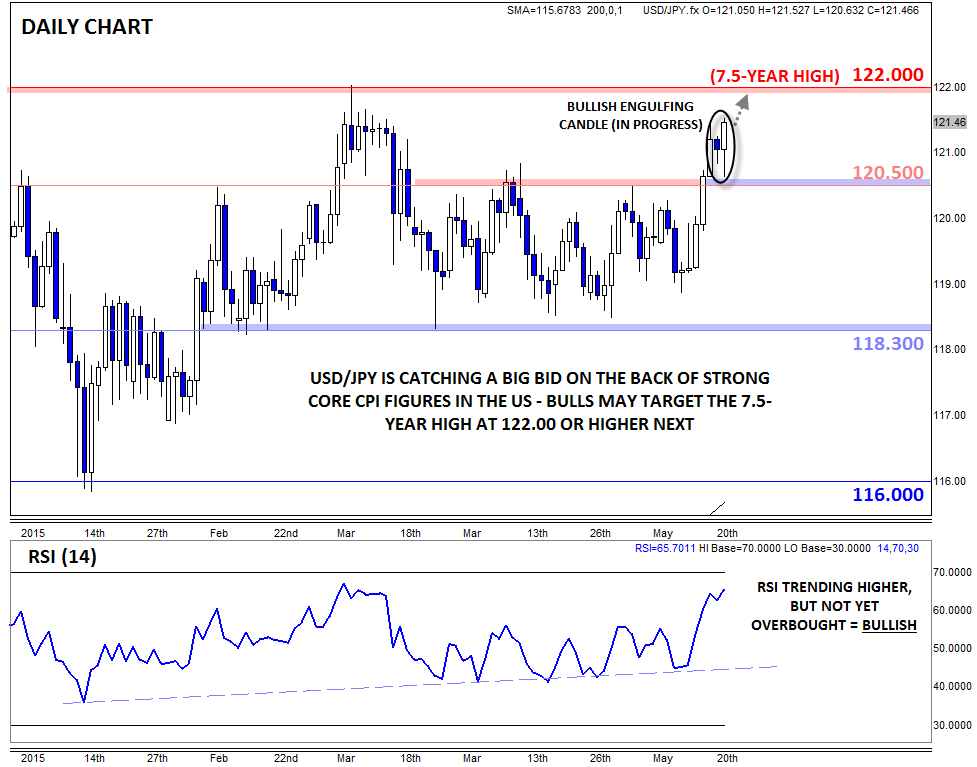 Source: FOREX.com
For more intraday analysis and market updates, follow us on twitter (@MWellerFX and @FOREXcom)